The Definitive CSR Report of Reliance Industries Ltd
Reliance Industries Limited. (RIL) has been one of the largest companies in India for the better part of the last two decades. It leads the corporate world in net profits every year. As CSR in India is mandatory as per the Companies Act 2013, The CSR Journal in its #LetsTalkCSR series is evaluating the CSR initiatives of the top corporates of India.
Reliance Industries Ltd. was established in 1973 by India's most celebrated entrepreneur Dhirubhai Ambani who is revered for his rags-to-riches story. The Company owns businesses engaged in energy, petrochemicals, textiles, natural resources, retail, and telecommunications.
The below video highlights the gamut of CSR activities undertaken by the Company around its world's largest refinery in Jamnagar.
In 2018-19, RIL had annual revenue of about 6.5 lakh crore rupees with a net profit of about 40,000 crores. RIL now ranks in the top 100 profitable companies in the Fortune Global 500 list of 'World's Largest Corporations.' Reliance Industries Ltd. spent 904 crores on CSR activities in India, which is more than the obligation of 2% of net profits they were supposed to spend on Corporate Social Responsibility.
1. Reliance Foundation – The CSR Arm of Reliance Industries Limited
CSR activities of Reliance Industries Limited are carried out in India through Reliance Foundation. Smt. Nita M. Ambani leads the Reliance Foundation, which was founded in 2010 and had a comprehensive approach towards the development of India. The Foundation addresses some of India's most pressing development challenges in the fields of Rural Transformation, Health, Education, Sports for Development, Disaster Response, Arts, Culture & Heritage and Urban Renewal.
2. CSR Policy
According to Reliance Corporate Social Responsibility policy, sustainable development is at the core of its business decisions, and therefore it has aligned its sustainability strategy with its business goals. RIL CSR works with underserved people who often do not have access to knowledge or information on best practices and continue to be vulnerable.
Reliance engages directly, which creates multiple opportunities to empower the marginalized and deprived sections of the society ending up making a meaningful difference in the lives of the people. The companies social initiatives have impacted 26 million people across India in more than 18,000 villages and 200 urban locations.
2.1 Reliance CSR and Governance Committee
According to the guidelines of the Ministry of Corporate Affairs, the Company has constituted a Board-level CSR Committee to monitor the implementation of the Corporate Social Responsibility Policy of the Company from time to time. The Company's CSR policy and initiatives delineate the vision, mission, thrust areas, and critical requirements as per the Schedule VII of Section 135 of the Companies Act, 2013 which lists out various areas in which corporate entities are expected to deploy their CSR funds and implement programs for social development. The Reliance Industries Limited Corporate Social Responsibility Committee comprises:
1) Yogendra P Trivedi (Chairman)
2) Nikhil R. Meswani
3) Raghunath A. Mashelkar
4) Shumeet Banerji
2.2 Reliance Industries Limited CSR Team
Reliance Foundation, the philanthropic arm of Reliance Industries Limited, aims to play a significant role in addressing India's development challenges through innovative and sustainable solutions. Led by Founder and Chairperson Smt. Nita Ambani, Reliance Foundation, is relentlessly working towards facilitating transformative changes to ensure overall well-being and higher quality of life for all. The Foundation and the CSR committee ensure that the sustainable goals of the organization serve as the pillars of the Company's core business activities.
3. CSR Strategy
Reliance CSR initiatives are based on a three-pronged strategy:
3.1 Direct engagement with the community
Reliance directly engages with the community to bring about long term sustainable change in the lives of the people. Reliance Foundation understands the needs, plans, and implements the programs and measures the impact that they have created.
3.2 Forging Partnerships and Collaborations
To bring about a lasting change at the grassroots, it is essential to form strategic partnerships with governments at all levels. The resulting synergy between state government, local government, and non-government organizations result in coherency in the development initiatives. Reliance Foundation, in partnership with these organizations, leverages the capability of Reliance Industries and hence supports communities and resolves critical issues that are physically untouched through direct interventions.
3.3 Leveraging Technology
Reliance is known in the country for its breakneck speed of execution, which relies on the backbone of their technological infrastructure. In their CSR projects, Reliance leverages technology to provide sustainable solutions. These technological interventions connect communities on multiple digital platforms for optimum use of resources, informed decision making, and capacity building. Through the use of technology, Reliance has made significant progress in reaching out to people with various services such as information advisories, digital classrooms, virtual sports clinics, and record-keeping of patients, among others.
The Reliance family, which has about 6 lakh employees, is encouraged to participate voluntarily in the plethora of CSR activities conducted by the Company. Their core-competency and interests are taken into consideration so that the interests of both the employees as well as the social projects are served effectively.
4. Rural Development
Reliance works with the most downtrodden communities in India and empowers them to lead their own development. This creates long-lasting, sustainable change. Reliance CSR projects ensure that the community is the primary stakeholder in the process of development and engages them in planning and implementation of the village development plans, empowers them through training, and works towards scaling and sustaining the initiatives.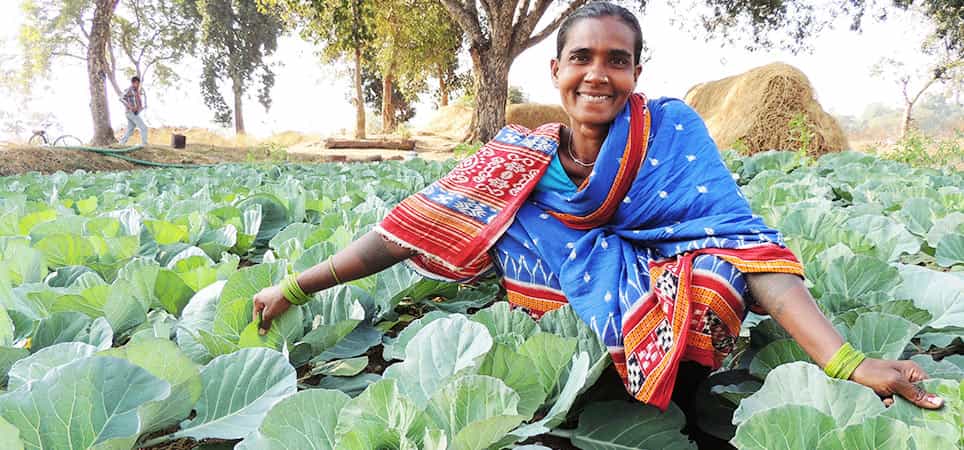 They don't provide just aid but become partners in the process of social transformation, helping realize the vision of a self-sustained and flourishing village. Reliance partners with grassroots organizations, local government departments, and other technical resource agencies to share best practices, create a knowledge platform, and leverage resources.
4.1 Village Association
Reliance CSR creates democratic institutions at the grassroots level comprising both men and women who collectively work towards the single goal of development of the village. Since its inception, 560 Village Associations (VA) and 3,000 leaders are leading the process of development of their own villages.
The VA creates leaders and trains them under intensive coaching programs to skill them in independently governing themselves and spearhead the community development process. All the processes and practices of the VA are governed by the principles of transparency, open decision making, and accountability. Reliance's institution-building and leadership development initiatives at the village level are creating steady, systematic, and sustainable change.
Community driven programs have been shown to be more successful that bring about a real change in the life of the people. The members of the village have taken up leadership roles and have been honoured at the district, state and national level for their contribution. The programme has also created awareness on different government schemes so that they can be leveraged to bring about rural transformation. Reliance played an active role in the People's Plan Campaign of Government of India by supporting Gram Panchayats to develop a comprehensive plan for holistic economic development. In partnership with the National Institute of Rural Development and Panchayati Raj, awareness programmes were conducted in 1,812 Gram Panchayats on the need for participation in the development planning process. It supported 244 Gram Panchayats in preparing their development plans which will lead to greater mobilisation of financial resources into the villages which will aid in their development.
4.2 Market Linkages for Farmers
Over the years, Reliance has worked to increase the area under production and increasing the yield of the existing land through sustainable agriculture practices which involved judicious use of water and soil management. Moving up the chain, Reliance Foundation set out to help farmers market their produce. The farmers have traditionally struggled to get the right prices for their produce due to the lack of efficient market linkages.
Reliance empowers farmers to create Farmer Producer Companies (FPC) which are managed by the farmers themselves and brings them together for economies of scale and bargain for better market prices. The FPCs in Jasdan, Gujarat and Jamai, Madhya Pradesh have started creating value addition by sorting, grading, packaging and processing agricultural and horticultural produce. They have even started trading in finished products instead of raw commodities with their own brand of groundnut oil. The oranges from Agar, Madhya Pradesh and guavas from Sawai Madhopur, Rajasthan are making their way to retail outlets across the country.
The FPCs have successfully established linkages with various government institutions such as NABARD & Department of Agriculture to provide better training for farmers, help in raising working capital and assist in procuring loans to purchase assets for FPCs.
PM Narendra Modi's vision to double farmers' income by 2022-23 is central to promote farmers' welfare and thus help the economic development of the country. Reliance works with the farmers to realise this grand vision.
4.3 Digital Platforms for Farmers
The industrialized nations have higher yield because they have access to the right resources and knowledge. Information asymmetry deprives the poor and marginalised communities from getting access to tools which could help them in achieving growth.
Reliance has set up a digital platform to provide the right information at the right time. Reliance has created an ecosystem that comprises 1,171 knowledge and infrastructure partners, thematic experts, including research institutions, government departments, NGOs and grassroots organisations. These partners provide the right information on crop management, livestock care, ocean state forecasts, cyclone warnings, schemes and subsidies, technology, healthcare, and civic services.
Different channels of communications are used to ensure that no one is deprived of the right information. It includes the toll-free helpline number: 1800 419 8800, a YouTube channel, video calls, audio/video conferencing, multilingual voice messaging service, All India Radio, community radio networks and social media platforms. On top of this, various field-based programs are also conducted to ensure the dissemination of right information at every level. The timely reception of information could be the deciding factor that prevents a pest attack on a farmer's land or prevents the fisherman from entering the sea during a dangerous storm. It helps to avert losses and dangers and also augment income.
5. Skilling and Employment
India faces a major issue in employing its young population. The Skill India Mission of the Government of India has asked the corporates for support in training the youth of India by making them employable. Reliance has answered the clarion call and has leveraged its infrastructure and trained workforce to provide marketable skillsets and placement support to the youth. Linkages have been established with skilling training institutes for entrepreneurship development in farm and non-farm sectors, including agriculture, horticulture, mushroom cultivation, inland fisheries, animal husbandry, mobile repairing skills, etc. More than 9,400 youth were linked to various employment opportunities this year across sectors, including retail, banking, telecom, etc. (over 24,500 recruitments since inception).
6. Education
6.1 Dhirubhai Ambani Scholarship Programme (DAS)
The Dhirubhai Ambani Scholarship (DAS) is aimed at promoting academic and leadership excellence and are awarded to meritorious students who emulate the vision and values of Mr Dhirubhai Ambani, Founder of Reliance Industries Ltd. Dhirubhai Ambani Scholarship (DAS) programme has so far provided financial support to 12,285 meritorious students to pursue graduation in any stream and institution of their choice. Almost half of the DAS scholars are girls, while one-fifth are specially-abled students.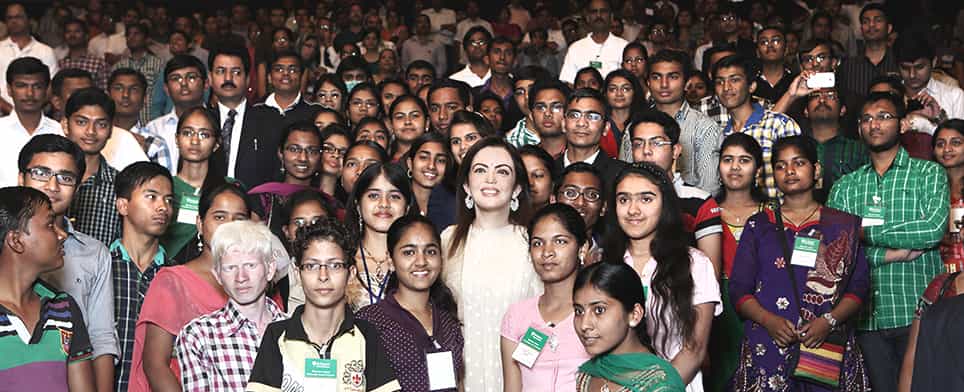 6.2 Reliance Foundation Schools
Reliance Foundation Schools are committed to providing an enjoyable and enriching educational experience to children. There are 13 Reliance Foundation Schools, which are located in Jamnagar, Surat, Vadodara, Dahej, Lodhivali, Nagothane, Nagpur and Navi Mumbai, educating over 14,500 children annually. The schools offer education from kindergarten to Class 12 and are affiliated to CBSE, Gujarat State Board and Maharashtra State Board.
The School is known for their above-par academic performance and excel in extracurricular activities as well which is evident from the awards and recognitions in various events at the district, state, national and international levels.

Reliance Foundation collaborated with the Centre for Teacher Accreditation – Teaching Professionals' Olympiad. This year, more than 60,000 teachers from over 10,000 schools across 2,000 locations participated in the CENTA TPO, India's national competition for teachers. Over 1,000 outstanding teachers received awards at the Reliance Foundation Teacher Awards.
6.3 Reliance Foundation Education And Sports For All
Reliance Foundation Education and Sports for All initiative supports the education of underprivileged children by partnering with 14 NGOs and working at the grassroots level. These NGOs focus on encouraging sports, literacy, and life skills among the children. Under this initiative, a Digital Learning Van, embedded with technology, has been providing quality education to more than 4,000 children from 10 government schools in Mumbai and Thane districts. Together, these initiatives have positively impacted 0.2 million children.
7. Healthcare and Sanitation
It offers end-to-end facilities covering the entire lifecycle of patients. Their healthcare programs have positively impacted 2.5 million people and have provided 6 million patient consultations since it was established. Sir H N Reliance Foundation Hospital and Research Centre have emerged as one of the top healthcare facilities in Mumbai.

7.1 Core programs in health and sanitation
Reliance Foundation facilitates primary care programs and makes available affordable and quality healthcare facilities at the grassroots level.
Sir H N Reliance Foundation Hospital and Research Centre have emerged as one of the top healthcare facilities in Mumbai. It enrolled more than 25,500 families bringing the total to 1.79 lakh families enrolled as part of its outreach program since inception.
The Reliance Foundation Hospital Health Outreach program has facilitated five Mobile Medical Units (MMUs) and three Static Medical Units (SMUs), which reach out to 11 wards and 74 marginalized urban slum locations in Mumbai and Navi Mumbai. They provided 27,000 consultations to the needy with specialist doctors 1.5 lakh other consultations to the marginalized people.
7.2 Reliance CSR Non-Communicable Disease Control and Prevention Program
In the area of Non-Communicable Disease Control and Prevention, more than 35,000 individuals were screened for hypertension. The lowest of the lowest rung are deprived of preventive healthcare when it comes to diseases like cancer and is diagnosed pretty late in the disease lifecycle from where it is difficult to help them recover from the disease. CSR activities of Reliance screened close to 15,000 individuals for oral, breast, and cervical cancers under the cancer prevention and control program. After the screening, intensive health awareness sessions are conducted in the communities, and complete support is provided in referring every individual suspected of cancer to a higher centre for further evaluation, confirmation, and, if needed, treatment.
The marginalized are fraught with stress, and hence lifestyle diseases like diabetes and hypertension are commonplace. The RIL Community based Preventive Health Screening program carries out the door to door screening of people for prevention and early detection and referral of such diseases. The community-based program also helps screen anaemia in women of reproductive age and acute malnutrition among children under the age of 5.
7.3 Alliance For Saving Mothers And Newborns (ASMAN)
Maternal death or maternal mortality is defined by the World Health Organization (WHO) as "the death of a woman while pregnant or within 42 days of termination of pregnancy, irrespective of the duration and site of the pregnancy, from any cause related to or aggravated by the pregnancy or its management but not from accidental or incidental causes.
In the last decade, India has made great improvements in ensuring maternal health. The maternal mortality ratio (MMR) has been reduced to 130 per 100,000 live births in 2014-16, which has reduced further to 122 per 100,000 live births. The global SDGs is an ambitious target of reducing this to 70 by 2030, which is where Project ASMAN comes into the picture.
Project ASMAN is a partnership between Reliance Foundation, Tata Trusts, MSD for Mothers, Bill and Melinda Gates Foundation and United States Agency for International Development. It is focused on strengthening the healthcare system for mothers and newborns by enhancing the quality of public health services. The program functions as a public-private partnership with the government. There are 42 health facilities in 4 districts in Rajasthan and 39 facilities in 4 districts of the Madhya Pradesh which works in partnership with the government.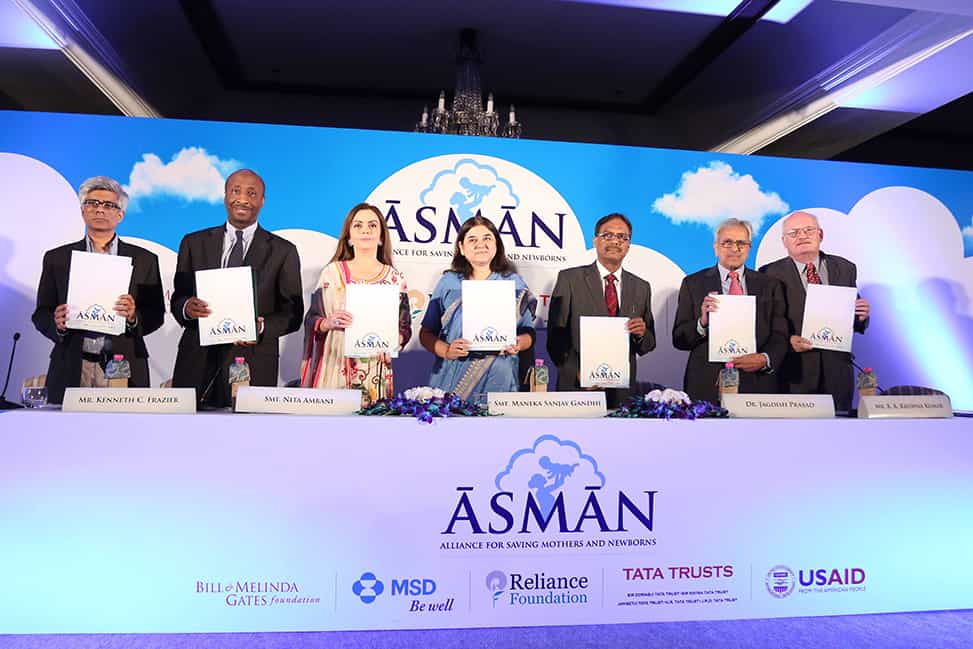 The Maternal Mortality Ratio (MMR) in India is one of the highest in the world. Project ASMAN has touched at least 0.5 million mothers and newborn infants during the project cycle to date. The project focuses on capacity building of primary care providers in labour rooms with the help of modern technology. It focusses on the critical 48-60 hours of the intra and post-partum period where the cases of mortality are the highest.
The primary goal of ASMAN is to reduce neonatal and maternal mortality through the adoption of key technologies that improve capacity-building. A tablet-based Intrapartum Monitoring and Decision Support Tool has been rolled out in 70 facilities and has registered 66,396 cases till now. Almost 900 service providers have been trained on obstetric and newborn care skills in these states. This initiative will help in improved adherence to essential practices, early identification of complications and its appropriate management, timely referrals, improved case monitoring, recording, and reporting for effective decision making. As part of this initiative, game scenarios have been developed, which simulate real-life complication cases, testing application of knowledge and decision-making skills of the providers.
7.4 RF Drishti
Reliance CSR, through its Reliance Foundation Drishti program, has been helping visually impaired underprivileged people to undergo corneal transplants in association with the National Association for the Blind(NAB), Arvind Eye Hospital and Sankara Eye Foundation. One thousand one hundred fifty-three visually impaired individuals were supported under the program (18,000+ corneal transplants since inception) this year.
A week-long Drishti Art and Essay Competition organized every year aim to increase awareness about the importance of eye donation. This year, nearly 9,000 children participated in it. It also publishes an international Braille newspaper every fortnight, which has a circulation of 3,700. The newspaper reaches visually impaired readers across India and the world.
7.4 Care and Support for HIV and Tuberculosis
The Coronavirus pandemic has brought the focus on how communicable diseases impact human lives. Tuberculosis kills an average of 1200 people per day in India alone. Reliance has set up hospitals at Lodhivali (Maharashtra), Jamnagar, and Hazira (Gujarat), which provide free and subsidized healthcare services to underprivileged and marginalized segments. The services range from general healthcare, communicable and non-communicable diseases including HIV and tuberculosis. Additionally, trauma victims of highway accidents are provided with free treatment. This year over 0.1 million consultations have been provided with over 3.1 million consultations provided since inception.
Care and support treatment are provided to people living and affected with HIV (PLHIV), including children and orphans. The hospitals registered 7,718 PLHIV since inception, of which 242 were registered this year. So far, over 0.33 million specialized health consultations and counselling were provided to PLHIV. Several awareness generation activities were conducted with migrant workers, truck drivers, sex workers, and the general population to sensitize and reduce stigma and discrimination associated with it. Nutritional support has been provided to 1,457 children affected by HIV, besides providing emotional support. This year, 353 individuals were screened for tuberculosis, taking the total screenings to 16,024 since inception. With continuous follow-up and treatment, over 93% of smear-positive cases were cured of the disease.
For the last four years, Reliance has been organizing regional level marriage bureau function at HIV DOTS Centre in collaboration with the Gujarat State Network of People Living with HIV/AIDS (GSNP+). These functions saw the participation of 2,737 PLHIV from states, including Gujarat, Rajasthan, Madhya Pradesh, and Maharashtra, of which 63 couples were engaged.
8. Disaster Response
Reliance is almost always the first private enterprise to help India and its citizens when it comes to disaster response. It directly engages with the affected communities and helps save lives impacted by natural disasters. Reliance leverages its strength in Human Resources and Information Technology to swiftly and effectively to mitigate the aftereffects of the disaster and also provides relief and rehabilitation support. In the process, Reliance collaborates with different community-based organizations and government departments to prioritize and provide need-based support to affected communities. During FY 2018-19, the Company helped communities affected by floods and cyclones in Andhra Pradesh, Kerala, Gujarat, Odisha, Uttar Pradesh, and Tamil Nadu.
8.1 Kerala Flood Relief
Over the last few years, Kerala has been getting incessant rainfall and ravaged by floods. In August 2018, the floods across Kerala caused great human and financial losses. The Reliance family worked ceaselessly to support the flood-affected communities of Kerala when heavy rains lashed the state. Using technology, Reliance sent early warning messages to states where the Indian Meteorological Department had declared a red-alert.
Continuous rainfall over several days not only caused widespread damage but also made relief operations essential. Reliance distributed relief kits to support the affected families across six districts of Kerala. 74,000 families were supported through this initiative.

The floods affect all lives, and livestock is no different. Fodder kits were distributed, and livestock health camps were conducted to secure over 3,000 animals against health risks stemming from floods. To show that the people of Kerala were not alone in this fight against nature, Smt. Nita M. Ambani visited the relief camp in Alappuzha district and interacted with the people and handed over a cheque of 21 crores to the Chief Minister's Relief Fund.
In addition to Kerala relief efforts, Reliance also provided support to people affected in the Gaja Cyclone in Tamil Nadu, Titli Cyclone in Andhra Pradesh and Odisha, and floods in Gujarat and Uttar Pradesh.
9. Reliance CSR in the fight against Coronavirus – #CoronaHaaregaIndiaJeetega
Reliance Industries Limited is known for its aggressive project management and completion in the petroleum and telecommunication industries, and they have leveraged this strength, which will help initiate multi-pronged prevention, mitigation, and ongoing support strategy that is comprehensive, sustainable, and resilient.
RIL CSR has deployed the combined strengths of Reliance Foundation, Reliance Retail, Jio, Reliance Life Sciences, Reliance Industries, and its 6,00,000 strong Reliance family to work together to help India fight this COVID19 pandemic. They have taken various steps that have created a blueprint that can be imitated at a rapid pace to create infrastructure and facilities needed to take India on the other side of this Coronavirus pandemic. Let us look at a few of the steps:
9.1 India's First Dedicated Covid-19 Hospital
The way Reliance sets up world-class refineries in record time; they have set up a dedicated 100 bedded centre at Seven Hills Hospital, Mumbai, for patients who test positive for Covid-19. Sir H. N. Reliance Foundation Hospital, in collaboration with the Brihanmumbai Municipal Corporation (BMC), has created a first-of-its-kind-in-India centre which is fully funded by Reliance Foundation and includes a negative pressure room that helps in preventing cross-contamination and helps control infection. They have provided beds that are equipped with the required infrastructure, biomedical equipment such as ventilators, pacemakers, dialysis machines, and patient monitoring devices.
9.2 Free Meals in Various Cities
Reliance Foundation has provided free meals to people across various cities in partnership with NGOs to offer necessary livelihood relief in the current crisis situation.
9.3 Protective equipment to fight COVID-19
RIL is using its production facilities to produce 100,000 face-masks per day and a large number of personal protective equipment's (PPEs), such as suits and garments, for the nation's health workers to equip them further to fight the coronavirus challenge.
9.4 Financial support – PM Cares Fund and Maharashtra Chief Minister's Relief Fund
RIL contributed a sum of Rs. 500 crores to the PM CARES Fund and Rs. 5 Crore to the Maharashtra CM Relief Fund.
Conclusion
Reliance Foundation has touched the lives of 35 million Indians across more than 20,000 villages and several urban locations since inception through its CSR projects in India. The CSR activities have brought Reliance closer to their goal of bringing about transformative change. The social projects have touched almost every part of India, and Reliance aims to further intensify its efforts, especially through digital technology and touch more lives across India.