CSR Spending of Rs. 1271 Cr. in FY 23, Says Mukesh Ambani in Reliance AGM 2023
Reliance Industries Limited. (RIL) has been one of the largest companies in India for the better part of the last two decades. It leads the corporate world in net profits every year. As CSR in India is mandatory as per the Companies Act 2013, The CSR Journal in its #LetsTalkCSR series is evaluating the CSR initiatives of the top corporates of India.
Reliance Industries Ltd. was established in 1973 by India's most celebrated entrepreneur Dhirubhai Ambani who is revered for his rags-to-riches story. The Company owns businesses engaged in energy, petrochemicals, textiles, natural resources, retail, and telecommunications.
The below video highlights the gamut of CSR activities undertaken by the Company around its world's largest refinery in Jamnagar.
During the recent annual general meeting of Reliance Industries Limited (RIL), Chairman Mukesh Ambani revealed significant accomplishments. This year, RIL has generated an impressive 260,000 new job opportunities across various sectors and allocated a substantial amount of Rs 1,271 crore towards Corporate Social Responsibility (CSR) initiatives.
Mukesh Ambani expressed his deep gratification over RIL's pivotal role in addressing India's primary need – employment. He proudly highlighted that RIL achieved unprecedented employment growth by adding 260,000 jobs within its diverse portfolio of businesses over the past year. The company's total on-roll workforce now stands at nearly 390,000 employees. Notably, this employment surge also led to the creation of numerous indirect livelihood opportunities, significantly magnifying the positive impact.
In addition to its remarkable job creation efforts, Reliance Industries Limited has demonstrated its commitment to societal well-being by recording the highest-ever CSR expenditure of Rs 1,271 crore. Mukesh Ambani underscored RIL's comprehensive leadership across various metrics, encompassing revenue, profitability, exports, market valuation, capital investment, job generation, fiscal contributions, and substantial CSR contributions.
Highlighting a remarkable milestone, Mukesh Ambani announced that RIL's cumulative investments over the past decade have reached an impressive $150 billion, marking the largest investment by any Indian corporate entity. He emphasized RIL's pioneering role in shaping the evolving landscape of India, setting and achieving ambitious objectives that were once deemed unattainable.
1. Reliance Foundation – The CSR Arm of Reliance Industries Limited
CSR activities of Reliance Industries Limited are carried out in India through Reliance Foundation. Smt. Nita M. Ambani leads the Reliance Foundation, which was founded in 2010 and had a comprehensive approach towards the development of India. The Foundation addresses some of India's most pressing development challenges in the fields of Rural Transformation, Health, Education, Sports for Development, Disaster Response, Arts, Culture & Heritage and Urban Renewal.
2. CSR Policy
According to Reliance Corporate Social Responsibility policy, sustainable development is at the core of its business decisions, and therefore it has aligned its sustainability strategy with its business goals. RIL CSR works with underserved people who often do not have access to knowledge or information on best practices and continue to be vulnerable.
2.1 Reliance CSR and Governance Committee
According to the guidelines of the Ministry of Corporate Affairs, the Company has constituted a Board-level CSR Committee to monitor the implementation of the Corporate Social Responsibility Policy of the Company from time to time. The Company's CSR policy and initiatives delineate the vision, mission, thrust areas, and critical requirements as per the Schedule VII of Section 135 of the Companies Act, 2013 which lists out various areas in which corporate entities are expected to deploy their CSR funds and implement programs for social development. The Reliance Industries Limited Corporate Social Responsibility Committee comprises:
1) Dr. Raghunath A. Mashelkar
2) K. V. Chowdary
3) Dr. Shumeet Banerji
2.2 Reliance Industries Limited CSR Team
Reliance Foundation, the philanthropic arm of Reliance Industries Limited, aims to play a significant role in addressing India's development challenges through innovative and sustainable solutions. Led by Founder and Chairperson Smt. Nita Ambani, Reliance Foundation, is relentlessly working towards facilitating transformative changes to ensure overall well-being and higher quality of life for all. The Foundation and the CSR committee ensure that the sustainable goals of the organization serve as the pillars of the Company's core business activities.
3. CSR Strategy
In the pursuit of creating a meaningful impact, Reliance Industries Limited embarked on a transformative journey in the year 2022-23, propelled by an unwavering commitment to the principles of passion and purpose. At the heart of this endeavor was the resounding mantra of "Creating momentum with passion and purpose," guiding every stride the company took towards its Corporate Social Responsibility (CSR) initiatives. Rooted in the profound 'We Care' philosophy that has been intrinsic to Reliance's identity, this year marked an emblematic chapter in the organization's ongoing mission to uplift communities, empower lives, and foster a brighter future.
Throughout this year, Reliance Industries remained steadfast in its dedication to bettering the lives, hopes, and aspirations of people through an array of impactful projects and initiatives. The underlying theme was the deep-seated belief that business success should be accompanied by societal progress, and this ideology underscored the company's overarching CSR approach. Diverse in nature yet unified in purpose, the initiatives of this period symbolized a rich tapestry of themes, thoughts, and perspectives that seamlessly interwove to create a tangible and sustainable positive change.
A defining feature of Reliance's CSR journey in 2022-23 was its emphasis on collaboration and inclusivity. Recognizing the significance of partnerships and stakeholder engagement, the company adopted a purposeful approach in its endeavours. By sharing learnings, exchanging insights, and fostering synergy, Reliance actively sought to amplify the outcomes of its CSR initiatives. Notably, these collaborative efforts were deeply aligned with the global community's aspirations, as the company worked diligently towards contributing to the realization of the Sustainable Development Goals (SDGs).
4. Rural Development
The Reliance Foundation is dedicated to fostering the transformation of rural communities, with a primary focus on enabling them to achieve income security, nutritional self-sufficiency, climate resilience, and gender equality. This noble objective is pursued through a multi-faceted approach that involves direct engagement with local communities and their institutions. It further extends its reach by collaborating with peer organizations, partner entities, and governmental bodies to harness synergies that maximize positive outcomes.
At the heart of Reliance Foundation's mission is a commitment to surmount the challenges that commonly affect rural livelihoods, both within and beyond the agricultural domain. A particular emphasis is placed on uplifting women, recognizing their pivotal role in rural societies. One of the core tenets of this endeavor is to ensure that rural households have consistent access to nourishing food. This goal is achieved through strategies such as enhancing food production, diversifying farming activities, and promoting backyard cultivation. These efforts are interlinked with the broader objective of elevating household incomes.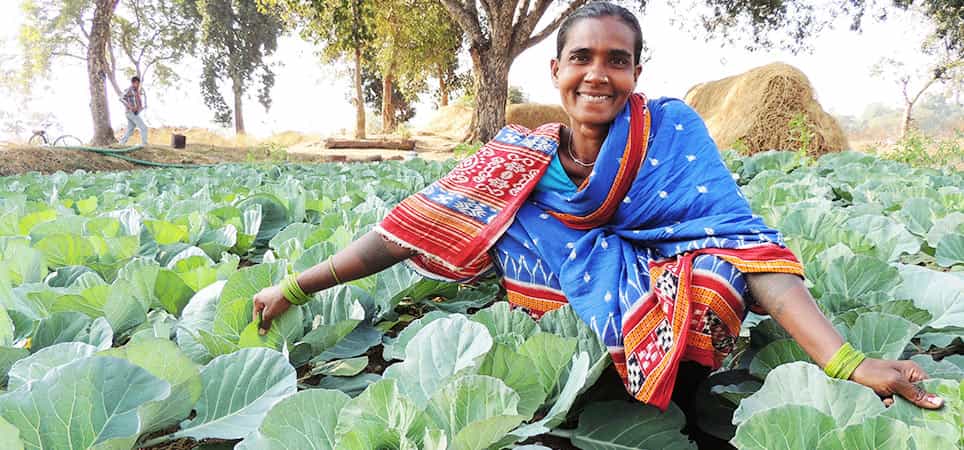 Reliance Foundation's Rural Transformation initiatives, notably carried out through the RF-BIJ and RF-IS programs, have played a pivotal role in galvanizing rural communities. Tailored development action plans are tailored to the needs of households, villages, or entire districts. These plans serve as guiding frameworks that facilitate resource allocation and offer pathways to collective action, improved access to financial resources, and expanded market opportunities. A significant thrust is also placed on enhancing resource management, particularly in the context of water resources, to enhance overall efficiency.
Empowerment through knowledge is another cornerstone of Reliance Foundation's approach. By equipping communities with pertinent information, they are better equipped to safeguard their livelihoods and effectively address challenges. This dissemination of information has far-reaching implications for resilience-building and sustainable growth.
As a testament to the Foundation's impactful efforts, millions of rural communities across India have been positively influenced by these initiatives. The remarkable success of Reliance Foundation's Rural Transformation initiatives, executed through collaboration, empowerment, and resource optimization, stands as a beacon of hope for rural communities aspiring to transcend the constraints that have historically hindered their progress.
4.1 Reliance Foundation Bharat India Jodo – RFBIJ
The Reliance Foundation Bharat India Jodo (RF-BIJ) initiative, operating within the 'Rural Transformation' framework of Reliance Foundation, is actively engaged in elevating the quality of life and livelihoods for individuals residing in rural regions. This endeavour is accomplished through the implementation of replicable and scalable models that foster sustainable progress.
In the fiscal year 2022-23, the RF-BIJ initiative underwent a transformative shift in its approach. The primary focus pivoted towards establishing and nurturing resilient, self-reliant rural communities. Drawing insights from past experiences, the program underwent a redesign to effectively tackle contemporary challenges in a post-pandemic era. Moreover, the recalibration was meticulously aligned with the governmental priorities, underscored by three foundational pillars:
1. Climate Resilience for Sustainable Development (CR4SD): This pillar strives to bolster the resilience of rural communities in the face of climatic challenges. It emphasizes the adoption of sustainable practices within the agriculture and livestock sectors.
2. Integrated Value Chain Development (IVCD): The second pillar concentrates on enhancing the value chains across different sectors. By fostering integrated approaches, it seeks to amplify the economic potential of rural areas.
3. Diversifying Rural Incomes and Women Entrepreneurship (DRIWE): This pillar recognizes the significance of diversifying income sources, particularly for women in Self-Help Groups (SHGs) and the youth. It aims to empower them with entrepreneurial opportunities, thereby promoting gender equality and economic growth.
The overarching goal of the RF-BIJ initiative is to cultivate a resilient rural India. This is envisaged by reinforcing climate resilience, advancing agricultural and livestock practices, and empowering women in SHGs and youth. The initiative operates on a foundation of collaboration, uniting partners and communities. By adopting a holistic approach, the Rural Transformation program, bolstered by the participation of the community and convergence with diverse stakeholders, aspires to achieve sustainability and enhance livelihood resilience. Furthermore, these endeavors harmoniously contribute to national priority missions and the Sustainable Development Goals.
The strategic implementation framework is rooted in collaboration with various stakeholders. This encompassing approach involves engagement with development sector organizations, private entities, governmental bodies, and collectives. The aim is to holistically impact rural communities, fostering inclusive and sustainable development that resonates with the foundational ethos of the RF-BIJ initiative.
4.2 Supporting Sustainable Water Initiatives
Since 2016, Reliance Foundation has been a steadfast supporter of Paani Foundation in Maharashtra, dedicated to cultivating a grassroots movement across the districts of Paschim Maharashtra, Vidarbha, and Marathwada. This collaborative endeavour seeks to fortify community resilience against the challenges posed by drought and climate change.
Central to this partnership is the innovative initiative of Digital Sheti Shalas, serving as a transformative platform that directly links farmers with seasoned experts. These digital farming schools, thoughtfully designed and made accessible without any associated costs, serve as hubs of knowledge encompassing twenty-six key Kharif crops. Empowered by the wisdom of agricultural experts, numerous farmer groups have translated their newfound knowledge into action, adopting best practices that have yielded impressive results.
From meticulously testing seed germination capacity before sowing to implementing seed treatments, these farmer groups have harnessed their collective strength. By procuring inputs in a collaborative manner, they have not only achieved cost savings but also witnessed improvements in crop yields. The implementation of initiatives such as 'Maha Gat, Maha Kutumb' across 39 taluks, free laboratory testing, and the 'Sale to Safe Harvest' program, which connects farmers directly with markets, further highlights the holistic approach of this collaborative effort.
Additionally, Reliance Foundation has lent its support to yet another significant initiative aimed at enriching livelihood prospects in 28 villages situated within Palghar, Vikramgad, Dahanu, and Talasari blocks of Maharashtra. This targeted initiative extends its positive impact to 1,107 farmer families, exemplifying the Foundation's unwavering commitment to fostering sustainable change at the grassroots level.
4.3 Nutrition Security
Enhancing nutrition assumes paramount importance in cultivating resilience, as households fortified with nutritional resilience are better poised to endure and rebound from external adversities. Throughout the year, a concerted effort was directed towards motivating more than 20,500 households to embrace dietary diversification. The emphasis was particularly pronounced for vulnerable segments of the population. This approach sought to bolster the effective utilization of food resources while acting as a preventive measure against both acute and chronic malnutrition.
4.4 Value Chain Strengthening through Farmer Collectives
Through its BIJ (Bharat India Jodo) program, Reliance Foundation is dedicated to enhancing market returns for the benefit of small farmers by fortifying crop value chains. This initiative encompasses a systematic approach, encompassing strategies to augment crop productivity and enhance post-harvest market accessibility. Furthermore, it actively encourages farmers to ascend the value chain, resulting in improved economic prospects.
In the fiscal year 2022-23, the RF-BIJ program has made substantial strides, engaging with 22 value chains spread across 24 districts. This initiative has been instrumental in facilitating higher productivity across an agricultural expanse exceeding 16,200 hectares. A pivotal component of this success has been the introduction of advanced farming practices, including the incorporation of improved seed varieties for crops like soybean, mustard, wheat, chickpeas, and turmeric. Technological innovation has also been harnessed, with the integration of farm mechanization such as drone-based mechanized spraying, boom sprayers, seed drills, and mechanized paddy transplanting.
In addition to these efforts, Reliance Foundation has actively collaborated with over 121 farmer collectives. The focus has been on augmenting their capabilities, linking them to viable markets, and guiding them towards better governance and compliance standards. Remarkably, these farmer collectives have engaged with over 60,800 farmers, with transactions amounting to nearly INR 112 crore. Notably, the impact has been noteworthy, with farmers enjoying an average of over 12% higher market returns compared to the local market.
The multifaceted approach of Reliance Foundation's BIJ program stands as a testament to its commitment to not only improve market returns for small farmers but also to foster holistic development by infusing advanced practices and technological solutions into the agricultural landscape.
4.5 Financial Inclusion and Promoting Access to Social Security Benefits
Financial Inclusion stands recognized as a pivotal catalyst for fostering economic growth and alleviating poverty. Within this context, RF BIJ (Reliance Foundation Bharat India Jodo) has emerged as a significant contributor, playing a crucial role in forging connections to financial services and social security schemes. This engagement is manifested through a series of measures encompassing mass awareness campaigns, linkage camps, and documentation assistance. The impact of these endeavors has resonated with nearly 55,000 individuals, spanning a diverse range of services including savings products, government-sponsored health insurance, life insurance, crop insurance, institutional credit for Self-Help Groups (SHGs), and documentation support for availing old age and widow pensions, EKYC, E-Shram card, Artisan Card, and more.
The provision of access to a comprehensive suite of financial services, including bank accounts, loans, insurance, and government entitlements, has been instrumental in accomplishing collective objectives. These objectives encompass eradicating poverty, fostering inclusive growth, and mitigating inequality. In Jhajjar, multiple CSR initiatives have been harnessed to support over 10 villages in various infrastructure projects, ranging from community shed construction to boundary wall establishment and backfilling work.
An additional endeavor, Mission Sahyog in Jhajjar, is implemented across 11 villages within Haryana's Jhajjar district. Over an 8-month span, this initiative aims to empower the underprivileged segments of the population by expanding their access to welfare policies and government schemes. Reliance Foundation's approach to this initiative revolves around three core pillars: Awareness, Support, and Capacity building coupled with access to entitlements. A comprehensive survey of 868 households has been conducted thus far, with 1,832 families being linked to an array of government schemes including Ayushman Card, E-Shram Card, Atal Pension Yojana, Sukanya Samriddhi Yojana, Suraksha Bima Yojana, Widow Pension Scheme, Pradhan Mantri Matru Vandana Yojana, Vivah Shagun Yojana, PM-Kisan Samman Nidhi Yojana, among others.
These tireless efforts have yielded remarkable outcomes. Through the dedicated actions of the initiative's team, more than 1,800 villagers have reaped benefits amounting to approximately INR 1.4 crore. The RF BIJ's multifaceted approach underscores its commitment to promoting financial inclusion and socioeconomic advancement, thereby making tangible contributions towards achieving broader developmental goals.
4.6 Digital Farm School
The Digital Farm School embodies a novel 'phygital' (physical + digital) platform meticulously crafted for farmers to actively engage, amplify their expertise, and foster capacity-building while nurturing a culture of experimentation and innovation. This platform acts as a bridge between farmers and various pivotal stakeholders within the ecosystem, culminating in the collaborative discovery of localized solutions aimed at fostering sustainable food production.
Operationalizing this endeavour relies on robust institutional partnerships that channel authoritative crop management guidance across a range of Information and Communication Technology (ICT) platforms. These include WhatsApp groups, mobile-based audio advisories, Chabot interactions, YouTube instructional video streaming, and interactive programs like multi-location audio conferences, multi-location video conferences, and the Reliance Foundation Toll-Free Helpline.
The trajectory of learning within the Digital Farm School mirrors the entire crop cycle, spanning from the meticulous selection of seeds to the moment of harvest. Through meticulously timed advisories and interactive programs tailored to address specific needs at distinct stages of the crop cycle, farmers are empowered to grasp intricate relationships and delve into the scientific underpinnings of agricultural practices.
Across 15 states, the Digital Farm School initiative has gained substantial traction. With a concentrated focus on nine specific crops, over 200 Digital Farm Schools currently operate. This initiative extends its influence to propagating climate-adaptive agricultural methodologies, encapsulating elements like varietal selection, innovative sowing and planting techniques, judicious use of fertilizers, strategies for enhancing yields, and implementing post-harvest technologies.
In essence, the Digital Farm School initiative embodies the fusion of physical and digital realms, synergizing the best of both worlds to empower farmers with knowledge and tools that foster sustainable agricultural practices and bolster the resilience of food production systems.
4.7 Technological Platforms for Information Dissemination
Reliance Foundation harnessed the potential of YouTube channels as dynamic platforms for conducting live video conferences, facilitating direct connections between communities and subject-matter experts. This strategic utilization complements the diverse array of content already present on the channel, catering to a spectrum of domains encompassing agriculture, fisheries, and livestock. Notably, the YouTube content spans across ten Indian languages, namely Bengali, Gujarati, Hindi, Kannada, Malayalam, Marathi, Odiya, Punjabi, Tamil, and Telugu. This inclusive approach ensures that users can seamlessly access and engage with content that resonates with their specific interests.
Recognizing the enduring value of certain advisories that hold relevance across time, Reliance Foundation has harnessed the YouTube platform to disseminate static advisories in the form of video modules. These advisories serve as timeless best practices, remaining pertinent to particular crops for extended periods. Such content is thoughtfully stored within the repository of the YouTube channel, ensuring that individuals from diverse backgrounds can readily access and benefit from this repository of knowledge.
The nimble actions undertaken by Reliance Foundation in this domain have yielded a tangible impact, culminating in heightened community knowledge dissemination and the effective sharing of solutions endorsed by experts. The culmination of these efforts is exemplified by the staggering numbers: a total of 496 live interactive programs have been conducted, alongside the availability of 914 video modules. This robust collection of content has garnered a collective viewership of approximately 2.4 million on YouTube, bearing testament to the foundation's commitment to knowledge propagation and community empowerment.
5. Education
Quality education serves as the bedrock of sustainable development and lies at the core of Reliance Foundation's vision for a truly inclusive India. The educational institutions and initiatives established by Reliance Foundation recognize the paramount importance of unlocking the remarkable potential held by the nation's youthful demographic. This realization is rooted in the aspiration to cultivate a brighter future for India.
In alignment with the United Nations Social Development Goals, particularly Goal 4 which pertains to quality education, Goal 8 focusing on decent work and economic growth, and Goal 10 emphasising reduced inequalities, Reliance Foundation's educational endeavours are dedicated to enriching accessible and quality education. This commitment extends to all segments of society, placing a distinct emphasis on addressing the educational needs of vulnerable and marginalized communities.
5.1 Jio Institute
The Jio Institute stands as a multifaceted institution of higher education, nurtured under the auspices of the Reliance Foundation Institution of Education and Research (RFIER), situated in Navi Mumbai, India. Its overarching ambition is to ascend to the echelons of global acclaim while embodying quintessential Indian academic excellence.
In the realm of preparing the youth for employability, the Institute has imparted training to over 14,500 individuals, equipping them with the requisite skills for the retail sector. The Institute has also announced a noteworthy initiative, unveiling plans to offer 50,000 scholarships over the next decade, extending invaluable support to aspiring students. Furthermore, the Institute's Education and Sports for All (ESA) initiatives have reached more than 30,000 children, underscoring a commitment to holistic development.
The infrastructure of the Jio Institute is a testament to its commitment to holistic learning. The Ulwe Campus boasts a fully developed array of facilities, encompassing internal amenities such as classrooms, laboratories, residential spaces, and administrative offices, complemented by external features like a world-class athletic track, an open-air amphitheater, and versatile open spaces. The Dronagiri Campus, designed in collaboration with Sasaki, a distinguished global entity specializing in university campus development, has crystallized as a masterplan, poised to shape the Institute's future.
The academic pursuits of Jio Institute resonate harmoniously with the United Nations' Sustainable Development Goal (SDG) 4, which champions accessible and equitable quality education. Operational since July 2022, the Institute embarked on its academic journey with two Post Graduate Programs: one in Artificial Intelligence and Data Science, and another in Digital Media and Marketing Communications. This initiative garnered applications from 25 Indian states and 14 countries, heralding a diverse and dynamic student body. A remarkable 18 Indian states, Union Territories, and four foreign countries are represented among the selected students. These students exhibit multifaceted backgrounds, hailing from a variety of industries and socio-economic strata. Impressively, more than 25% of the PGP students are women, and scholarships have been awarded to 28% of the students, nearly half of whom are women. The Institute's approach to education is holistic, addressing the multifarious dimensions that contribute to comprehensive development.
5.2 Dhirubhai Ambani Scholarship Programme (DAS)
For over 25 years, Reliance has been a steadfast provider of scholarships to exceptional students, a commitment inspired by the visionary beliefs of Reliance Founder-Chairman, Shri Dhirubhai Ambani. This belief asserts that investing in the youth is the most potent avenue to propel the nation's progress. The Reliance Foundation scholarship initiatives have made a profound impact, touching the lives of nearly 12,700 young individuals across the expanse of India.
In a pioneering stride, June 2022 marked a significant milestone as Reliance Foundation handpicked 100 scholars from India's premier educational institutions. This initiative aspires to nurture the potential leaders of tomorrow, specifically in the fields of frontier sciences and engineering. These domains play a pivotal role in shaping India's future, channeling their influence for the greater social good.
A further testament to Reliance Foundation's commitment emerged on the occasion of Shri Dhirubhai Ambani's 90th birth anniversary in December 2022. On this momentous day, the Foundation renewed its dedication to India's youth by pledging support for an additional 50,000 students over the upcoming decade. The Reliance Foundation Undergraduate Scholarships are designed to sustain up to 5,000 meritorious undergraduate students annually, encompassing all academic streams, while being merit-cum-means based. Additionally, the Reliance Foundation Postgraduate Scholarships are geared towards bolstering 100 of India's most brilliant postgraduate scholars each year, as they delve into new technologies and frontier sciences.
The underlying goal of both these scholarships is to nurture and empower exceptional students, with an overarching aim of fostering a robust, dynamic, and engaged alumni network. This network will empower scholars to pursue advanced education, transition into young professionals, and subsequently spearhead India's trajectory of growth.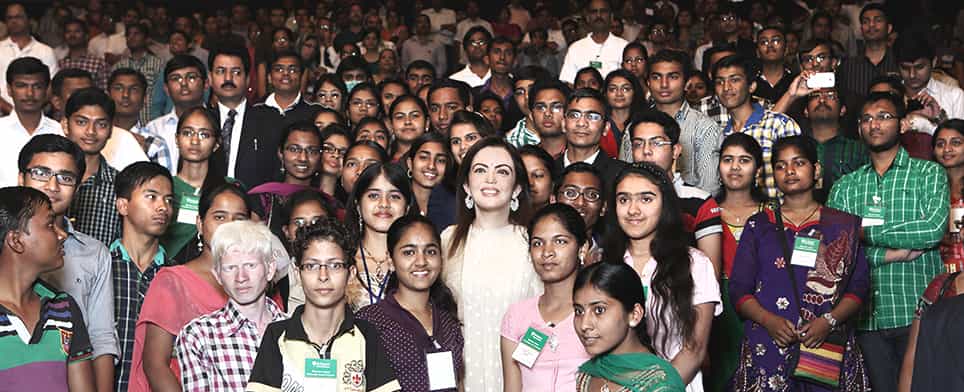 5.3 Dhirubhai Ambani International School (DAIS)
Dhirubhai Ambani International School (DAIS) offers a top-tier education to approximately 1090 students, guided by a faculty of 185 teachers well-versed in both national and international curricula. DAIS is dedicated to preparing students for the ICSE, IGCSE, and IB Diploma examinations, consistently achieving exceptional results in Board examinations and securing remarkable placements in esteemed universities.
With the advent of the 2022-23 academic year, DAIS embarked on a new educational journey by transitioning to novel curriculum pathways. The school proudly holds the designation of a candidate School for the IB Primary Years Programme (PYP) and the IB Middle Years Programme (MYP), both of which are already being imparted to students.
DAIS is honored to be recognized as a Microsoft Showcase School for two consecutive years, indicative of its unswerving commitment to integrating technology into education and fostering the professional development of its teaching staff. Currently, the faculty comprises exclusively Microsoft Educators (ME), with 20% being esteemed as Microsoft Innovative Educator Experts (MIEEs), and 40% possessing the highest level of Microsoft certification for educators, namely Microsoft Certified Educators (MCEs).
The new campus, currently under construction, adheres to international standards, offering a multitude of collaborative and independent learning opportunities tailored to each student's needs. The campus boasts expansive and versatile spaces, equipped with stimulating learning environments, adaptable furniture, and cutting-edge equipment. Moreover, the campus features experiential learning zones, seamlessly integrated digital technologies for teaching and learning, state-of-the-art sports and co-curricular facilities, and a comprehensive suite of safety and security provisions.

5.4 Strengthening Early Childhood Care and Education (ECCE) in India
In 2022, Reliance Foundation embarked on its inaugural venture into establishing a novel programme centered on Early Childhood Care and Education (ECCE). Drawing from extensive consultations with experts and stakeholders, Reliance Foundation meticulously devised a comprehensive and long-term strategy for its ECCE initiative. The overarching vision was to create a transformative model that would reshape the ECCE landscape in India. This model aspired to ensure that all children aged three to six years would achieve age-appropriate developmental milestones. By accomplishing this, these children could fully unleash their potential, harness educational opportunities, and thrive in their future pursuits.
A striking manifestation of this vision is evident in the Varanasi district of Uttar Pradesh, where 25 Anganwadi centers were thoughtfully crafted as exemplar spaces, benefiting 750 children. These centers seamlessly integrate local culture into their design, with walls adorned in the captivating 'Sanjhi' art form. Every center is equipped with high-quality, child-friendly furniture, engaging play equipment, and a plethora of learning materials encompassing books, toys, art supplies, and more. Each center also features a smart TV and a Reliance Nutrition Garden. Safety and hygiene are prioritized, as indicated by child-friendly restrooms, RO water filters for potable water, refurbished kitchens with exhaust systems, expansive windows for natural light and ventilation, and ramps with railings for accessibility.
In a poignant commemoration of India's 75 years of independence, the first center at Gopalpur Karauta was inaugurated and handed over to the community on August 15, 2022. Furthermore, Reliance Foundation is presently engaged in the development of an additional 75 Anganwadi centers, underscoring the Foundation's unwavering commitment.
In Hazira, a pioneering initiative is underway to digitally elevate Anganwadis to 'Smart' Anganwadis. This transformative project has empowered 22 Anganwadis across seven neighboring villages with smart TVs, pen drives, and digital educational resources. The initiative caters to the educational needs of 650 children and extends recognition to 2,333 ASHA workers and Anganwadi workers for their dedicated contributions to child care and early childhood education.
The Pragya Shibir initiative, another endeavor by Reliance Foundation, provides invaluable support to students preparing for their 10th and 12th class board exams. This year, 530 students reaped the benefits of the Pragya Seminars, a series that includes motivational talks and counseling sessions. The seminars are instrumental in helping students identify their academic aspirations, chart their paths toward career objectives, and navigate their educational journey. Additionally, this year, the initiative saw the enrollment of 20 girl students in secondary education.
Notably, Reliance Foundation is currently involved in the development of 75 more Anganwadi centers, marking yet another milestone in its journey towards holistic education and societal enrichment.
5.5 Reliance Foundation Teacher Awards
Established in 2018, the Reliance Foundation Teacher Awards were conceived to acknowledge and celebrate the exceptional accomplishments of the foremost 1,000 teachers who excel in the Teaching Professionals Olympiad (TPO). These prestigious awards are orchestrated by the Centre for Teacher Accreditation (CENTA), with unwavering support from Reliance Foundation.
In the fiscal year 2022-23, a remarkable participation of 5,300 educators was observed in the TPO, spanning across two comprehensive rounds of evaluation. The distinguished winners of the national TPO competition were presented with cash prizes amounting to INR 1 lakh each, generously conferred by Reliance Foundation. Additionally, commendations were extended to the top 1,000 teachers for their outstanding contributions.
As a testament to its enduring commitment, Reliance Foundation has significantly impacted the educational landscape by engaging over 38,000 teachers throughout the span of four editions of the CENTA TPO. Notably, the venerated top educators have been granted cash awards totaling over INR 90 lakh, reinforcing the Foundation's dedication to elevating the stature of teaching and recognizing its pivotal role in shaping society's future.
6. Healthcare
Reliance Foundation places a steadfast emphasis on enhancing healthcare accessibility, fortifying India's healthcare ecosystem, and nurturing community awareness. The overarching goal is to promote holistic well-being and inculcate a culture of healthy living.
Diverse healthcare initiatives span the entire spectrum of care, spanning from primary to quaternary. The health outreach program, catering to underserved communities, is a pivotal component. It offers a blend of preventive and primary care, while institutions like the Sir H.N. Reliance Foundation Hospital and other advanced care establishments in multiple locations complement and enhance the program's reach.
A remarkable 16,094 children have been meticulously screened for malnutrition, attesting to Reliance Foundation's dedication to supporting the most vulnerable communities in accessing quality healthcare. The health outreach program stands as a vanguard for preventive healthcare, simultaneously delivering general and specialized therapeutic care. This is achieved through strategic collaborations with various institutions.
Throughout the fiscal year 2022-23, these health outreach endeavours collectively impacted 138,000 individuals through a staggering 580,000+ consultations. The backbone of this program lies in the Mobile Medical Units (MMUs), which bring medical care right to the doorsteps of communities. These units facilitated over 288,000 consultations across various locations. Complementing the MMUs are the static medical units and health camps, which further amplify healthcare accessibility.
The program's initiatives are intricately tailored to alleviate the burden of health conditions such as anemia, malnutrition, preventable blindness, cancers, hypertension, and diabetes among vulnerable groups. Among the 34,000 women and girls screened for anemia, nearly 19,827 were diagnosed as anemic, receiving subsequent treatment and consistent follow-up care.
Recognizing the enduring implications of childhood malnutrition on adult health, the program actively endeavours to detect and address malnutrition at an early stage. Furthermore, the initiative extends its care to adults and children living with HIV, offering a comprehensive spectrum of support that encompasses access to treatment, adherence to regimens, and provision of essential nutrition kits.
Incorporating a vital facet of education, the program also prioritizes raising awareness about nutrition. In the fiscal year 2022-23, the initiative meticulously screened 16,094 children for malnutrition, identifying 464 with Moderate Acute Malnutrition and 228 with Severe Acute Malnutrition.
By embracing a multi-faceted approach, including screenings, consultations, treatment, and education, Reliance Foundation's healthcare initiatives stand as beacons of hope, bridging the gap in healthcare accessibility and nurturing a culture of well-being within underserved communities.

6.1 Reliance CSR Drishti
Initiated in 2003, the mission of the Drishti programme is improving and restoring the vision of people in most-at-need communities. In partnership with the National Association for the Blind (NAB), Aravind Eye Care and Sankara Eye Foundation, Reliance Foundation Drishti has been supporting free corneal transplants since 2003. Reliance Foundation is the only Indian corporate foundation that has supported 20,400+ corneal transplants since inception, a milestone achieved in FY 2021-22. To increase awareness of the importance of eye donation, the programme has been conducting Drishti Art Competitions from 2004 and Drishti Essay Competitions from 2008 annually for children and grandchildren of employees across all Reliance offices and locations.
Reliance Foundation Drishti publishes India's only fortnightly international Braille newspaper in Hindi in association with the NAB. Prior to the pandemic, the newspaper had a circulation of over 4,200 copies and a readership of around 24,000 visually impaired readers across India and 15 other countries. The physical printing of the newspaper, which was stopped due to the pandemic, was resumed last year and by March 2022 the circulation and readership crossed pre-pandemic levels. Along with this newspaper, on World Braille Day on January 4 every year, a Braille table calendar is also distributed to readers.
Over the course of the year 2022-23, the program delivered more than 11,000 consultations and played a pivotal role in facilitating 545 cataract removal procedures and 767 corneal transplant surgeries.
6.2 National TB Elimination Programme
As an integral component of the National TB Elimination Programme, Reliance Foundation has undertaken the task of furnishing one-year nutrition kits to 5,000 individuals in Ahmedabad. Each nutrition kit is thoughtfully curated, comprising essentials such as 3 kilograms of Atta (flour), 1.5 kilograms of Pulses, and 250 grams of edible oil. The identification of individual beneficiaries is orchestrated by the Ahmedabad Municipal Corporation (AMC), meticulously compiling a roster of recipients along with their respective mobile numbers. This registry is then shared with the retail team, collaborating in this endeavour.
Ensuring the accuracy and legitimacy of the distribution process is paramount. To this end, the kits are delivered by Grab, a designated delivery partner, after a stringent verification process. This verification entails an OTP-based system, adding an extra layer of authenticity.
In scenarios where certain beneficiaries cannot be promptly located, a well-defined protocol comes into play. The nutrition kits are entrusted to the municipal ward office, subsequently being dispensed directly by the authorities from that point onward.
Notably, this initiative has garnered notable recognition, with acknowledgment coming from none other than the Governor of Gujarat. Over the span of six months, a significant milestone has been achieved, as ration kits have been effectively distributed to a substantial number of beneficiaries, reinforcing the Foundation's unwavering commitment to fostering well-being within the community.
6.3 Strengthening Healthcare Ecosystem at Various Plant Locations
In the last year, the endeavours within the sphere of health outreach have made a significant impact, reaching a remarkable 1.78 lakh individuals through a comprehensive range of avenues. These encompass community medical centers, mobile medical units, specialized eye care services, and a substantial 50 health camps.
A notable highlight resides in the meticulous screening of 18,619 patients for Non-Communicable Diseases, an initiative seamlessly integrated through the innovative Laboratories on Bikes program. Additionally, Project Drishti has provided crucial support for 545 cataract surgeries, amplifying the accessibility of eye care services. Moreover, 2,140 nutrition kits were thoughtfully disbursed to children affected by HIV, symbolizing a commitment to holistic well-being.
Health camps held on significant health-related observance days have played a pivotal role in detecting health anomalies and fostering awareness to counteract them. These encompass diverse initiatives, including oral cancer screening on World No-Tobacco Day, diabetes screening camps, and a heart health camp for the elderly on World Heart Day in September. The program's comprehensive scope even extends to promoting awareness regarding menstrual hygiene on World Menstrual Hygiene Day.
Prominent among these initiatives is the multi-diagnostic camp conducted in April, oral cancer screening on World No-Tobacco Day, diabetes screening on World Diabetes Day, and the heart health check-up camp coinciding with World Heart Day. The program's dedication is evident in health check-up initiatives, such as those designed for individuals affected by HIV on World AIDS Day. Furthermore, other notable endeavours include the Antenatal clinic, Anaemia control program, Vector-borne diseases control program, School health check-up program, and awareness sessions conducted on World Menstrual Hygiene Day.
The cumulative impact of these endeavours is evident as a significant 1.38 lakh individuals have been positively influenced by the health outreach initiatives during the fiscal year 2022-23.
7. Sports for Development
Reliance Foundation Sports for Development is a platform that nurtures sporting talent from across India into high performers through multi-pronged programmes, and in the process helps India set the bar high in sports.
"It is our dream to see India take centre-stage in the global sporting arena. Our partnerships with the IOA reinforce Reliance Foundation's deep commitment to supporting and empowering young athletes across the country with world-class infrastructure and opportunities. We are also very excited to host the first-ever India House at the Paris Olympic Games in 2024. It will be a great opportunity to showcase India's immense talent, potential, and aspiration to the world!" – Mrs Nita M. Ambani IOC Member, and Founder- Chairperson, Reliance Foundation, has said.
7.1 Reliance Foundation Youth Sports
Started in 2016, Reliance Foundation Youth Sports (RFYS) aims to lay a strong foundation for India's sporting future through the development of sports in schools and colleges. This is being done through inter-institutional competitions at all levels, scholarships for athletes, grants to institutions for sporting infrastructure as well as provisions for equipment and training of coaches. Today, RFYS is a prominent scouting platform for sporting talent in the country and has so far reached out to 90 lakh youth and children across 26 states and Union Territories.
7.2 Reliance Foundation Young Champs (RFYC)
Reliance Foundation Young Champs (RFYC) is a football academy that runs a full-scholarship based residency programme to help nurture young talent in India. It was started in 2015 and is now recognised as the best residential football academy in India by the All India Football Federation (AIFF).
By setting up a worldclassplatform for training, and with strong emphasis on education, RFYC seeks to establish a robust pipeline of talented players for Indian football. Every year talent is scouted and new players are inducted into the academy. Graduates of the academy have been selected to play for professional clubs. 8,500+ attendees across the 30 virtual sessions on variety of sport training and related topics.
7.3 Reliance Foundation Jr NBA
The RF Jr. NBA initiative aims to tap India's basketball talent by identifying and supporting development of players during the school years. Since its inception in 2013, the programme has engaged with over 1.1 crore youth from 13,500 schools nationwide and trained over 13,000 physical education instructors.
During FY 2021-22, a 12-week viewing series was organised which saw aspiring athletes interact with NBA and NBA G League players, legends and coaches. With 2,700 registrations, the series had a total digital reach of 3.3 million. Further, a Junior NBA Global Championships virtual clinic was conducted for 20 MVPs identified from the series.
7.4 Reliance Foundation Olympic Initiative
The Reliance Foundation Olympics initiative began in 2019 with an aim to improve the country's performance at Olympics and other prestigious international events, and to eventually elevate India's sporting profile and enhance its engagement with the Olympic movement. Reliance Foundation is currently supporting 13 elite athletes under its Athlete Scholarship programme and works closely with coaches, the government and sports federations. Recognising the vital role sports science and medicine play in improving sporting performance, Reliance has dedicated assistance in these areas to the scholarship athletes and to the Athletics National Camps through the Athletics Federation of India.
In FY 2021-22, Reliance Foundation scholarship athletes bagged 12 international and 16 national medals in archery, badminton and weightlifting. Six athletes marked their spots in the India squad for Senior World Championships.
Conclusion
The CSR activities have brought Reliance closer to their goal of bringing about transformative change. The social projects have touched almost every part of India, and Reliance aims to further intensify its efforts, especially through digital technology and touch more lives across India.