Nuvoco Vistas Fights COVID-19
The world is grappling with a situation that has taken everyone off guard. Nuvoco Vistas Corporation Limited, a Nirma Group company, considers providing a safe and healthy working environment for its employees and associates its inherent corporate social responsibility (CSR); more so during this pandemic.
Nuvoco has cement manufacturing facilities in Chhattisgarh, Haryana, Rajasthan, Jharkhand, and West Bengal, and through them, the organisation has reached out to the local communities and contributed food packets and essential supplies. Moreover, they are extending a helping hand to the local communities through their sales forces and over 60 ready-mix concrete (RMX) operations across the countries. Employees across locations have contributed a day's salary towards relief funds.
Here are some of the CSR and employee engagement initiatives that Nuvoco has undertaken during the lockdown:
Safety, Food Supply and Medical Care
Nuvoco has implemented a process where they daily track the wellbeing of employees across locations. The Emergency Response Procedure that was rolled at the beginning of the lockdown has offered employees a sense of comfort with the knowledge that any assistance they might require is only a phone call away.
The plant-based Occupational Health Centres (OHC) are working round the clock to provide various medical services, which also include educating employees and their families about the Dos and Don'ts regarding Coronavirus. They have been able to harness the power of technology for the better, to a large extent, and everyone is contributing in some way or the other way to ensure that their families (both, personal and professional) are safe and looked after. All plants have identified and prepared dedicated isolation rooms to tend to anyone diagnosed with any of the COVID-19 symptoms.
Extending assistance to SHGs
Nuvoco's employees and family members across its cement plants, namely Arasmeta and Sonadih (Chhattisgarh), Jojobera (Jharkhand), Mejia (West Bengal), Nimbol and Chittor (Rajasthan), and Bhiwani (Haryana) are working with local Self Help Groups (SHGs) to extend assistance beyond the plant boundaries by producing face masks for the needy. Groups of volunteers from the plants take turns to clean the surrounding areas and also deliver essentials and food items to the colony residents. They make structured visits and take rounds of the colony.
Moreover, these volunteers monitor the residents' movements inside the colony during the lockdown period; while assisting the security personnel in keeping tabs on any new people entering the colony. Plant teams are also reaching out to neighbouring communities and working with the local administration to supply food packets and other essential services where needed.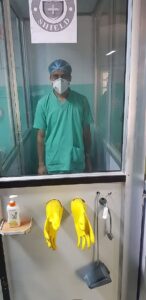 The lockdown period has brought to the fore a number of creative solutions – teams and functions have come together to design in-house a fogging-cum-sanitization device, which has helped maintain the sanitization activity covering entire colonies of staff, labour, market area, post office, bank, etc. Another team has developed a foot-operated washbasin that enables people to avoid handling taps or soap dispensers; thereby helping curb the spread of the virus. These are some of the local innovations that have sprung up and which Nuvoco is planning to replicate at other locations.
Hero of the Day
There have been initiatives identified to recognise those who put themselves in harm's way in order to serve the colony residents during these difficult times; 'Hero of the Day' is one such initiative. Two 'heroes' are nominated on a daily basis and they also receive a token cash prize from the plant's Core Management Committee This appreciative gesture has gone down well with the workers and has spurred them on to put up their best efforts.
Employee Engagement through Learning & Skills Development
Nuvoco is taking various initiatives to keep morale high in addition to keeping everyone safe and secure. E-Learning is something that Nuvoco is pursuing in a big way. They have offered the employees options of using the One Hour Learning platform, which is an e-learning tool that has a multitude of courses on Functional, Behavioural and Leadership skills. Employees can also select self-paced courses on edX, founded by Harvard and MIT and regarded as the world's leading e-Learning platform.
The lockdown period is a good time as any to refresh technical concepts. In addition to organising Total Productive Maintenance (TPM) and technical training sessions through in-house experts for the plant officers; Nuvoco's vendors, too, have shared their expertise through video conferences and helped impart skills training in the plants.
Health and mental wellbeing initiatives
Knowing that tough times require tough minds to handle the situations, mental wellbeing contributes to a person's quality of life be it professional or personal. Conducting online healing courses has helped address employees' emotional and spiritual health. Stating the importance of having regular timeouts, these initiatives comprise fun contests in which employees and their family members can participate from the safety of their own residences. This will ensure the employees get a chance to let down their hair.
The 'Hum Saath-Saath Hain' initiative comprises of fun contests in which employees and their family members can participate from the safety of their own residences. These contests stretch out over one week and participants can send in entries [drawing, singing, story writing] online. A panel of judges announces winners at the end of every week.
'Jab We Met' is a series of informal online sessions with office colleagues via video chats. It is a fantastic opportunity for employees across functions to see their office colleagues together, chat with them, and express their support and empathy.
Engaging with External Stakeholders
Nuvoco is also connecting with its customers and consumers via social media by organising contests and sharing with them the Best Construction Practices via tools like Facebook Live. '
Nuvoco Knowledge Series', a programme through which Nuvoco is connecting with its stakeholders, has completed four successful weeks. Participants have an opportunity to interact live with Nuvoco's in-house experts and glean practical tips for building sturdier homes and buildings.