Home
Press Release
CSR: Aditya Birla Education Trust launches Mpower Foundation for mental health support...
CSR: Aditya Birla Education Trust launches Mpower Foundation for mental health support to the underprivileged in Virar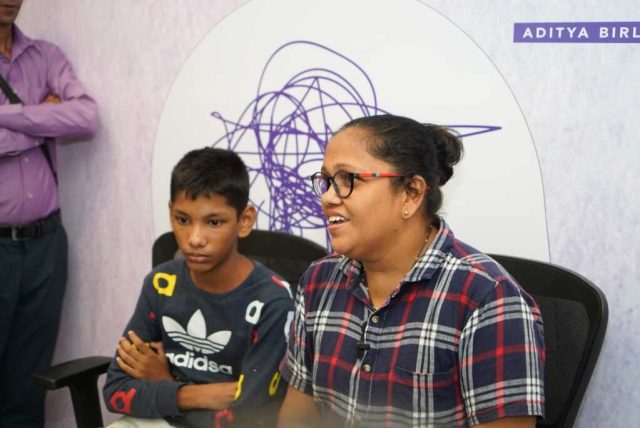 Mumbai, India: Mpower, a leading mental health initiative by The Aditya Birla Education Trust, is pleased to announce the launch of its latest Mpower Foundation in Virar, Palghar district, Maharashtra. The Mpower Foundation located in Virar East, aims to provide quality mental health care at a reasonable rate to the underprivileged and empower people living with psychosocial difficulties to lead meaningful lives, without social exclusion.
The Foundation was launched by Ms Parveen Shaikh, Vice President Operations, Aditya Birla Education Trust, Dr. Ambrish Dharmadhikari, Psychiatrist, AVP – Clinical Operations and Rural Initiative Mpower by Aditya Birla Education Trust and beneficiaries who have been receiving support from Mpower's flagship Foundation in Tardeo.
Palghar district, known for its diverse population and unique challenges, has been carefully selected as the ideal location for the establishment of the Mpower Foundation. The district's significant population density ensures that a wide range of individuals can benefit from these vital mental health services. Additionally, Palghar district exhibits diverse socio-economic factors, limited mental health infrastructure, and faces accessibility barriers due to geographical constraints, transportation limitations, and infrastructure challenges.
Moreover, the presence of vulnerable communities further underscores the urgent need to address the mental health needs of the local population. Therefore, the establishment of a dedicated mental health setup in Palghar district, particularly in Virar, becomes crucial in order to effectively address these pressing mental health concerns.
The Mpower Foundation, inspired by the vision of Dr. Neerja Birla, Founder Aditya Birla Education Trust is committed to providing mental health services to individuals from low-income backgrounds who may not have access to such support. By offering comprehensive mental health services, the foundation aims to bridge the accessibility gap and ensure that everyone, irrespective of their socio-economic background, can access the mental health resources they require.
The Mpower Foundation is launched with a core objective of raising awareness about mental health and its importance. It aims to provide customized counselling and therapy services to underprivileged individuals and families in Virar. The Mpower Foundation has assembled a team of psychologists, psychiatrists, speech therapists, occupational therapists, child and adult psychologists, and other experts who will offer counselling, therapy, and treatment in a secure and supportive setting. The Mpower Foundation's state-of-the-art facility spans 2000 square feet, featuring 7 consulting rooms and 2 therapy rooms and 1 breakout room to prioritize patient comfort and confidentiality.
Speaking about the launch, Dr. Neerja Birla, Founder & Chairperson of Aditya Birla Education Trust and Mpower, expressed "We are excited to launch the Mpower Foundation in Virar, reaffirming our commitment to providing accessible mental health services to individuals in need, regardless of their financial situation. It is crucial to recognize that without timely support, untreated mental health issues can lead to income loss and disabilities, perpetuating financial struggles. By intervening and offering comprehensive support, we aim to empower individuals to lead fruitful lives while fostering economic growth for our nation."
Mrs Mestry (Mother of Daksh Mestry one of our beneficiary) of the mental health services "I am immensely grateful to the exceptional team at Mpower Foundation for their invaluable mental health support. My son has been taking remedial and counselling sessions that helped him to focus on studies and learn things. Initially unaware that my struggles were rooted in mental illness, I would wonder if my son could not study or focus. I couldn't even articulate the problem well to the doctors or teachers as he was exceptional in all other areas of life. However, through counselling sessions with the Mpower team, my son has experienced a remarkable positive transformation. Their guidance, understanding, and support played a vital role in navigating through our difficult phase. I extend my heartfelt thanks to everyone involved in our journey to recovery and congratulate the team on opening a New Foundation in Virar."
She further added "I strongly urge individuals to educate themselves about mental health and seek support without hesitation. It has a truly transformative impact on life, and I encourage everyone to prioritize their mental well-being. Together, we can shatter the stigma surrounding mental health and build a healthier, happier society."
Mpower Foundation in Virar will collaborate with local youth, organizations, and community leaders to develop sustainable solutions for mental health accessibility. By forging partnerships and engaging with the community, Mpower aims to create a robust network of support that uplifts the mental well-being of all.
Disclaimer: This media release is auto-generated. The CSR Journal is not responsible for the content.