Home
Leaders Speak
CSR Leaders: P Padmakumar from Saint-Gobain India talks about their skill development...
CSR Leaders: P Padmakumar from Saint-Gobain India talks about their skill development initiative for underprivileged students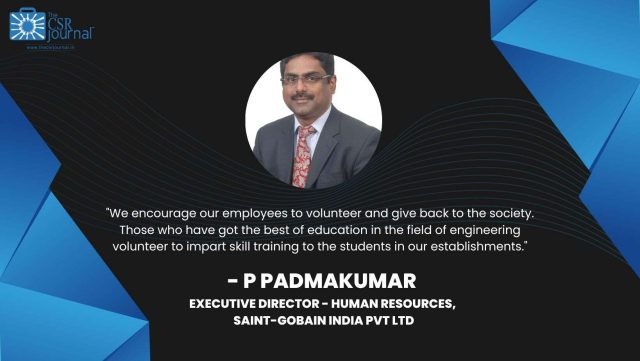 Saint-Gobain India, a leading multinational company in the building materials sector is working to address the existing skills gap in the manufacturing industry. The manufacturing industry is facing a major skills shortage. This is due to several factors such as the aging workforce, the increasing complexity of manufacturing processes, and the lack of skilled workers in rural areas.
Saint-Gobain India is working to address this gap through its flagship CSR initiative, the "Gift of Education – Learn While Earn". This programme provides access to learning for those from rural and underprivileged backgrounds in modern manufacturing shop floor practices. At the same time, 80% of the beneficiaries have moved from poor and lower-middle-class categories to higher economic categories, the company claims.
 P Padmakumar- Executive Director – Human Resources, Saint-Gobain India Pvt Ltd talks about the CSR programme in an exclusive conversation with The CSR Journal.
Please tell us about Saint-Gobain India's Gift of Education – Learn While Earn programme
Where to provide skill training to people and who will impart this training, our "Gift of Education" CSR programme addresses these two challenges. We encourage our own employees to volunteer for the cause and give back to the society. Those who have got the best of education in the field of engineering volunteer to impart skill training to the less privileged students in our establishments. Today's generation wants to implement what they learn. They want to practice and understand the theory behind what they are doing. For example, if they are operating a crane, they press a button to make it move up or laterally or downwards and subsequently they learn the theory behind what they have done.
This programme was started by Saint-Gobain in Chennai in 2010 and later implemented in Rajasthan. Currently the programme is running in Bhiwadi (Rajasthan) and Chennai in our factory premises. It is an eight semester programme covered over 4 years.
At least 95 percent of our students come from underprivileged backgrounds or are orphans. Students who have qualified 10th standard and are aged above 18, are eligible to enrol in this programme. A lot of these students who are coming for this programme are first generation learners in their family. Also, a lot of them are the eldest of all the children and the entire earning of their parents has been invested for his/her education and nothing much is left for the younger siblings.
There is a partnership between Saint-Gobain and NTTF (Nettur Technical Training Foundation), a premiere technical education institute headquartered in Bengaluru. We have their faculty within our premises. They go through each of the workstations which we have assigned for this training and the levels of skill and knowledge required to operate the workstation is documented. This forms the basis of the curriculum.

What kinds of skills are taught to these students?
These students are taught mechanical skills, electrical skills, instrumentation etc. Their certification is not glass-related, it is more generic. The certification is Diploma in Manufacturing Technology, issued jointly by NTTF and Saint-Gobain.
We have made a lot of changes in the curriculum because the speed in which the students are able to assimilate the knowledge is something which we did not imagine. So we could open more work stations for imparting training. The students work on the shop floor for 5 days and one day is the classroom teaching. These 5 days they are the guidance of our employees who volunteer to mentor them in these technical areas.
The students are given hostel, transportation and food at a subsidised rate. There is a scholarship given to the students, which starts from Rs 7000 per month in the first semester and when they reach the final semester it goes up to Rs 12,000 or 12,500. NTTF gives this scholarship to the students and we reimburse it to them.
What do you do to attract students to this programme and retain them?
What we do to retain students and keep motivating them is that we make a small deduction from their stipends and put it as a recurring deposit in the name of that student. When a student is convocated on the day of passing out, we give them an offer letter along with a fixed deposit receipt of Rs 54,000 to their family members which we had deducted in the form of a recurring deposit from their stipend. Also, we have absorbed around 95 percent of them till now, this works as a motivation for others to join this programme.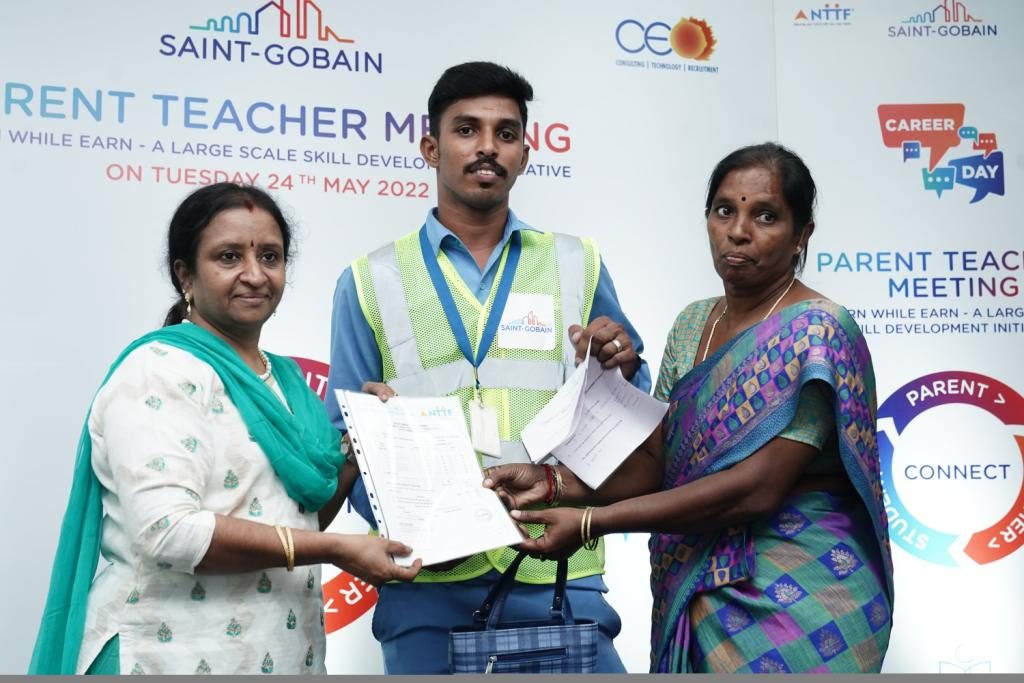 As you mentioned that most of these students come from underprivileged backgrounds, what do you do to encourage parents to enrol their son/daughter for this programme?
Interestingly, 50 percent of the scholarship directly goes to the student's father or mother's account. This way, parents feel more encouraged to send their children to our programme. Also, we hold parent-teacher meetings every semester where students' report cards are shown to their parents to keep them updated about their child's progress.
Also, if a student is not performing as expected, we put in additional efforts to provide coaching to them; a lot of students have shown remarkable improvement after this. These students have a high aspiration to learn and grow.
How many students have benefited from this programme till now?
Around 320 students have benefitted from this programme till now.
How would you rate the performance of these students?
Once the Commissioner of Industries of Rajasthan visited this programme in Bhiwadi and went through all the records. He was very surprised to find around 1200 suggestions made by these students which have been implemented by a company which has got a world class manufacturing certification. These students have suggested ideas for improvement and we have implemented the same. This is the power of rural India, where people who come from underprivileged background when they are exposed to an environment which is world class, they are able to accelerate their appetite for knowledge and also their aspirations not just as students but also as contributors towards progress.

Ahana Bhattacharya can be reached at ahana@thecsrjournal.in