Embassy Donates Recording Studio to Augment Online Learning for Govt. School Kids
Embassy Services Private Ltd. (ESPL) has partnered with the Department of State Educational Research and Training (DSERT) to donate recording studio equipment and fit-outs that will be used to provide much-needed learning opportunities for Government School students during the Covid-19 pandemic and beyond.
With schools unable to completely open due to the rising positive cases of the virus, ESPL aimed to supplement the existing online teaching programmes and teacher development undertaken by the Department of Education by offering a permanent solution.
The recording studio was inaugurated in the presence of S. Suresh Kumar, Minister for Primary and Secondary Education, Labour & Sakala.
With students dependent on Government Schools for their education, safety, health and nutrition, the Department of Education has set-up various online channels such as Makkala Vaani to ensure students don't lose touch with their schooling. ESPL's contribution will ensure infrastructure is in place to support the 41 lakh students in Karnataka.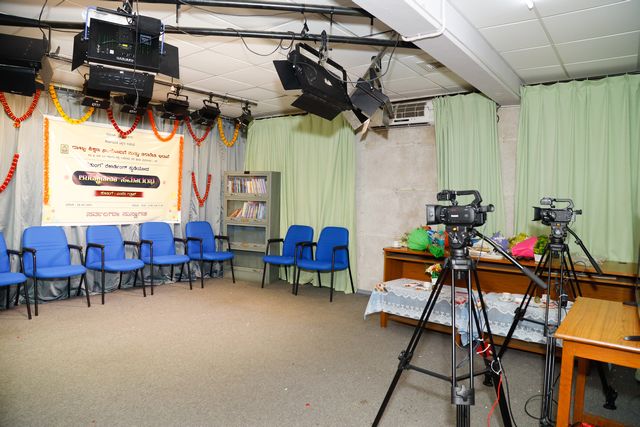 At the cost of 16.89 lakh, they donated a digital camera, a video streaming studio, a CG creator, an LED HD TV, a tripod camera, lights, a green backdrop, microphones, headphones, an audio mixer, audio monitors, an audio distribution amplifier, and audio and video cables.
S. Suresh Kumar, Minister for Primary & Secondary Education, said, "The safety and health of our students is the utmost priority – we are extremely thankful to

Embassy for their support

in continuing our students' education without interruption during this difficult time by providing much-needed recording equipment. In addition, we will be able to utilise it to assist in teacher training and development. We appreciate Embassy's partnership with the Department of Education, which has only strengthened over the years."
M.R. Maruthi, Director of DSERT, said, "We are extremely grateful for this partnership with Embassy, which ensures no child will be left behind during this challenging period. This studio will be used to record vital educational content for students, safeguarding against losing a generation of learners due to Covid-19. As schools remain partially closed, such initiatives by Corporates to join hands with the Government is truly meaningful – we hope this acts as an inspiration to other corporates."
Pradeep Lala, Managing Director & CEO, ESPL, "At ESPL, we believe that education empowers the next generation. We have been working in Government Schools since 2012 and are very grateful to play a role in ensuring that the infrastructure is in place for students to continue their schooling. We encourage other corporates to join us in protecting the academic futures of Government School students and assist with facilitating this crucial shift to these new ways of learning."
The employees of DSERT also received face shields and temperature guns, donated by ESPL. Embassy has recently renewed their Memorandum of Understanding with the Government of Karnataka, Department of Education for the all-around improvement of Government Schools in Bangalore. The scope of the MoU is to provide educational resources, infrastructural support and holistic health programmes for 20 Government Schools at a budget of Rs. 15 Crores.
Disclaimer: This media release is auto-generated. The CSR Journal is not responsible for the content