CSR: Empowering Barley Farmers at Collaborative Farming Program KISSAN UNNATI at Sri Ganganagar, Rajasthan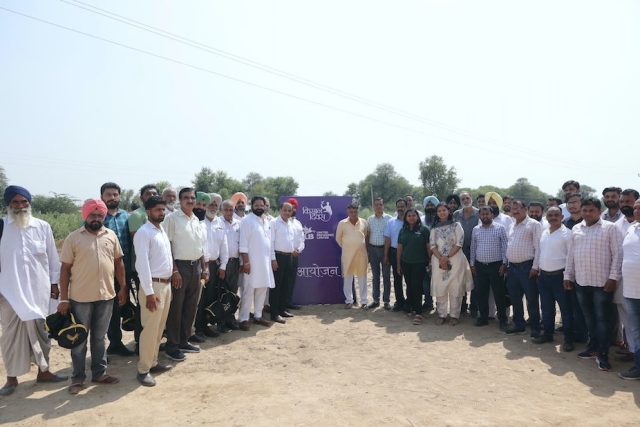 United Breweries Limited (UBL) marked a significant milestone by hosting a farmer-centric engagement event for barley farmers associated with the company in and around Sri Ganganagar, Rajasthan.
UBL recognizes the intrinsic connection between the brewing industry and the environment, as our products rely heavily on crops and water as primary raw materials. With a commitment to sustainability, we actively collaborate with one of the most important stakeholders – farmers. Under the collaborative programme UBL ensures quality seeds to the farmers, farm advisory through its experienced extension staff and procure the produced barley from the farmers, ensuring premium over market price. UBL has also been leading the 2R Barley cultivation model in India which supports locally sourced ingredients, promoting sustainable practices while ensuring the highest quality for our consumers.
To mark this successful association with farmers, which is only growing stronger year on year, UBL organized this farmers day (Kissan Divas) inviting over 250 farmers across the UB operational areas. This event recognized the long-standing association of barley farmers with UBL, celebrating their journey and success stories, while also updating them about the recent developments in barley farming.  UBL named its barley farming programme as KISSAN UNNATI during this event.
Speaking at the event, a spokesperson for United Breweries said "At UBL, our commitment to 'Care for People and Planet' includes prioritizing local sourcing, investing in our communities' social and economic growth, and promoting responsible consumption. At Shri Ganganagar, our collaborative farming model which has been in existence for over two decades focuses on improving quality, productivity, ensuring cost-efficiency, and long-term sustainability. We are pleased to host this event to celebrate milestones achieved in partnership with the farmers and our collaborative farming program – Kissan Unnati."
The Kisan Unnati program is driven by a commitment to align barley production with sales trends, effectively reducing post-harvest wastage. We prioritize maximizing crop yields through strategic seed and fertilizer utilization, coupled with precise harvest timing. In FY 2022-23, nearly 30% of our barley requirements were met through collaborative farming initiatives, while the rest were also sourced locally. Our model places a strong emphasis on preventing soil depletion and enhancing soil quality, underscoring our dedication to sustainable and responsible agricultural practices.
Mr. G.M. Matoria, Joint Director, Agriculture was the chief guest at the event. A team of scientists from DWR, Karnal lead by Dr. Randhir Singh (PI – Extn), Dr. RPS Verma, (ICARDA – Barley), Dr. Omvir Singh (PI – Barley Improvement), Dr. Anil Khippal, (PS – Agronomy) also graced the event and shared valuable information on advancement in barley production technology and varieties.
UBL the leading beer manufacturer in India is currently undertaking collaborative farming of barley in the states of Rajasthan, Punjab and Haryana and has a farmer base of nearly 8000 farmers and an area of 75000 acres.
Disclaimer: This media release is auto-generated. The CSR Journal is not responsible for the content.