First Care Conference to raise awareness about cancer stigma held under CSR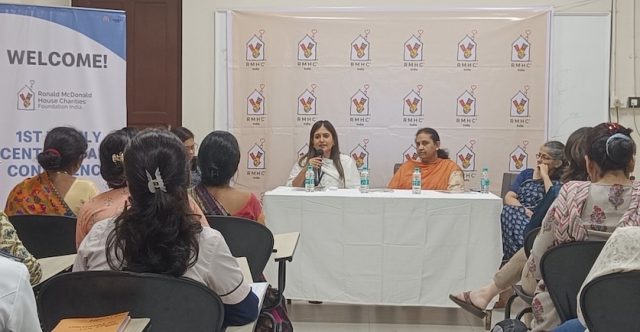 Ronald McDonald House Charities (RMHC) India held its first Care Conference in Mumbai. The conference aimed to dispel cancer myths and de-stigmatize cancer in our society. Located in the Outpatient Department of the Paediatric Haematology-Oncology of Bai Jerbai Wadia Hospital for Children, RMHC India operates the Family Room and provides comfort and care to families of kids suffering from cancer when they need it the most. 
Present at this Care Conference were notable speakers like Shalini Jatia, Officer in Charge, ImPaCCT Foundation, Tata Memorial Hospital and Director & Board Member, RMHC India; Mrunal Marathe, Sr. Counselor at St Jude Childcare Centre; a Senior Pediatric Oncologist along with parents of children battling cancer and those who have recovered attended the conference, as did Oncologists, nurses, hospital staff, and other NGOs working with cancer-stricken kids.
 The RMHC India care conference aimed to shed light on the prevalent cancer biases, inspire change, and foster an understanding and supportive community environment. The following observations emerged from the discussions:
– The most common misconception is that cancer is contagious
– Majority in India fear revealing their diagnosis of cancer owing to the fear of stigma and discrimination, even to close family and friends
– One-fourth of families abandon their child's treatment for various reasons, one of which is stigma
– According to oncologists present at the conference, cancer if detected and treated on time can get cured. Maintaining a positive attitude throughout the process is critical
– Parents need to constantly communicate with kids suffering from cancer to boost their morale and aid in healing
– Open communication with school authorities and teachers can support the kid to cope and feel included
Smita Jatia, Chairwoman, RMHC India said, "We at RMHC believe that families need physical, educational, and psychological support to be present and involved in their child's care. At our first care conference in India, we brought together families of cancer patients who have used our family room facility with doctors and community experts to discuss the issues they face while battling their kids' cancer. It has clearly emerged that the stigma is a result of widespread misinformation about the disease. While organizations like us are making concerted efforts to dispel this myth, we hope these insights will boost the morale of families and break the taboos associated with it." 
At RMHC, family-centered care aims to encompass all aspects of care that are centered on supporting and involving families to improve quality, psychological well-being, and the overall patient and family experience. RMHC India has touched over 35,000 lives since its inception and has completed over six years in the country. Most of the children and their families that frequent the RMHC Family Room, come from remote, rural locations in India owing to the lack of healthcare facilities in their hometowns.
Disclaimer: This media release is auto-generated. The CSR Journal is not responsible for the content.