Home
Press Release
CSR initiative 'Arogya Vanam' promotes environmental sustainability
CSR initiative 'Arogya Vanam' promotes environmental sustainability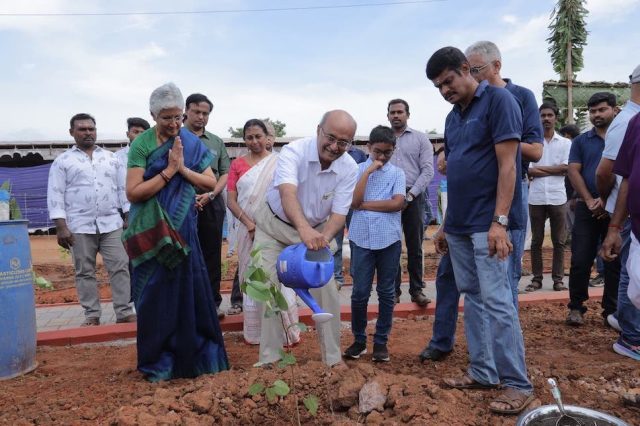 Pricol, a leading global automotive products and solutions provider, is pleased to announce 'Arogya Vanam' – a one of a kind Tree Plantation Project in collaboration with Siruthuli. This CSR initiative is designed to showcase India's rich legacy of medicinal trees and plants to promote environmental sustainability.
 Arogya Vanam has been thoughtfully crafted as an Experiential Centre, offering an educational platform to explore the diverse array of medicinal trees and plants native to our country. Pricol, recognizing the immense healing potential within our indigenous flora, is proud to present this unique tree plantation project with a focus on health and wellness. 
In tribute to the pioneering contributions of Dr J. G. Shanmughanathan, Founder of Ganga Hospital, Coimbatore, Dr G. Sivaraman, the distinguished Managing Director of Arogya Healthcare Chennai, will preside over the launch event to help plant 93 types of medicinal trees, symbolizing their lasting impact on healthcare.
Additionally, as an expression of gratitude towards its Investors and Stakeholders, Pricol will also plant an additional 66 trees, signifying unity and shared responsibility.
In total, over 900 trees, comprising diverse species across medicinal and herbal varieties will be planted to create a thriving and ecological ecosystem.
In alignment with its commitment to environmental sustainability, Pricol, in collaboration with Siruthuli, will donate two electric vehicles (EVs), further emphasizing the company's dedication to cleaner transportation and reducing the carbon footprint. One of these vehicles has already been delivered to the Perur, Chettipalayam Panchayat.
Disclaimer: This media release is auto-generated. The CSR Journal is not responsible for the content.