Home
Press Release
CSR: Hyundai Motor India Foundation launches waste management programme in Gurugram
CSR: Hyundai Motor India Foundation launches waste management programme in Gurugram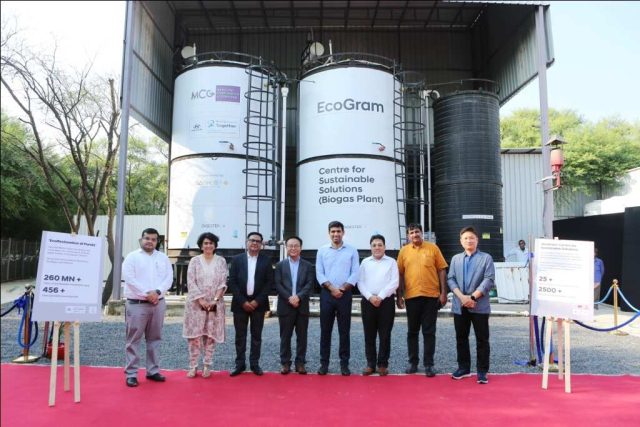 Gurugram, India: Hyundai Motor India Foundation (HMIF), the philanthropic arm of Hyundai Motor India Ltd. (HMIL), inaugurated a waste management plant in Gurugram. The project has been implemented in collaboration with Municipal Corporation of Gurugram, Haryana State CSR Trust and Saahas, an acclaimed NGO. HMIF also inaugurated a waterbody rejuvenation project in collaboration with GuruJal Society in Gurugram district. The projects were inaugurated by Shri. Nishant Kumar Yadav (IAS), Deputy Commissioner, Gurugram.
Speaking at the inauguration, Nishant Kumar Yadav (IAS), Deputy Commissioner, Gurugram, said, "We laud efforts made by Hyundai Motor India Foundation to aid Haryana Government achieve a sustainable & clean future for the state. These initiatives are also a step towards achieving the administration's vision of making Gurugram a 'Swach & Smart City'. Programs such as the 'Eco-Gram' Waste Management program and Pond Restoration program are a key catalyst towards achieving India's net carbon neutrality targets by 2070."
Commenting on the inauguration, Mr. Puneet Anand, AVP & Vertical Head, Corporate Affairs, HMIL, said, "Under Hyundai's global vision of 'Progress for Humanity', Hyundai Motor India Foundation aims to develop a sustainable and conducive environment. The 'Eco-Gram' project has been envisaged as an innovative solution to the city's waste-management program. This program is a step towards reducing carbon emissions in the metropolitan city. With this initiative we aim to resolve problems associated with waste management, achieve a reduction in waste dumping & burning. Additionally, bio-gas is produced as a by-product which is being converted into a renewable source of electricity. Ecogram is a self-sustainable model and a transforming factor of social change, aimed at making the city a role model in community waste management for other Indian cities."
He further added, "HMIF has also restored three ponds, in Gurugram district. The ponds have been restored in Hariahera in Sohna, Palasoli in Pataudi and Tajnagar in Farrukhnagar block of Gurugram in collaboration with GuruJal Society. Cumulatively these 3 ponds will replenish 93 million litres of ground water while treating 260 million litres of water. Additionally, over 450 trees & shrubs have been planted around the ponds which will help reduce 2500 tons of carbon dioxide while generating 84 tons of oxygen. It is also expected to enrich flora and fauna of the region, benefitting over 8000 residents annually."
'Eco-Gram' project envisages an alternate solution to waste management for the city of Gurugram. The Waste-Management facility has a capacity of processing 2 tons of wet waste and 5 tons of dry waste per day. This will enable Municipal Corporation of Gurugram to save INR 20-24 lakhs per year which would otherwise have been paid as a tipping fee at the landfill. The bio-gas produced as a by-product is being converted into a renewable source of electricity used to power the street-lights in the surrounding areas.
Some key benefits of the project will include-
Reduced Greenhouse Gas Emissions & Support Circular Economy
India aims to build a circular economy to reduce carbon intensity as a percentage of its economy by less than 45% by 2030. To support India's efforts, optimum waste management will play a crucial role. Around 90% of Gurugram's wet waste ends up in landfills burned to release GHG emissions (CH4, CO2, etc.)
Ecogram project will undertake massive solid waste management to decrease the carbon footprint, transportation emissions and GHG release.
Reduce Landfill & Smoothen the Waste Management Process
The program will initiate a paradigm shift in Gurugram's environmental progress by taking RWAs, MCG, NGO Saahas, and waste workers by establishing a sustainable system in place.
A Multi-Dimensional Social Change
The Ecogram project will facilitate a formal system for waste workers by integrating them into the system. It will set an example of alternate avenues to process bulk-waste and prevent landfills from getting saturated.
Disclaimer: This media release is auto-generated. The CSR Journal is not responsible for the content.