Home
Press Release
CSR: Hon'ble Finance Minister, Smt. Nirmala Sitharaman unveils HSBC India's strategic partnerships...
CSR: Hon'ble Finance Minister, Smt. Nirmala Sitharaman unveils HSBC India's strategic partnerships in Green Hydrogen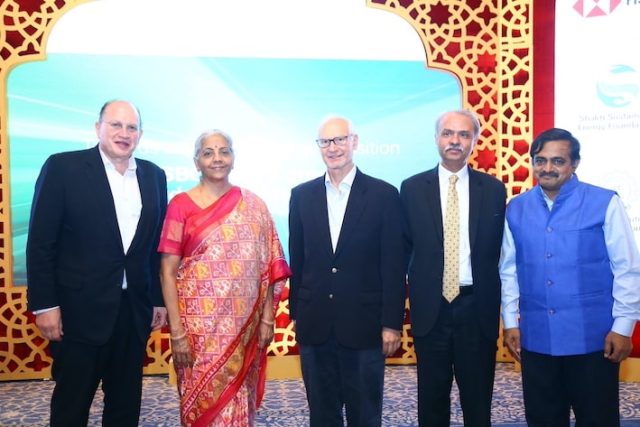 Smt. Nirmala Sitharaman, Hon'ble Minister of Finance, Govt of India announced the launch of HSBC India's strategic partnerships towards enabling innovation in Green Hydrogen. HSBC India has partnered with IIT (Indian Institute of Technology) Bombay and Shakti Sustainable Energy Foundation (SSEF) to pursue technological advancements to make green hydrogen more efficient, cost-effective, and scalable. These two partnerships, with total grant support of INR 15 crores (~USD 2 mn), will focus on innovation projects that will help prioritize green hydrogen as a strategic alternate fuel, help in building a robust, green hydrogen economy, and achieve the government's vision of an energy-independent nation.
These partnerships were announced by Smt. Nirmala Sitharaman, Hon'ble Minister of Finance along with the leadership teams from HSBC, IIT Bombay, and SSEF – Mark Tucker, Group Chairman, HSBC, Hitendra Dave, CEO, HSBC India, Aloka Majumdar, Global Head of Philanthropy & Head of Sustainability, HSBC India, Jamshyed Godrej, Chairperson of the Board, Shakti Sustainable Energy Foundation, and Prof. Ravindra D. Gudi, Dean, Alumni and Corporate Relations, IIT Bombay.
Speaking at the launch, Smt. Nirmala Sitharaman, Hon'ble Minister of Finance said, "Our Government is focused on driving green growth through a range of green reforms. This will provide a roadmap towards reducing carbon intensity in the economy and enabling the creation of green job opportunities. Green hydrogen has a pivotal role to play as we counter climate change and work towards enabling a low-carbon and self-reliant economy. We're aiming to make India a global hub for the production, utilization, and export of green hydrogen. I welcome the efforts and partnership of HSBC India, IIT Bombay, and SSEF in addressing the challenges in this segment and working on solutions to make green hydrogen scalable and commercially feasible."
The partnerships will help boost Govt. of India's National Green Hydrogen Mission, which is providing policy support towards achieving global leadership in green hydrogen transition. The National Hydrogen Energy Mission, announced in the Union Budget of India, 2021-22, is a significant step towards a greener future that will lay down the roadmap for tapping alternate sources of energy in India.
Speaking on the occasion, Mark Tucker, Group Chairman, HSBC, said, "We're committed to helping deliver a net zero global economy by 2050 or earlier in line with the Paris Agreement goals. We are providing finance to accelerate climate change solutions and building partnerships to drive technological breakthroughs, foster collaboration, and support innovation towards enabling a green hydrogen economy. The biggest impact we can make is to reduce the emissions we finance, which means supporting our clients on their transition journeys."
HSBC's initiative with IIT Bombay – Innovation in green hydrogen programme
The partnership with IIT Bombay will encourage researchers, scientists, and students across IITs to develop breakthrough technologies and solutions that address key challenges in green hydrogen production, storage, transportation, and utilization. As part of this programme, IIT Bombay will invite project proposals, which will be evaluated by a steering committee composed of representatives from HSBC India, professors, and faculty members from multi-disciplinary areas. The committee will select the top three submissions; depending on the committee's assessment, the project's viability, and its commercial readiness, the shortlisted submissions could also be incubated at IIT Bombay.
HSBC's Initiative with SSEF – Hydrogen Economy: Innovation-led growth in select industry clusters. Shakti, an important thought leader and knowledge partner in India, focuses mainly on climate change and energy. This partnership with Shakti will focus on a geospatial analysis of industrial clusters in the states of Gujarat, Maharashtra, Jharkhand, and Chhattisgarh that have the potential to produce and use green hydrogen. The project aims at conducting research on policy, technological, and financial solutions that will be relevant for real-world application of green hydrogen in industrial facilities across key states. An assessment of applicable hydrogen production routes for various applications in the shortlisted clusters, skill building and worker transition, will be crucial areas of this research.
Commenting on the initiative, Hitendra Dave, CEO, HSBC India, said, "Sustainability is a key element of our business, operations, and community investments. We're delighted to work at the grassroot level as well as with institutions like IIT Bombay and SSEF to foster ideas that will make green hydrogen scalable and commercially feasible. We believe we have a crucial role to play in accelerating the development and deployment of green hydrogen technologies and driving the transition to a sustainable and low-carbon energy system."
Jamshyd Godrej, Chairperson of the Board, Shakti Sustainable Energy Foundation, said, "Shakti is committed to supporting India's ambition of becoming a global leader in green hydrogen. We provide cutting-edge research on technology, policy, and investments related to scaling green hydrogen production and generating demand by demonstrating use cases and designing business models. Green hydrogen will be critical to achieving India's twin objectives of net zero by 2070 and energy independence by 2047."
Speaking about the initiative, Prof. Subhasis Chaudhuri, Director, IIT Bombay, said, "Moving towards sustainable and clean sources of energy is a crucial step in the global fight against climate change. Green Hydrogen, with its applications across industries including transportation, will occupy a vital space in global energy. I am confident that this partnership between IIT Bombay, HSBC, and the Shakti Sustainable Energy Foundation will accelerate research in this space and facilitate India's transition towards wide-scale adoption of green hydrogen."
Disclaimer: This media release is auto-generated. The CSR Journal is not responsible for the content.