Home
Press Release
CSR: Gameskraft Foundation and Inspire Institute of Sport (IIS) Partner to Strengthen...
CSR: Gameskraft Foundation and Inspire Institute of Sport (IIS) Partner to Strengthen the 'Athletics Centre of Excellence' for Sporting Champions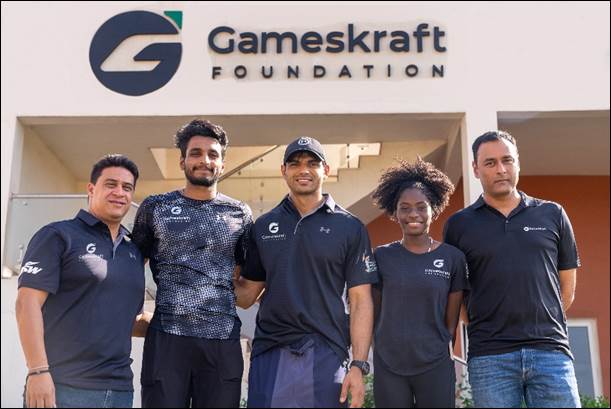 Gameskraft Foundation, the social arm of the skill-based online gaming company Gameskraft and Inspire Institute of Sport (IIS), have announced their partnership to provide high-class training and access to facilities to identified young sports talents in India across various disciplines in the sport of track and field, at the 'Gameskraft Foundation Athletics Centre of Excellence'.
Started in 2017, IIS is a trust that has helped 500+ athletes like Neeraj Chopra, Jeswin Aldrin, Praveen Chithravel, Manu DP and Parul Chaudhary in bringing glory for India by breaking various sports records and securing victories across a variety of international events, including the Olympics. IIS has focused on transforming India's sports landscape and helps identify and nurture champions of the future. The athletes at IIS have won 1000+ medals including 3 Olympic medals. The Institute has 17 National Record Holders and 75+ National Champions across 5 sports disciplines of Athletics, Wrestling, Boxing, Swimming and Judo.
As part of this collaboration, Gameskraft Foundation and IIS are conducting various activities for the promotion of athletic training programs, such as jumps, throws, sprints and hurdles at a state-of-the-art high-performance training center spread across 42 acres in Vijayanagar, Karnataka. The objective of this partnership is to provide holistic development, sustainability, and empowerment to athletes. This comprises providing the right coaching, sports science, athletic management, education and skill development, accommodation, nutrition, and travel support to the athletes.
Commenting on the partnership, Vikas Taneja, Group CEO of Gameskraft Group, said, "It is indeed a moment of great pride to partner with the Inspire Institute of Sport. We are honoured to join hands with an institution that is propelling Indian athletes in making a worldwide mark and raising our flag high at international arenas. At Gameskraft Foundation, it is our vision to empower communities and promising individuals whose perseverance and skill inspire us. With this association, we hope to see more rounded individuals who will be equipped to meet life's challenges both within, and outside of sports."
Rushdee Warley, CEO, Inspire Institute of Sport said, "We are delighted to partner with the Gameskraft Foundation for our Track and Field programme at the IIS. Through the Athletics Centre of Excellence, we will continue to build and nurture athletes with a holistic approach. So much about what we do at the IIS is about the people and organisations we partner with, and in Gameskraft Foundation, we have the right fit to further build on our foundations and support the future of Indian athletics." 
Speaking on the association, Avinash Sable – National Record Holder in the 3000 metres steeplechase event and Commonwealth Games Silver medalist – said, "Athletics in India is on the rise at the moment, and it needs partnerships like the one between Gameskraft Foundation and IIS to take it even further. All of us who are part of the programme are benefitting so much by it, and the younger athletes are fortunate to receive support like this at an early age. We hope to keep improving and flying the Indian flag high in competitions across the world."
Disclaimer: This media release is auto-generated. The CSR Journal is not responsible for the content.