Home
Press Release
CSR Collaboration to Empower Smallholder Farmers in Maharashtra and Andhra Pradesh
CSR Collaboration to Empower Smallholder Farmers in Maharashtra and Andhra Pradesh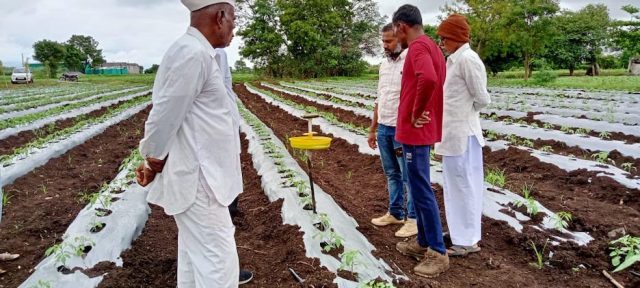 The Flipkart Foundation, under the Flipkart Group, has partnered with TechnoServe, a non-profit economic development organization, to launch a programme that aims to empower Farmer Producer Organizations (FPO) and create sustainable opportunities for farming communities. This initiative will support FPOs to enhance their business output through improved marketing, branding, and packaging. The project is set to be executed over 12 months in Maharashtra and Andhra Pradesh.
The programme will include training for eight FPOs in Maharashtra and four FPOs in Andhra Pradesh. With over 7000 direct and indirect beneficiaries, 50% of whom will be women from farming households, the programme aims to bring about a positive transformation in the livelihoods of farmers across the two states.
As part of the project, there will be specialized training workshops that will equip key FPO members with the skills to create and manage brand assets, design effective marketing strategies, and enhance visibility. There will also be workshops to provide insights into packaging design and solutions, optimize shelf-life extension, ensure food safety, support business growth, and minimize environmental impact. Additionally, post-training support by marketing experts, including follow-up sessions with FPO Boards of Directors and lead farmers, will help them access strategic advice and address implementation challenges.
Commenting on the partnership, Rajneesh Kumar, Chief Corporate Affairs Officer, Flipkart Group, said, "Cultivating prosperity and enabling the empowerment of farmer communities is a key facet of the Flipkart Foundation's commitment to creating a positive social impact. Our collaboration with TechnoServe is a testament to this vision. By training and strengthening FPOs, we aim to equip farmers in Maharashtra and Andhra Pradesh with the knowledge and tools they need to thrive and, in turn, bolster the agricultural ecosystem in the two states. Together, we endeavour to sow the seeds of sustainable growth, foster a brighter future for farmers and elevate livelihoods in these regions."
Krishnan Hariharan, Senior Practice Lead, TechnoServe India, commented, "In our experience in the agricultural sector, we have found that farmers face multiple challenges due to lack of access to information or marketing skills and are unable to capture commensurate value for their produce. While FPOs allow groups of farmers to operate with a collective voice and can serve as a powerful medium to provide sustainable livelihood enhancement to the SHFs, their business models are often nascent. Supporting FPOs to develop marketing, branding and packaging strategies can result in improved sales, prevention of quality and quantity losses, and advancements in environmental sustainability."
As a homegrown e-commerce player, Flipkart recognizes the immense potential of empowering farmers with knowledge and marketing skills. By strengthening the FPO framework and providing training in marketing and branding, the project, in partnership with the Flipkart Foundation, aims to enhance their income potential and empower women in agriculture. Honing the capabilities of these FPOs, this initiative will uplift smallholder farmers while driving overall prosperity in rural communities.
In the past year, Flipkart Foundation has worked with underserved communities across  Andhra Pradesh, Assam, Haryana, Maharashtra, Karnataka, Telangana, Uttarakhand, Uttar Pradesh, and West Bengal to serve, support, and empower unskilled and underprivileged sections of society in various sectors, to ensure maximum reach and sustainable impact.
Disclaimer: This media release is auto-generated. The CSR Journal is not responsible for the content.