Home
Press Release
CSR: ENTOD Pharmaceuticals to host free eye check-up camps to mark 46th...
CSR: ENTOD Pharmaceuticals to host free eye check-up camps to mark 46th Foundation Day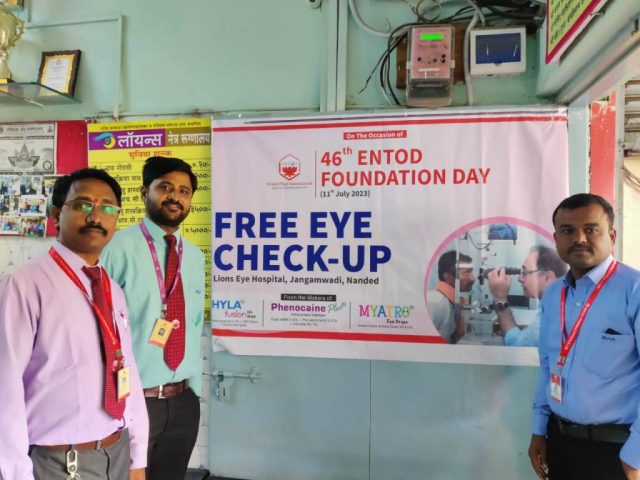 New Delhi, India: ENTOD Pharmaceuticals, a renowned speciality pharmaceutical company based in India, proudly announces its 46th Foundation Day, marking another year of excellence and innovation in the healthcare industry. Since its inception in 1977, ENTOD Pharmaceuticals has consistently contributed to advancements in Ophthalmology, ENT and Dermatology medicines, gaining recognition both domestically and internationally.
As part of the Foundation Day celebrations, ENTOD Pharmaceuticals will conduct a free eye-check-up camp at Lion's Eye Hospital in Nanded, Maharashtra and in 46 other locations across the country including cities like Bilaspur, Ranchi, Srinagar and Darbhanga. This initiative reflects the company's unwavering commitment to the eye health of the community.
The free eye check-up camps will cater to people of all ages and offer comprehensive eye examinations to detect and address common eye conditions. Participants will have the opportunity to undergo thorough screenings for conditions such as myopia, glaucoma, cataract, dry eye, macular degeneration, Diabetic Retinopathy and more.
Highly skilled ophthalmologists and medical professionals will be present to conduct the examinations and provide expert guidance on maintaining optimal eye health. and promote the importance of proactive eye health management. By providing this valuable service, ENTOD Pharmaceuticals demonstrates its dedication to improving the lives of individuals through accessible eye healthcare solutions.
In addition to the Foundation Day celebrations, ENTOD Pharmaceuticals takes pride in the recent unveiling of its latest state-of-the-art R&D facility in Navi Mumbai. This cutting-edge facility has been equipped with the latest analytical and formulation research tools, showcasing the company's commitment to scientific progress.
Approved by the Department of Scientific & Industrial Research (DSIR), the advanced research facility focuses on the development of ophthalmic, ENT, and dermatology formulations. It serves as a hub for new product development, formulation research, and molecular investigations, empowering ENTOD Pharmaceuticals to continually enhance its product portfolio and deliver innovative solutions to patients.
Nikkhil K Masurkar, Executive Director of ENTOD Pharmaceuticals, expressed his gratitude and vision for the company's future, saying, "ENTOD Pharmaceuticals is thrilled to celebrate its 46th Foundation Day, a testament to our unwavering dedication to quality, research, and innovation. We are immensely proud of our achievements over the last four decades, thanks to the hard work and perseverance of our employees and teams. Through our global reach spanning 67 countries, including the UK, Europe, Australia, South Africa and Russia, we have made a significant impact in the international pharmaceutical industry. We remain committed to expanding our presence in the domestic and international markets by recruiting more employees and exploring new opportunities in ophthalmic surgical and medical/cosmetic dermatology segments."
Speaking on the occasion of the Foundation Day, Dr. Vaishali Dagde, Ophthalmologist, Lions Eye Hospital Nanded, a renowned ophthalmologist stated, "The free eye check-up camps organized by ENTOD Pharmaceuticals have revealed that many individuals are living with undiagnosed eye diseases. It is crucial to prioritize regular eye examinations to detect these conditions early and ensure timely treatment. By identifying eye diseases such as myopia, glaucoma, cataract, macular degeneration, and more, we can take proactive steps to preserve vision and maintain optimal eye health. Our aim is to raise awareness about the significance of comprehensive eye examinations for people of all ages. Together, let us work towards a future where everyone can enjoy the gift of clear and healthy vision."
As ENTOD Pharmaceuticals commemorates its 46th year, the company continues to make strides in delivering innovative eye & skin healthcare solutions across the globe. With a focus on research, quality, and patient well-being, ENTOD Pharmaceuticals remains dedicated to its mission of transforming lives through excellence in pharmaceuticals.
Disclaimer: This media release is auto-generated. The CSR Journal is not responsible for the content.