Community: The Key to Transforming Sanitation in Rural Villages
The Swachh Bharat campaign that swept across the country helped highlight the burning issue of sanitation as a root cause of many of the critical health issues that plague us.  Yet, whilst we have made rapid progress in building toilets and ensuring (almost) blanket coverage, sanitation woes continue to persist. Sadly, many toilets are not being used by the people and lack of waste management mechanisms in rural india – proving that behaviour change truly is at the heart of our 2030 goal on Sanitation.
Adding fuel to the flame, solid and liquid waste management in rural communities is a key cause of the contamination of precious community water bodies and groundwater that, as a water starved country, we rely so heavily upon. Here again, infrastructure solutions are required, but it is only if the people are empowered to use it, will we see radical and sustained change.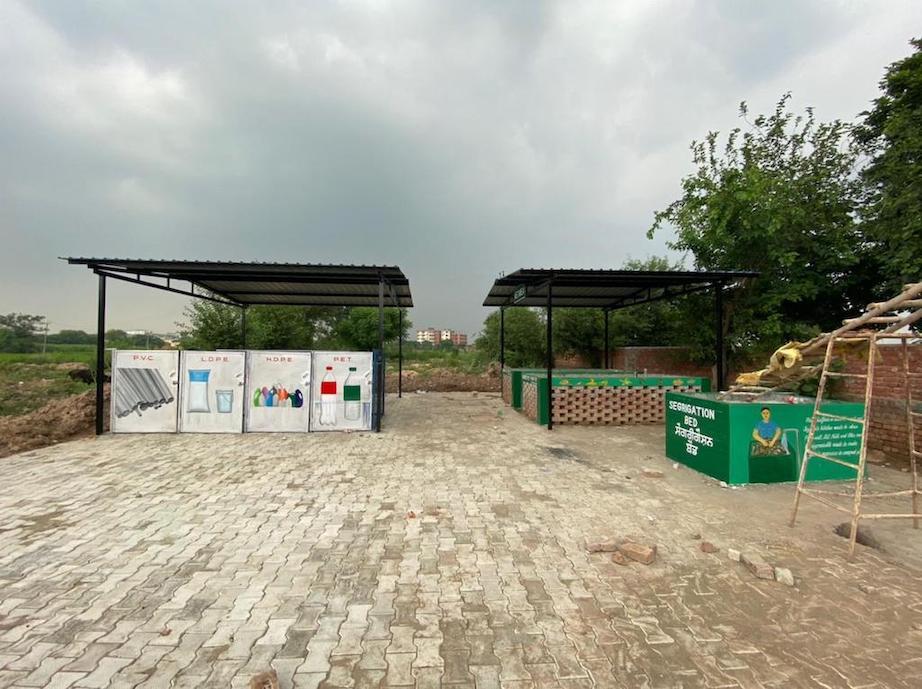 Change is possible at a grassroots level – but only if communities are empowered to sit in the driver's seat. This is where a Community Led Total Sanitation approach comes to the fore, as a proven strategy for village transformation.
Community – The Driving Force for Village Transformation
In 2017, Mangi Budruk Village was declared a Smart Village and awarded a cash prize of Rs 10 lakh by the Government of Maharashtra. Yet a little over a decade ago, barely 10 of its 234 households even had a toilet. Liquid waste festered in open drains and seeped onto streets, whilst solid waste was dumped in open grounds and littered streets.  How then, did such a village, comprising of largely a tribal and Banjara population tucked deep into the interiors of Maharashtra, completely transform itself and become a Smart Village?
In 2012 (two years prior to the launch of the Swachh Bharat Abhiyaan), a Community Led Total Sanitation (CLTS) program was initiated. A Village Development Committee (VDC)` was formed and one of the first activities was to take the VDC members on exposure visits to 'Model villages" like Hiware Bazaar and the like.  Never in their wildest dreams had they dreamt that a village could be so clean and self-sufficient.
The community got to work, with the success of the CLTS program soon caught the eye of the Block Development Officer and other Government officials and in 2013 Mangi Bk. won the Santh Gadgebaba Gram Swachhata Puraskar with a cash award of Rs. 25,000 for being the cleanest village in the Rajura Block. In the same year, they won the District level second prize Sant Gadgebaba Gram Swachhata Puraskar in Chandrapur winning an additional Rs. 3 lakh prize.
Mangi soon achieved 100% toilet coverage and Open Defecation Free status. Buoyed by these achievements and understanding that anything could be achieved if the community worked together, the village community swore to continue the development momentum – initiating an array of other community development projects which have collectively transformed their village.
Today Mangi is not just a smart village. It is held up as an example of the participatory approach to development; of what even a 'backward' community can achieve if they take initiative and leadership on their development issues and work together collaboratively with all stakeholders.
True Change, Driven by Community
As demonstrated in Mangi Village, Community-Led Total Sanitation (CLTS) remains as a powerful tool for realising our national sanitation aspirations.  By facilitating communities to conduct their own appraisal and analysis of village sanitation, and mobilising them to identify and find solutions to their sanitation and hygiene needs, the people themselves undergo a transformation.  Beliefs change.  Understanding takes place.  And people collectively work together to bring about change.
The secret lies in a five step process to energise, enable and empower communities into action.
1. Vision Building – Helping the community develop a common vision for their village by taking them on exposure visits, establishing the baseline, setting united goals and forming Village Development Committee to drive community action.
2. Community Mobilisation – Sensitisation of community through awareness sessions, street plays and community meetings. Involving traditional religious and other leaders of the village in the process. Coordinating community sensitisation events, and forming groups of different ages – senior people for monitoring and conflict resolutions; youth for cleanliness drives in the villages; women's groups to motivate households for toilet construction and soak pits.
3. Collective Action – Getting down to work and commencing cleanliness drive in villages by community groups.
4. Collaboration & Leveraging Resources – Involving panchayat, block level development officers and other key stakeholders likes schools and anganwadis, in later stages for long term sustainability.
5. Capacity Building – Mobilising women into Federations and conducting training on group management and conflict resolution to sustain group dynamics and progress.
India has made rapid progress, however we still have a long way to go. Merely providing toilets does not guarantee their use, nor result in improved sanitation and hygiene. There is a lot of work to do in liquid and solid waste management under sanitation as well. While the urban areas get looked after, the rural areas are often neglected. Though people in rural India are directed towards practicing segregation and composting of liquid waste, it's the solid waste that leads to burning and contributing to pollution due to lack of proper disposable mechanisms. As CLTS is proving to be the need of the hour and focuses on the necessary behaviour change and ownership needed to ensure real and sustainable improvements – moving to other issues of sanitation apart from toilets is equally important.
Views of the author are personal and do not necessarily represent the website's views.

Pearl Tiwari is the Director of Ambuja Cement Foundation, the CSR wing of Ambuja Cements Limited. In a professional career spanning over 30 years, Pearl has been associated with the not-for-profit, educational and corporate sectors. Pearl joined Ambuja in 2000 and ever since has been at the helm of nurturing the Ambuja Cement Foundation that has expanded from a fledgeling team to nearly 400 development professionals, with a pan-India presence active in 21 locations across 11 states.
Thank you for reading. Please drop a line and help us do better.
Regards,
The CSR Journal Team