Candor TechSpace hosts conference with specially-abled achievers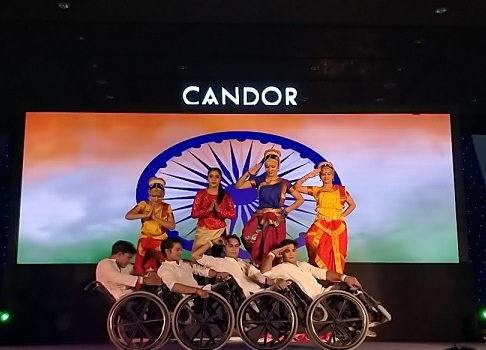 Candor TechSpace, the leading provider of IT/ITES office spaces, hosted a special event to celebrate the International Day of Persons with Disabilities at Roseate House, Aerocity in New Delhi, on 28th November.
The event saw distinguished persons from various walks of life engage in a stimulating dialogue on the role of infrastructure in facilitating the inclusion of people with disabilities and sensitizing the masses on the need for the same. The event hosted a few specially-abled achievers from across various domains, along with about several CEOs and top corporate executives.
The event began with a panel discussion on the topic 'Transformation towards Sustainable and Resilient Society for All', wherein the speakers shared some extraordinary stories from their lives and their experiences of continually challenging the stereotypes associated with disability and their remarkable achievements in life.
Among the panelists at the event was Ira Singhal, the first differently-abled woman to top the Civil Services exam in the general category. She is also the first physically challenged person to join the Indian Revenue Services.
Internationally renowned table tennis player Suvarna Raj, who participated in the Asian Para Games 2014 in Korea and won two medals in the Thailand Para Table Tennis Open 2013, Dorodi Sharma Former Disability Rights Specialist, United Nations, Monitoring, Evaluation, Accountability and Learning Officer (MEAL Officer), International Disability Alliance, Nipun Malhotra – Co-founder and CEO, Nipman Foundation (A Foundation for health and advocacy for persons with disabilities) and Vittalkumar A Dhage – VP, Sustainability, Accenture Workplace solution were also a part of the panel.
Shantanu Chakraborty – VP – Brookfield Properties said, "As an organization, we also believe in practicing what we preach. To this end, the infrastructure at Candor TechSpace has been designed with a strong emphasis on inclusivity and accessibility, as the office spaces are equipped with wheelchair parking areas, access ramps at entrances and specially built washrooms. To further our commitment to this cause, we have embarked on a program to make our campuses including existing buildings compliant with harmonious guidelines in the future."
Suvarna Raj said, "I believe that the government, as well as those who are responsible for delivering infrastructure, need to incorporate the perspectives of differently-abled individuals by listening to their experiences, and keeping their interests in mind when taking major decisions related to infrastructure. The private sector is leading the charge for the cause of inclusivity in the industry and the government should look to collaborate with leading players in the infrastructure space to bring about change on a large scale."
To further celebrate the extraordinary abilities of differently-abled people, the panel discussion was followed by a beautiful performance act by "We Are One", a differently abled group consisting of wheelchair users and hearing and speech-impaired artists. They are in the 'Guinness Book of World Records'.