Bhavesh Bhatia, had little vision while growing up. He was Born with retina muscular deterioration and his sight only grew worse with time. At the age of 23 he lost his vision completely. He worked as a hotel  manager and tried hard to save money for his mother's treatment, who was suffering from cancer. His mother was the backbone of his existence, providing the support he so badly needed to navigate life with his disability.Unfortunately he lost his mother and his eyesight. Following it, he lost his job because of his disability. Bhavesh's  father had already exhausted all his savings. But Bhavesh did not give up. Instead of wallowing in self-pity, he set off in search of something which would make the world see him. He was interested in making candles because it allowed him  to harness his sense of shape and smell.
With no resources, except for a burning passion, Bhavesh had little idea on how to get started. He took training from National Association for the Blind (Mumbai) in 1999, where he learnt to make plain candles. With the interest to make colourful and scented candles , but dyes and scents were beyond his budget. Bhavesh would make candles all night and sell them in the morning on a cart at a corner of the local market in Mahabaleshwar. The cart was given to him by a friend for a daily rent of fifty rupees. He saved twenty five rupees every day to buy supplies for the next haul. It was a backbreaking mode of survival. But his love for candle making kept him going.
Things took a turn when a lady named Neeta came to buy candles from him. Neeta and Bhavesh struck up a friendship on the spot, conversing for hours. Soon they became determined to marry each other. Neeta faced backlash from her home for her decision to marry a penniless, blind candle maker.The two got married and lived in a small home in Mahableshwar. But the struggle did not end here. His loan requests were rejected and even simple non-monetary requests were met with hostile reactions. However, Bhavesh's interest in knowing more on candle manufacturing still kept him alive.
The turning point came when he was granted a loan of fifteen thousand rupees from Satara Bank, where NAB had a special scheme for blind people.
Today Bhavesh owns Sunrise Candles which uses twenty five tonnes of wax a day to manufacture around 9000 designs of plain, scented and aromatherapy candles. They purchase their wax from UK. Their clients are Reliance Industries, Ranbaxy, Big Bazar, Naroda Industries and Rotary Club, to name a few.
Moreover, Bhavesh trains blind people so that they can help him  at his unit. Neeta  also helps him run the business. She also imparts vocational training to blind girls, aiding them into becoming self-sufficient. He has employed 200 blind people in his unit.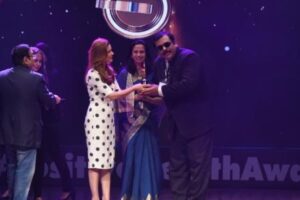 On the other side Bhavesh is a gifted sportsman but had disconnected from sports for a long time while building Sunrise Candles. He has a total of 109 medals (Paralympic Sports). Now that his candle business is in full bloom , Bhavesh has started practising & exercising once again. He aspires to become the first blind person in the world to climb Mount Everest and wants to win gold for the country in the Paralympics.
For his achievement, Bhavesh was awarded the prestigious National Award for the Empowerment for Persons with Disabilities under the best self-employed resident category by the Ministry of social justice and empowerment.
Bhavesh  is a true hero and inspiration for each one of us. How with little means, so many lives can be touched.A determined person against all odds and shining with true mettle. It is this individual responsibility attitude that can go a long way in our society.
Thank you for reading the story until the very end. We appreciate the time you have given us. In addition, your thoughts and inputs will genuinely make a difference to us. Please do drop in a line and help us do better.

Regards,
The CSR Journal Team