Home
Press Release
Aster DM Healthcare has been awarded the Dubai Chamber CSR Label and...
Aster DM Healthcare has been awarded the Dubai Chamber CSR Label and Arabia CSR Awards
Aster DM Healthcare has been honoured with two prestigious awards for its CSR and sustainability efforts as well as for its contributions towards tackling the COVID – 19 pandemic in the Middle East and North Africa by The Dubai Chamber and the Arabia CSR Network, to applaud the group's ongoing efforts to serve the community.
Aster DM Healthcare's social initiatives through Aster Volunteers, the CSR arm of the group, as well as its efforts to serve as many people as possible since the beginning of the pandemic, has been applauded and the group has been conferred with the Dubai Chamber CSR Label for H1 Cycle 2020, the highest level of recognition for CSR efforts by businesses built on international standards while ensuring local relevance.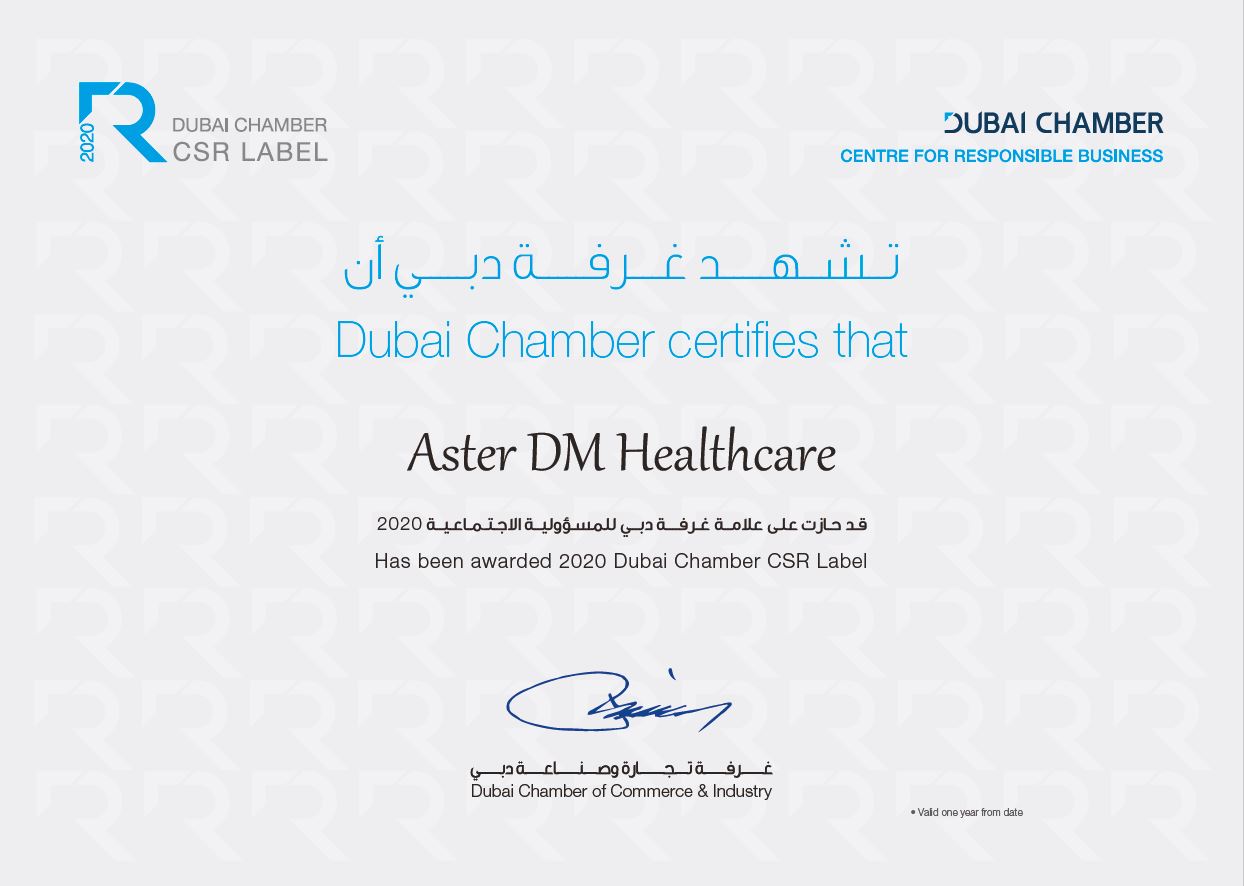 In addition, to its CSR efforts and contribution towards the COVID – 19 pandemic, the group has also been recognised for undertaking various sustainable initiatives aimed to provide energy efficient world-class healthcare, by the Arabia CSR Network. The group was presented with the Winner Award in the healthcare category at the 13th Arabia CSR Awards ceremony. Through its cycles, the Arabia CSR Awards has received more than 1,200 registered applications from more than a thousand organisations across 42 industries from 14 countries. Hailed as the sustainability benchmark of the Arab region, it is recognised by global and regional bodies such as the United Nations Global Compact, the United Nations Environment Programme and the League of Arab States.
Talking about these accomplishments, Dr Azad Moopen, Founder Chairman and Managing Director, Aster DM Healthcare said, "As a responsible corporate, we believe in staying connected to the community and give back wherever possible. Aster Volunteers has been able to touch more than 2 million lives through various initiatives in a short period. We also stay at the forefront of tackling the COVID – 19 pandemic, while offering affordable and accessible healthcare through sustainable efforts. We thank Dubai Chambers and The Arabia CSR Network for recognising our efforts which further motivates us to continue our efforts towards building a sustainable and responsible society."
Alisha Moopen, Deputy Managing Director, Aster DM Healthcare, added, "By receiving these awards, we feel immensely appreciated for all the work we have done. Aster DM Healthcare, is in a sector that is there to serve and we feel honoured to have received an opportunity to serve the communities we are in. This inspires and motivates us to keep doing more. We will continue to imbibe UN sustainable development goals in our objectives, to aid with healthcare, education, climate change, gender equality and sustainability, and to work towards making the world a better place."
With over 19,800 employees spread across 380 establishments in 7 countries, Aster aims to provide world-class healthcare facilities by developing energy & water efficient infrastructure as part of its sustainability strategy.
The group has also been at the forefront in battling the threat of COVID-19 since the beginning of the pandemic. As a result of their initiatives, 318,490 lives have been impacted by supplying of food and ration kits, 29,539 individuals screened through medical camps, 450,384 people reached through 43 awareness webinars, 15,486 personal protection equipment, masks, gloves, sanitizers, face shields have been distributed, 16,697 distress calls have been received at the entity's dedicated helpline, and 456 COVID-19 patients have been transported by the Aster Volunteers Mobile Medical Services team in Dubai. Aster has also managed COVID-19 camps in Al Warsan and Jebel Ali with more than 1,750 isolation beds.
Disclaimer: This media release is auto-generated. The CSR Journal is not responsible for the content