Ambuja Cement's 'Neev Abhiyan' promotes Sustainable Construction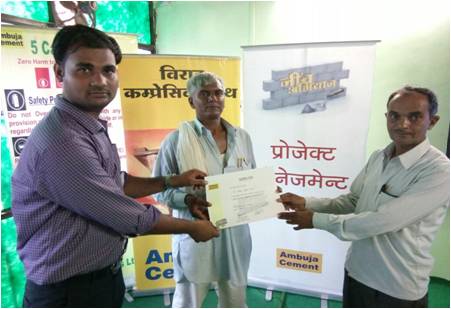 'Neev Abhiyan' by Ambuja Cements Ltd imparts formal training to upskill masons and contractors by strengthening their knowledge-base and technical skill-sets through certified training modules and value-added services which promote sustainable construction.
Ambuja Cement has created its own curriculum for the program. This includes six training modules – Project Management, Steel Estimation & Detailing, Estimation & Costing, Repair & Waterproofing, Building Earthquake Resistant Structures and Rainwater Harvesting. The training involves classroom as well as field sessions with an enhanced focus on knowledge application. A team of over 200 engineers has opened opportunities to thousands of contractors, architects, builders and engineers through this program.
Umesh Soni, Ambuja Cement's Technical Services Corporate Head says, "The certificates presented to masons and contractors on completion of the program is earning them more customers and contracts, thus generating more income for them. Moreover, whenever these professionals face any challenges, they approach us for solutions."