A Wonderful Journey And The Joy Of Transforming Lives Of People In Rural India
It was February 2020, Ronnie and I were travelling to join a celebration by the community for successful completion of the first year of interventions in Sudhagad district, about 100 Km from Mumbai. Sudhagad was the newest and poorest block we had entered in the Raigad district of Maharashtra after working across 6 blocks since 2013. Our strength is our ~1,300 strong team comprising 1000+ community volunteers and 270 full-time staff (specialists & professionals); 90% of the full-time employees work at the grassroots, making us a strong execution foundation impacting over 5.5 lac population today.
This occasion was important as we envisioned Sudhagad to be the application of all our learnings since we started and possibly a turning point in our endeavour to realise our motto of 'Swa se Bane Des' and create a model of rural development capable of lifting a million people out of poverty every five to six years.
However, the most critical aspect was that we have an exit strategy and so how do we ensure sustainability? Clearly, the community needed to be empowered to take ownership of their own lives and their own villages. They need to realize their true potential.
We found a solution to this by experimenting with the concept of the Village Development Committees (VDC). Today we have created over 1,000 such VDC's. It is truly an amazing experience to them take on the responsibility of the village and its development. We witnessed how well they managed during the COVID lockdown.
In fact, during the COVID lockdown, we continued to work with our communities through the VDC's – they were in constant touch with us, through them we could ensure that the needy households received food and daily essentials conducted COVID awareness trainings and not just that, we even closed the demand for new orchard plantation (including training of interested farmers).
Perhaps the greatest strength of the Swades Foundation is our ability of our team to build a genuine connection with the community, to truly understand their needs and aspirations. To build a relationship of love and respect.
As Ronnie and I reached the venue at Sudhagad, we were delighted to see the venue was being managed by the young boys and girls of the village themselves. More than 100 Village Development Committee's showcased their achievements over the last one year and shared with us their vision and plans for the development of their village for the next 12 months.
So many things that day touched our hearts. First, there were a group of young girls who came together from both tribal and non -tribal communities for the first time and danced together.
Then there was a group of women from Kumbharshet village, who never left their village before, performing a beautiful traditional dance to celebrate their own success in making a positive impact in their village. It was wonderful to see their amazing confidence and the joy they had in participating in this celebration. On our way home I saw the group of women from Navghar village who has won the third place in dance walking away with their trophy, they said "We are used to the drudgery of carrying home water on our heads, today thanks to Swades, we carry home this Trophy"
This transformation of communities into confident, self -reliant, courageous people with a 'can-do attitude' is our dream. We believe poverty is mental and material and removing the mental poverty of hopelessness is truly hard but when it's done it can create miracles.
The Swades Model as implemented in Sudhagad is the beginning of a new journey which the foundation has embarked upon. We now move into Nashik district as well and this model could be rapidly scaled up in other parts of the country with the right set of partners and stakeholders working towards a common goal – of a Self-Reliant India, with empowered rural communities who truly believe: 'Swa se bane Des'.
Views of the author are personal and do not necessarily represent the website's views.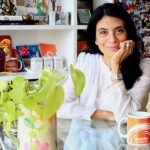 Zarina Screwvala is the Co-founder of the Swades Foundation & works full time as its Managing Trustee & Director. The Foundation operates with the single-minded focus of empowering rural India through a holistic 360-degree development model. Zarina is a member of the UN Women Business Sector Advisory Council (BSAC).
Thank you for reading the column. Please drop a line and help us do better.
Regards,
The CSR Journal Team