Top CSR Projects in Himachal Pradesh
The state of Himachal Pradesh, also referred to as 'Deva Bhumi' is known for its scenic mountains and tourist destinations. Agriculture and horticulture are important occupations in the state, owing to the easy availability of water from the perennial rivers.
In FY2021-22, the state received CSR expenditure of Rs. 108.1 Crore from over 157 companies. Of this amount, Rs. 41.71 Crores were spent on various initiatives related to healthcare and sanitation, Rs. 36.82 Crores were spent on education related initiatives, and Rs. 11.28 Crores were spent on heritage art and culture related initiatives. Rural development and environment conservation causes received Rs. 7.02 Crores and Rs. 4.98 Crores respectively in the state. According to National CSR Portal.
The top three contributors to the state include SJVN Limited, NHPC Limited and Wipro Limited who spent Rs. 31.55 Crores, Rs. 11.16 Crores, and Rs. 7.8 Crores respectively, under from their CSR funds.
Let us look at the top CSR projects in the hilly state, contributing to its development.
Top Companies for CSR in Himachal Pradesh
SJVN Limited
Satluj Jal Vidyut Nigam, better known as SJVN, is an Indian public sector undertaking involved in hydroelectric power generation and transmission. As a responsible corporate citizen the Company has been at the forefront in undertaking initiatives for the welfare of the communities that are based around its operating sites.
Health Related Initiatives
About three decades ago when the Company commenced the construction of its 1500 MW Nathpa Jhakri Hydro Power Station, it realised that the community that lived around the site of the project did not fare very well because of lack of health and medical facilities. After identifying the need in the community, SJVN decided to take proactive measures to utilise its CSR funds to provide medical facilities to these people in a holistic manner. SJVN had initiated the Community Development Plan (CDP), since inception of its CSR policy through which it has been providing better health facilities to the local rural communities living in remote areas, devoid of health care services.
SJVN launched the Community Health Initiative in a big way in the year 1995 and provided financial assistance of ₹800 Lakh (eight crore) to the Government of Himachal Pradesh for construction of a 200 bedded hospital in Mahatma Gandhi Medical Services Complex (MGMSC) at Khaneri near Rampur in Himachal Pradesh. Since then, medical services are being provided not only in the project affected areas but also in the adjoining districts like Shimla, Kinnaur and Kullu. The medical facilities include free medical care not only at the project hospitals but also through Mobile Medical Units being operated since the year 2000 to provide medical services at the door steps of the local communities.
1. Satluj Sanjeevani Sewa – Healthcare at Door Steps
Satluj Sanjeevani Sewa was launched on the occasion of SJVN's Silver Jubilee in the year 2012. Through these mobile medical units SJVN has been providing free medical care at door steps to the poor and needy rural communities around its project areas in the states of Himachal Pradesh, Uttarakhand, Bihar and Maharashtra.
There are 14 Mobile Medical Units (MMUs) manned by qualified medical staff (MBBS doctors, pharmacists, social protection officers) and equipped with basic diagnostic test equipment operating in the defined areas. The services are being implemented through HelpAge India
More than 10.5 lakh treatments have so far been provided through these MMUs since beginning while during the year 2021-22 itself the number of treatments extended was about 1.50 lacs.
2. Ayurvedic Health Awareness Programs
As a measure to promote ancient Ayurveda based low-cost health-care system, SJVN has long been organizing health awareness-cum-lifestyle camps based on ayurvedic system of medicine. An NGO named Bhartiya Dharohar was roped in to organize the camps in Himachal Pradesh. Since Past 5 years, as many as 1430 ayurvedic health awareness camps were organized benefitting 159985 people
A total 200 ayurvedic camps were organized during FY 2020-21 at a financial implication of Rs 75.44 Lakh. However, in FY 2021-22, a total of 400 camps have been organized around the project areas in Himachal Pradesh, Bihar and Uttarakhand at a financial implication of ₹145.12 Lakhs
3. Dental Care Services in Rampur HPS Area
Dental care is one health aspect which we often tend to ignore till the problem aggravates. Facilities of dental care are not very common in remote areas. In order to provide the services, SJVN has been operating a dental clinic at the Project Hospital of RHPS since 2014. The clinic is open to the people of project affected areas as well besides the company employees and members of their families. The patients are being given specialized treatment at the clinic ever since. Since the start of its operation till 31.03.2022, 7276 patients have been benefitted through this clinic while during the financial year 2021-22, itself more than 1372 patients have been treated.
4. Financial aid for Healthcare projects
SJVN, through SJVN foundation has extended financial support to several healthcare projects in the state, in addition to the initiatives that it conducts on its own. It contributed a sum of over Rs. 5.7 Crores to Indian Association of Muscular Dystrophy (IAMD) for construction of Integrated Muscular Dystrophy Centre at Solan (HP) named "Manav Mandir".
The Foundation has also provided Rs. 96.8 Lakhs for construction of one floor of Cancer Sarai developed by Rotary Charitable Trust near the IGMC cancer hospital for facilitating the stay of cancer patients and their attendants during their treatment.
To improve the health of youth, channelize their energy for creativity, and to prevent menace of drug abuse, SJVN foundation came forward to provide financial assistance of Rs 37.21 lakhs to Ramgarhia Sabha, Shimla for construction of a gymnasium.
Education and Skill Development Initiatives
Education is one of the fundamental factors of development of a country. Education not only raises people's productivity and creativity but also promotes their entrepreneurship and technological advances. The availability of good quality and affordable education is however limited in remote and far-flung areas in the country. SJVN has therefore been continuously implementing a number of education and skill development programmes in its operational areas to support the new generation and in turn, the nation.
1. Nomination of Youth in Govt. ITI's
SJVN Foundation has long been nominating local youth to enhance their technical skills to increase their employability. In this direction SJVN provides monthly stipend of Rs 2000 apart from sponsoring the course fee to the local youth pursuing vocation training at the various Industrial Training Institutes (ITIs) in Himachal Pradesh, Bihar and UK in FY 2021-22. Four projects namely Luhri Hydro Electric Project, Sunni Dam Hydro Electric Project, Dhaulasidh Hydro Electric Project and Jangi Thopan Hydro Electric Project in the H.P have been allocated 80 seats under various disciplines of training in the ITIs.
2. Deen Dayal Upadhyay SJVN Krishi Kaushal Yojana
To support the mission of Government of India to double the income of farmers by 2022 SJVN has too taken a unique initiative. In support of this initiative SJVN has collaborated with Dr. Y.S. Parmar University of Horticulture and Floriculture, Nauni and CSK University Palampur for imparting skill training to farmers in the area of new agricultural technology, new and scientific methods of cultivation in the FY-2019-2020. The farmers attending these short terms training programs are not only provided free travel, lodging and boarding facilities at the universities, but are also compensated for any loss of income. which has led to substantial improvement in their income.
Over and above these initiatives, the Company dedicated its CSR energy in the state for its sustainable development by contributing to restoration of water bodies, construction of multipurpose dam or water conservation, installation of solar lights and dustbins, implementing awareness programs for energy conservation, among other initiatives.
Coal India
Coal India Limited (CIL) has signed a memorandum of understanding (MoU) with the Government of Himachal Pradesh for the construction of a prefabricated building for a Government Primary School at Kumarsain, Shimla, HP, as part of the company's CSR initiative. The PSU will extend financial assistance of rupees one crore towards the construction of a prefabricated building built with Light Gauge Steel Frame (LGSF) technology for the Government Primary School at Kumarsain in Himachal Pradesh.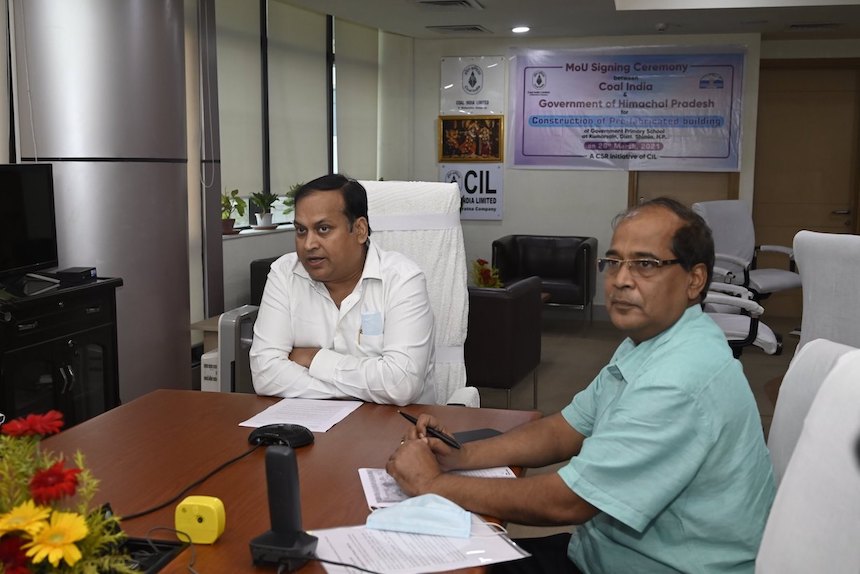 Jindal Steel Works (JSW)
Across India, STEM Learning is the implementation partner of Mini Science Centres (MSCs). Integrating STEM Learning in the education sector develops curiosity, inquisitiveness, critical thinking, problem-solving, imagining, innovating, questioning and exploring, designing and building, testing and modifying their solutions to complex problems among learners. This modern way of teaching not only helps students comprehend the concepts and their applications easily but also helps in implementing them for the progress of society as the students will be equipped with the required knowledge and skills for life.
JSW has extended its support to install MSCs in 5 schools of Himachal Pradesh. The MSCs have been installed in the remotest areas of the state, where students walk 2-3 km to reach their schools. Most of the students stopped coming to school as they had to walk a long distance. So the dilemma faced by the schools was to motivate students to regularly attend school. The chalk and board method doesn't attract students nor peaks their interest. This is where MSCs played an active role.
Once installed MSCs become the property of the school and school authorities have added resources to use at their disposal. MSCs have 80 plugs and play models and each model is aligned to the syllabus of classes 5th to 10th which makes them a prerequisite to classroom learning. The exhibits are interactive and colourful which draws the attention of students and keep them engaged for a long period. While students are exploring these models they raise questions and learn in the process. Post-installation of the MSCs, through word of mouth the perks of the new interesting learning exhibits, got around. The students' curiosity peaked and a rise in attendance was seen in schools.
348 students have experienced this educational transformation in Himachal Pradesh.
Hero MotoCorp
As part of its CSR initiatives towards the COVID-19 relief, Hero MotoCorp has donated four specially designed First Responder Vehicles (FRVs) based on the Xtreme 200R to the Department of Health and Family Welfare in Shimla, Himachal Pradesh. The company says that these unique and utilitarian vehicles will be useful for reaching out to patients and the needy in rural and remote areas. Moreover, these can comfortably move them to the nearest hospitals. The said FRVs come with a full stretcher along with a foldable hood mounted on the side, essential medical equipment like a detachable first-aid kit, oxygen cylinder, fire extinguisher and other safety features. These safety bits include LED Flasher Lights, foldable beacon light, emergency wireless public announcement system and siren.