Top CSR projects in Jaipur
The city with a royal heritage Jaipur is Rajasthan's state capital and also the largest city in the state. Popularly known as Pink City, Jaipur attracts tourists from across the globe.
A trip to Jaipur is incomplete without a visit to the grand Amer Fort, Nahargarh Fort and Jaigarh Fort. The majestic Jal Mahal standing on a lake is believed to be founded by Maharaja Sawai Pratap Singh in the late 18th century to use it as a hunting lodge during his duck shooting trips. Other major tourist attractions in Jaipur include the Hawa Mahal, Jantar Mantar and City Palace among others.
In 2015, Jaipur was conferred the title of the World Craft City by the World Crafts Council, becoming the only city in the world to have received the title for multiple crafts. Jaipur, in particular, and Rajasthan in general, has seen some successful crafts-based businesses and startups reach scale in the last few decades. What about Corporate Social Responsibility activities happening in and around Pink City? As the year 2022 draws to a close, let's take a look at the top CSR projects in Jaipur this year.
Aadhar Housing Finance Limited's digital literacy program
With an aim to accelerate digital literacy in Rajasthan, Aadhar Housing Finance Limited announced earlier this year that they have equipped 10 Government Schools in Jaipur with Digital Training Centre and interactive e-learning tools. This is part of 'Aadhar Kaushal' a CSR initiative focused on skill development.
The Digital Training Centres, interactive e-learning tools, and infrastructure across each of the 10 government schools includes a modern computer lab with 21 computers with multimedia software, a projector that magnifies the image on a large screen, a smart board and furniture. The aim is to make students future ready by equipping them digitally.
World Animal Protection's endeavor to stop cruelty towards elephants
On the occasion of World Elephant Day in August, this year, World Animal Protection launched its petition #NoPrideinElephantRide and activities in Jaipur to spread awareness on the plight of elephants used as attractions for tourism in the city.
The elephants in Amer Fort are part of the tourism attraction packages which reportedly subject these animals to live in unnatural conditions and bear a life of suffering. Cycle rally, radio contest, jingles and street plays were conducted to build awareness on this cause and garner support on the petition addressed to the Government of Rajasthan.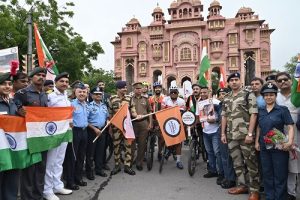 Training locals as sports coaches under AU Bank's 'Bano Champion' Program
AU Small Finance Bank, under its CSR project 'Bano Champion,' announced in June this year that they have organized a 5-day training program at Jaipur for sports coaches from rural and semi-urban areas of Rajasthan. The project has students enrolled under 60 professionally trained coaches like Gopal Saini, Arjuna Award winner & President, Rajasthan Athletics Association, Aditi Mutatkar – Silver Medalist in Commonwealth Games & others.
The training program for sports coaches started on Monday, 21st June 2022, and reportedly continued for 5 days, which covered sports like football, throwball, and athletics. To promote the participation of women, the program also included sessions on training girls and sharing insights on child protection modules.

Dettol Banega Swasth India's first music album on hygiene
Reckitt announced in March this year that Dettol Banega Swasth India has launched a hygiene focused music album- 'Folk Music for a Swasth India' in collaboration with renowned folk music band, Rais Khan Project. The album was launched at Jawahar Kala Kendra Arts Centre in Jaipur on 31st March.
The album aims to inspire individuals to develop conscious hygiene practices through India's rich folk music. It is Dettol Banega Swasth India's social experiment towards integrating art and culture to deliver important hygiene and health-related messages.
'Folk Music for a Swasth India' produced by Dettol and sung and composed by Ustad Rais Khan is expected to educate the younger generation on best health and hygiene practices rooted in folk art and heritage. The songs of the album focus on five key themes: hygiene at home, personal hygiene, hygiene in school, hygiene during illness, and hygiene in the neighbourhood.