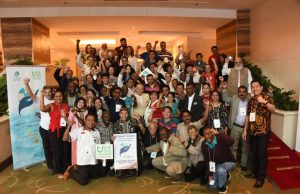 Hyderabad, India: The 2nd Global Forum of People's Organizations on Hansen's Disease takes place in Hyderabad, India, from November 6 to 8, 2022. Organized by...
मानव शरीर ईश्वर की बेहद ही खूबसूरत रचना है। स्वस्थ शरीर इंसान की सबसे बड़ी पूंजी है। लेकिन कुछ बीमारियां ऐसी होती हैं, जो...
World Leprosy Day is observed on the last Sunday of January. The day was chosen by French humanitarian Raoul Follereau in 1953 to coincide...
With Anti Leprosy Day on 30th January 2021, the WHO Goodwill Ambassador for Leprosy Elimination, Yohei Sasakawa, Sasakawa Leprosy (Hansen's Disease) Initiative, National Leprosy...