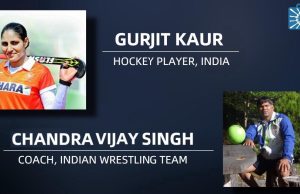 29 अगस्त यानी कि नेशनल स्पोर्ट्स डे। ये बेहद खास दिन होता है और इसी दिन मशहूर हॉकी प्लेयर मेजर ध्यानचंद जी की जयंती...
As the official partner of Odisha Hockey Men's World Cup Bhubaneswar 2018, Tata Steel reiterated its commitment to promote a culture of sports as...
Indian hockey team geared up for the men's World Cup with a 5-0 thrashing of reigning Olympic champions Argentina in its first warm-up match...
Cricket is the only sport that gets serious light in the country. Indian cricketers make somewhere around 2 crore rupees per annum. This is...