Creating opportunities for a million people, through skill training – this key initiative of Godrej Good & Green's vision 2020 for enhancing livelihoods is a classic model of skilling the nation through a combined and collaborative effort. Even as we have skilled over 268,000 individuals across 23 states in partnership with more than 30 NGOs across the country, our endeavour is to socialise the skill training programme for sustained, long-term success. While we are supporting the skill training through funding and capacity building, we are also inviting corporates, government bodies and NGOs – both, international as well as local to give a wider perspective, upscale the initiative and make it more action-oriented.
Corporate contribution
On the cusp of a demographic dividend, India is bracing for the moment. The government's recent skill development and entrepreneurship promotion initiatives including efforts such as Skill India, Make in India, and the first-ever Ministry for Skill Development & Entrepreneurship (MSDE) indicate that the environment is enabled, the necessary scaffolding is in place and the country is ready to reap the benefits of a skilled labour force. Many industries in the country are now part of the skill ecosystem and are putting their best foot forward in the 'skilling and training' movement.
For the skill development ecosystem to thrive, it becomes increasingly important that corporates and businesses adopt an integrated approach, and work in alignment with national skilling priorities and goals. By way of CSR initiatives, companies have the vantage to make targeted interventions to address gaps in skilling that can prove to be catalytic both for the industry as well as the workforce at large.
While Hindustan Unilever's 'Project Shakti' empowers rural women by training them in basic accounting, selling skills and relevant IT skills to help them start micro-enterprises that undertake direct-to-home distribution of consumer products in rural markets, Dabur India provides vocational training to women and communities in bee-keeping. Where Ambuja Cement runs 17 Skills and Entrepreneurship Development Institutes (SEDIs) across the country, Maruti Suzuki has set up Automobile Skill Enhancement Centres (ASEC) at select ITIs, that trains thousands of youngsters every year. While Wipro's Mission 10X aims to improve the employability of young Indian engineering students through a three-pronged approach of training faculty, developing transformative leaders and leveraging technology to bridge the gap between industry and academia, the Infosys Foundation has a Spark-IT initiative that enhance the technical and behaviour skills of graduates and orient them to meet the needs of the IT industry.
 Collaborating with stakeholders
In terms of enabling our trainers, we have a continuous training module that encourages engagement and enhances the facilitation skills. The other key stakeholders are our NGO partners, with whom we work simultaneously on visioning exercises and capacity building.
The macro perspective involves organising annual conclaves and lending the CSR team's support in developing a skilling report that maps the sector and identifies areas where we can collaborate. The annual conclaves are designed to initiate conversations with relevant stakeholders to educate, share and learn about things that make a difference.
A joint effort goes a long way in ensuring the efficacy of a skill development programme. Take for instance, our construction training module that enhances the skills and employability of youth in Jharkhand, eventually gets him a job in Pune. At this stage, the post-training migration support is crucial to facilitate his transit and settling down in a new place. For us, skill training is as much as about advocacy as it is about achieving quality numbers.
Quality over quantity
When it comes to skill training, the thrust is on the quality and impact of the training and not just chasing numbers. As the findings of the Sharada Prasad Committee recently revealed, the quantum of funds allocated by the government for skill training have not shown proportionate results.
Pointing out the flaws of a funding-driven, one-dimensional approach, the committee has advised the Ministry of Skill Development to adopt a collaborative approach for sustained and impactful skill training that will truly enhance the employability of individuals.
Enhancing capabilities, empowering lives
90% of the top 100 companies had at least one CSR programme in skills and livelihood development in the past three years. The median CSR budget allocated to skills and livelihood development was Rs.3.92 crore, accounting for around 12.7% of the total CSR budgets on average, highlighted in Samhita's report on CSR & Skill Training released at The Good Conclave 2017.
The top five sectors supported through CSR programmes were agriculture (52%), textiles (mainly sewing) (49%), building, construction and real estate (47%), auto and auto components (37%) and IT and ITES (30%).
While Maharashtra, Karnataka and Tamil Nadu were popular states for programmes in skilling and livelihood development, the North Eastern states, along with Jammu & Kashmir, Chhattisgarh and Jharkhand have huge surpluses in unskilled and semi-skilled labour that would benefit from a higher CSR footprint.
47% of the companies reported supporting entrepreneurs as part of their CSR programmes to offer a viable alternative in a saturated job market, and also to create more 'employers'.
While there was overwhelming consensus about the role of soft and life skills, there is a disconnect between rhetoric and practice—only 50% of the companies offered these as part of their programs.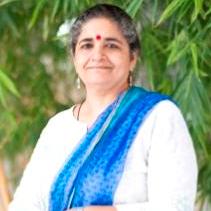 Dr. Vikas Goswami heads the Sustainability function at Godrej Industries Limited and Associated companies.
In her current role, Vikas drives the Group's 'Good & Green' vision of creating a more employable workforce, building a Greener India and innovating for good and green products. Under her leadership, the team is laying down processes to evaluate the impact of the Group's Good & Green initiatives.
Views of the author are personal and do not necessarily represent the website's views.
Thank you for reading the story until the very end. We appreciate the time you have given us. In addition, your thoughts and inputs will genuinely make a difference to us. Please do drop in a line and help us do better.

Regards,
The CSR Journal Team
Subscribe