Home
Leaders Speak
Ravi Chhabria, MD, NetApp India Talks about Harnessing Data to Drive Social...
Ravi Chhabria, MD, NetApp India Talks about Harnessing Data to Drive Social Change in India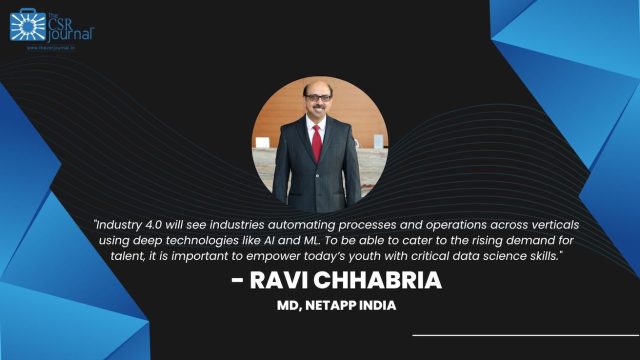 It has been rightly said that 'Data is the new Gold'. Data plays a vital role in the evolution of technologies and how humans and their establishments operate. Data analysis can not only aid in improving efficiency and profits but also play a significant role in solving major global issues that need to be tackled to achieve equitable and sustainable development.
In an exclusive interaction with The CSR Journal, Mr Ravi Chhabria, MD, NetApp India – a global cloud-led data-centric software company, sheds light on the role of data in driving social change in India.
1. How can leverage data aid in solving real-world challenges and achieving Sustainable Development Goals?
Across sectors and functions, big data has proven its mettle in delivering valuable insights that can be used to bring about change. Within the purview of sustainable development, data can be used to understand the core of persisting issues. It can help flag risks, benchmark a company's sustainability report against competitors, monitor industry references to strategic problems, and analyse sustainability best practices. One of the critical advantages of data analytics lies in its ability to help industries understand and act on their operations' environmental impact. This process can help cull out insights that can help businesses make improved decisions, refine goals, and focus their efforts in a channelised manner.
2. India has the opportunity to take advantage of the demographic dividend. How can it maximise the benefit of the Industrial Revolution 4.0?
India has the potential to achieve a faster pace of economic growth if we focus on the policy environment that captures the dividend. Some of the critical aspects that we need to focus on are:
Scaling up human resources by investing in skilling programs

Promoting entrepreneurship and creating more jobs

Emphasising building more institutes and programs and facilitating STEM education among the younger population
India has massive potential when it comes to the growth of its economy. Industry 4.0 will see industries automating processes and operations across verticals using deep technologies like AI and ML. To be able to cater to the rising demand for talent, it is essential to empower today's youth with critical data science skills. And that is exactly what programs like Data Explorers aim to achieve.
3. What is NetApp Data Explorers Program? What are its vision and mission?
NetApp created the NetApp Data Explorers Program to empower teens to discover and develop critical data science skills, preparing them to thrive and impact in a data-driven world. The program is designed to reach and engage under-represented youth in less-resourced communities and inspire them to bring about positive change at a social level.
The program leverages data sets aligned with the UN Sustainable Development Goals to engage students in a "club-like" learning experience. NetApp identified the India STEM Foundation (ISF) as a partner to help create the curriculum and roll out the program. The course is spread across 14 sessions, with half dedicated to hands-on learning and the other half to project-based learning. In their projects, participating students dive into data sets discussing topics they care about – ranging from climate change to health to education, encouraging them to get curious and ask tough questions. NetApp is leading the way in data management. Our vision is to transform the world by making data more accessible and easier to use so businesses and individuals can make better and more informed decisions. The simple vision of the program is to help youth see their place in using data as a tool for addressing social issues in meaningful ways.
4. There is still a large digital divide in India, which could prove to be a major hindrance in preparing the country for IR 4.0. How can CSR work towards bridging this gap?
While India has made significant progress in its mission towards becoming a digitally empowered nation, we still have a long way to go. An increasing number of enterprises are working towards bridging the digital divide that exists through CSR initiatives. One such method is by taking core areas of expertise across the technology sector to disadvantaged groups. Corporate organisations can effectively collaborate with NGOs, educational institutes, tech experts, and employees to work jointly to enable the youth to increase data science literacy and lead with data and bring about positive change.
5. How does NetApp use insights from the NetApp Data Explorers Program to drive change in India?
When it comes to the program, we map the outcomes to see if the program's end goal is being achieved and to what extent. We conduct a pre and post-program survey with the students where we gather data and information on a specific set of questions that analyse the students' sentiment towards driving change. For instance, 53% of students in a particular batch thought they couldn't make a difference on community issues. But after the program, only 23% of students felt the same. That is 20% more students who felt more confident about being able to make a difference. This instils confidence in us to go ahead and introduce more such programs to more schools and institutes across the country.
6. How has the program panned out? What has it been able to achieve so far?
Through the Data Explorers Program, we have witnessed multiple instances where students have leveraged data that has addressed social issues and fueled lifelong passions. The team at Christel House, Bengaluru – one of our education partners, studied the connection between education and poverty. The insights were then used to build an awareness plan to educate their peers across the schools. In another instance, a young boy channelled his desire to become a doctor. After an in-depth study, he was able to determine where doctors would have the most significant impact by analysing data on the existing numbers of doctors present in different countries across the world.
The program also provides an excellent opportunity for our employees to give back through our VTO programs. Each group is assigned a dedicated mentor to guide them through the projects and topics they take up until the project completion.
7. How can this initiative be scaled to a larger population across the country? Does NetApp have any plans to get involved in this scaling?
Since the program's inception in 2020, we have seen a 5X growth in the number of students participating. As a part of our pilot study, we started with 110 students, and now we have over 500 students who have been part of the program.  Given the successful response, we are considering introducing more schools in Karnataka and other cities across the country.
We will continue collaborating with more schools in curriculum design, educator training, and employee engagement, seeking impactful ways to engage and inspire young students. The goal is to invite educators into data science education to prepare more students for data-rich futures.
TERC, our global NGO partner, evaluated the program and found that students' sense of data efficacy—or their ability to work with and make sense of data—improved significantly. NetApp has engaged all its partners globally to refine the curriculum and develop teacher training to scale Data Explorers to additional locations where NetApp has offices.