Delhi's pollution found resonance in the Parliament during budget presentation, with the Finance Minister initiating a special scheme towards tackling the menace. Merely a week earlier, the economic survey suggested that heavy penalties be imposed since nearly 35 million tonnes of rice paddy or agri waste in three adjoining states (Punjab, Haryana and Western UP) were burnt in late October, thereby aggravating the unfortunate situation.
If anyone feels that imposition of penalties will solve the burning of agri waste – they are unfortunately mistaken. It would be in everyone's interests if the government provides sops or incentives for transforming this waste into energy via biomass plants. Such initiatives will provide farmers some additional revenue, offer cheap energy to corporates and benefit the environment.
Farmers will come onboard if they foresee some additional revenue. The government will however have to provide connectivity to power transmission lines and furthermore corporates need to step in not merely to purchase this energy but also offer project management expertise and professional supervision.
The handling of waste in an efficient and smart manner will benefit society and spur economic growth. This will however require strong support from both governmental agencies and the corporate sector. Waste isn't merely a rural or urban issue – it has aggravated into a national and global menace.
It must be pointed out that nearly 62 million tonnes of municipal waste are generated annually nationwide which is expected to burgeon to 165 million tonnes by 2030. A pitiful fact is that out of the 62 million tonnes of municipal solid waste generated annually, merely 43 million tonnes of solid waste is collected and only a miniscule 11.9 million is treated – the remaining is simply dumped unscientifically.
However, one of the main issues facing many nations including several developed Western nations is segregation of waste into recyclable or non-recyclable. Some nations do ask citizens to put separate waste at source – but in a nation like India, wherein awareness and education levels remain low – such separation by citizens is an uphill task to complete.
Innovative Solution to tackling a Global Menace:
Mumbai's 7.5 million daily suburban train commuters are always in a hurry and munch their favourite snacks and beverages on-the-go mostly during their commute. Most of the leftover wrappers and plastic bottles find their way to the tracks. It would however baffle most to know that the vast majority of this waste is not cleaned by railway staff or appointed contractors – but ragpickers who in a jiffy, jump onto tracks, pick up waste and throw it into their huge carry bags.
Nearly 80 per cent of solid waste can be recycled and used for multiple purposes. It would hence be pertinent to point out that India has a massive army of ragpickers whose numbers are estimated between 1.5 million and 4 million, with Delhi itself having more than 500,000 such individuals. These individuals can be deployed to provide an effective and efficient solution to the mounting waste menace.
But the unscientific and unhealthy working conditions of ragpickers remain extremely counterproductive. If corporates could therefore step forward and provide ragpickers with proper training that includes identification and retrieval of recyclable waste – it would benefit one and all. In addition, corporates could also provide ragpickers safety gear such as gloves, masks and boots so that work could be executed more efficiently.
Corporates are also stepping forward to take up initiatives towards reducing their internally created waste. We can therefore conclude that waste management will require public and private participation whether in the form of joint efforts towards biomass plants or merely training and equipping ragpickers. But these joint efforts need to be directed towards providing innovative localized solutions to tackling mounting waste rather than merely copying Western ideas which might not be most suitable to domestic conditions.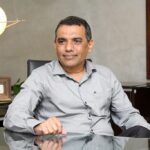 Anup Mathew is currently the Senior Vice President and Business Head of Godrej Construction. Prior to Godrej, he had a relatively short work experience with the Essar Group. He also holds a Diploma from The Swedish Institute of Management, Stockholm, Sweden. He was one of the 14 Indians who were selected with a scholarship for the CII-Nehru Fulbright Fellowship Program in the Year 2012. He completed the Fulbright Program from The Tepper School of Business at Carnegie Mellon University, Pittsburgh, Pennsylvania, U.S.A.
Views of the author are personal and do not necessarily represent the website's views.
Thank you for reading the story until the very end. We appreciate the time you have given us. In addition, your thoughts and inputs will genuinely make a difference to us. Please do drop in a line and help us do better.

Regards,
The CSR Journal Team
Subscribe