Home
Leaders Speak
Mr Alok Varma, director, HCL Foundation's Clean NOIDA Program opens up on...
Mr Alok Varma, director, HCL Foundation's Clean NOIDA Program opens up on their plastic waste sculpture
HCL Foundation, under its flagship program Clean NOIDA along with NOIDA Authority, recently unveiled India's first sculpture of Mahatma Gandhi made with a 1000 kg of plastic waste. The life-sized statue of 'Marching Bapu', which demonstrates the concept of waste circularity (Reduce, Recycle and Reuse), has been inaugurated at Sector 137, Noida.
The 20 feet tall, six feet wide and six feet long sculpture which weighs 1150 kgs, was made by melting, casting and molding the plastic waste collected within NOIDA city. It has been created by noted artist Sandeep Panwar.
In an exclusive conversation with The CSR Journal, Alok Varma, Project Director of Clean Noida Program talks about what inspired them to come up with a statue completely made with plastic waste and what all they have achieved under this program. He also shared a message for citizens about the responsible use of plastic.
1. What inspired you to create a sculpture with a 1000 kilos of plastic waste?
We at HCL Foundation started this program called the Clean NOIDA Program around three years back. Over the time we have worked in different dimensions of sanitation and solid waste management. In the past couple of years, we have been focusing upon the menace of plastic pollution. We thought it is necessary for the general public to become aware about the dangers of plastic, the pollution it causes in the city and its overall harmful impact on the environment. So we came up with the program where we can recycle the plastic and put up different products made of plastic like benches or other things in different locations.
Then our team came up with the idea that we should create a statue which becomes more relevant and identifiable by the people. That is when the idea to make Gandhiji's statue came up. We contacted an artist called Sandeep Panwar, who created the 20-feet statue which weighs 1150 kg with recycled plastic waste. The statue will act as a visual landmark against the use of plastic and to promote recycling of the same.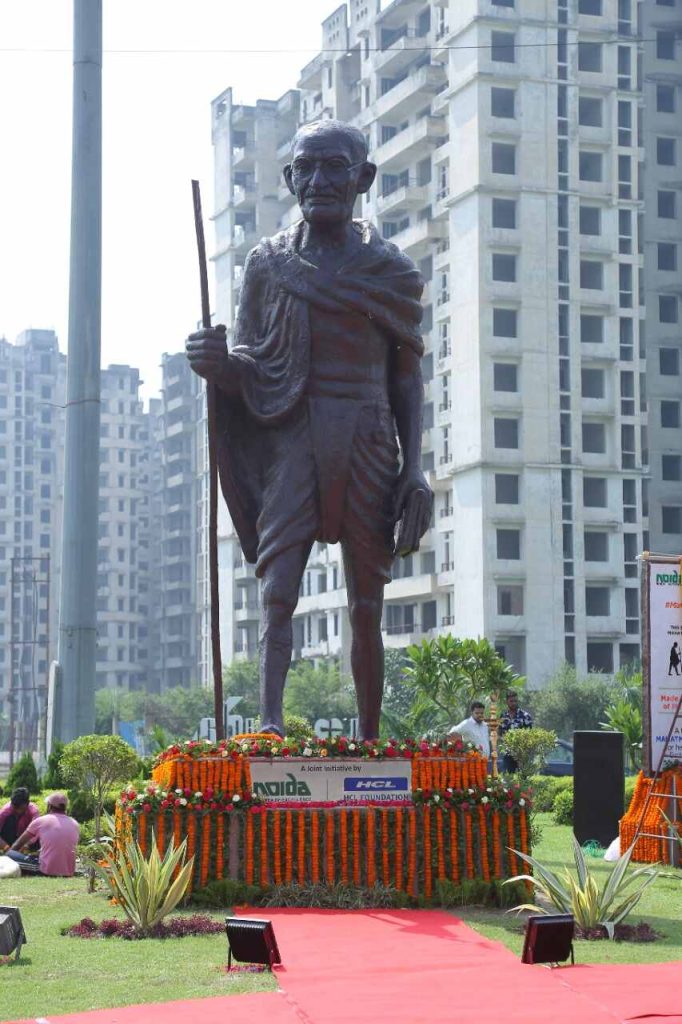 2. By creating such a massive sculpture with plastic waste, what message do you want to send across to the citizens regarding the use of plastic and plastic waste management?
One should reduce or avoid the use of plastic if possible and wherever they are using, they should ensure its proper disposal and recycling. That will be every citizen's contribution towards their city as well as the planet.
3. Please tell us more about HCL Foundation's Clean NOIDA Program
We launched the Clean NOIDA Program around three years ago in January, 2019. Solid waste management at that time was one of the most important challenges sweeping the city of NOIDA when we started this program. That is how we identified the areas where we should work. Going further, NOIDA Authority also welcomed our initiative and we did an MoU with them.
Over the time, we have conceived different dimensions of the program. We have worked with the NOIDA Authority to implement a complete automatic system of monitoring and management of solid waste operations from collection and disposal of waste in the city. We set up a robust integrated control and command centre at NOIDA Authority which fully tracks the day to day waste management processes from collection to disposal and other aspects. We have also trained the sanitation workers of NOIDA Authority on different aspects of modern waste management, collection system in a scientific way.
The second dimension of the Clean NOIDA Program was engagement with the citizens. We have worked with resident welfare associations who are responsible for certain aspects of solid waste management. We analyzed their internal processes of waste management and augmented the same by bringing in different elements including how to efficiently collect waste. We have also provided vehicles for waste collection which have compartments for different kinds of waste. We have engaged extensively with the citizens of NOIDA through various programs spreading awareness about waste management within the household, waste segregation etc.
In the third dimension of the program, we have worked extensively with the urban villages of Clean NOIDA where the entire process of waste collection to disposal was managed by us through our partner NGOs. Lot of open areas which had become garbage points we have carried out massive drives to clean them. Over the last three years, more and more dimensions have been added to the program.
4. As the director of the Clean NOIDA Program, are you satisfied with what has been achieved till date? What else do you plan to do under this program?
Yes definitely! The way NOIDA Authority and the citizens have responded to this program, and the way NOIDA city has changed, it has also got elevated in the ranking over the years. This journey has been extremely satisfying for us at the HCL Foundation's Clean NOIDA Program. However, I believe there is always a lot to do. It is a continuous process where constant improvement is needed. We have to work towards maintaining this cleanliness. A lot of dimensions still need to be carried out with the partnership of the NOIDA Authority and the citizens.
5. Do you plan to implement similar waste management programs in any other city or town?
Under this program, even though the focus has been on NOIDA, but we have also been working in small cities like Sandila and Hardoi and some villages. We also want to work in the rural areas which can be replicated as the model for sanitation and solid waste management. Other than that, we are also keen to provide technical support towards waste management wherever required.