Home
Press Release
Kiran Mazumdar-Shaw, Sonali Bendre and others support Rang De Neela's #BluePledge which...
Kiran Mazumdar-Shaw, Sonali Bendre and others support Rang De Neela's #BluePledge which raises awareness about Diabetic Neuropathy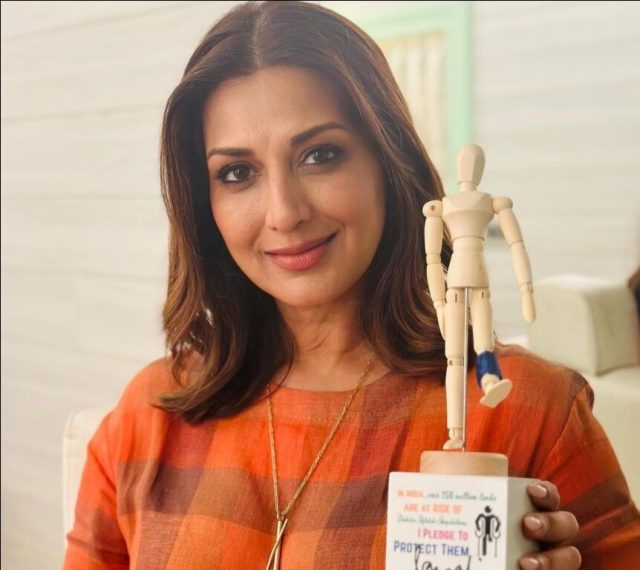 Rang De Neela, a cross-sectoral initiative that acknowledges the transformative power of art in enriching lives, is dedicated to educating individuals about the risks associated with untreated metabolic disorders, particularly diabetes. With a focus on preventing amputations, especially in rural and semi-urban areas across India, the program aims to foster the importance of early intervention. To bridge language barriers and reach a wider audience, Rang De Neela has introduced a symbolic emblem that serves as a powerful tool to raise awareness about Diabetic Neuropathy.
The rural outreach program was inaugurated by Smt. Smriti Irani, Union Minister for Women and Child Development and Minority Affairs. She adorned the lower limb of the Rang De Neela emblem, an art mannequin conveying the significance of preventing amputations, with a blue protection band. Inspired by this gesture, numerous celebrities and industrialists have joined the cause by sharing images of themselves tying the blue protection band on social media.
Actress Sonali Bendre took to Instagram to participate in the #BluePledge campaign, sharing her image along with the following message: "Diabetes, a lifestyle disease prevalent in our country, silently claims lives. Over 150,000,000 Indians are at risk of amputation due to diabetes. Early detection plays a crucial role. I pledge to protect them by supporting the @rangdeneela campaign."
Renowned figures such as Rohit Bose Roy and Ruhaanika Dhawann have also taken the #BluePledge on Instagram. Additionally, prominent industrialist Kiran Mazumdar-Shaw expressed her support for Rang De Neela, recognizing the initiative as vital and unique.
According to Dr. Rajiv Kovil, Diabetologist and co-founder of Rang De Neela, "Diabetes is an escalating concern in India, affecting millions of individuals nationwide. One of the most severe complications of diabetes is amputation, often resulting from delayed diagnosis or inadequate management of the condition. In fact, India ranks second highest in the world for diabetes-related amputations, with over 100,000 people losing their limbs each year."
In a country like India, where health literacy levels are low, leveraging visual props proves to be an effective approach to raising awareness. Rang De Neela's emblem, a 3D art mannequin featuring a health-related message on its base, serves as a powerful symbol. Participants of the #BluePledge campaign tie a blue protection band around the lower limb of the emblem, signifying their commitment to creating awareness about Diabetic Neuropathy.
Disclaimer: This media release is auto-generated. The CSR Journal is not responsible for the content.