India is gravitating towards an urge to track growth and evaluate impact across urban and rural areas. Evidence based decisions are increasingly becoming critical to interventions and delivery of services. In such a scenario, access to reliable grassroots data becomes crucial for holistic and inclusive policy making and successful implementation.
The first mile problem is in the development sector to procure reliable, relevant and actionable data especially in rural sector that is largely unorganised and unmappable due to remote habitable areas where satellite imaging using Google Maps is impossible due to lack of internet connectivity.
To this extent, innovative research methodologies and practices need to be incorporated to ensure that data collected is robust, informative, and authentic.
On one occasion at Outline India, a land mapping study was conducted in Bhora Khurd village in Haryana. Piloted were the integration of UAV technology (Unmanned Aerial Vehicle), popularly known as drones, in social research.
Given the remoteness of Bhora Khurd, there was little information available on Google Maps and as such planning for infrastructure services was a long delayed decision owing to lack of substantial evidence to showcase. Our intention of using visual imagery with survey data was to help local authorities identify service delivery gaps and local needs.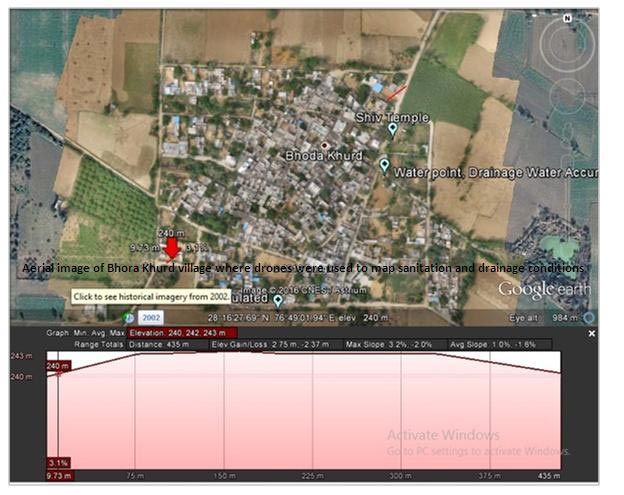 The study showed that uneven topography of the village was a major cause for the inadequate drainage system which resulted in accumulation of drainage water leading to severe water borne diseases amongst villagers. The problem of lack of adequate drainage also rendered the Panchayat land unusable. We deployed participatory methods of research which included a transect walk, interview with the sarpanch, interaction with the community and detailed observation and mapping of the village.
Interestingly, with the advantage of visuals and nuanced data, the study showed how caste played an important role in demographic distribution of households across the village, where the households of those from relatively lower caste were situated at lower elevation which hindered their access to infrastructural services and community resources.
The use of drones in India is gaining prominence with the Indian Government spearheading its use in some of its initiatives to gather information and monitor the progress of its programmes at local and state level. Recent examples include the use of drones by the Ahmedabad Municipal Corporation to map mosquito breeding sites, and introduction of drones by the Karnataka government in all its State departments to gather information on drought, monitor crowds and tackle forest fire.
Today, there is a need to adopt such innovative practices that look beyond the traditional research space. Obsolete methodologies of procuring data through large scale surveys is certainly not sufficient to understand subjective information and make effective policies. The role of startups, technology and disruptive methodologies is vital in breaking away from such traditional research practices to source local data in customised manner.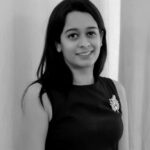 Prerna Mukharya, Founder of Outline India has also made it to Fortune 40, under 40 this year. She has completed her Masters in Economics from the Boston University, Boston USA. Before starting out on her own she has worked with NBER, Centre for policy research, Massachutes institute of Technology & Harvard University as a Research Assistant.
The views and opinions expressed in the article are solely of the author in personal capacity and do not in any way represent views of any institution, entity or organisation that the author may have been associated with.
Thank you for reading the story until the very end. We appreciate the time you have given us. In addition, your thoughts and inputs will genuinely make a difference to us. Please do drop in a line and help us do better.

Regards,
The CSR Journal Team
Subscribe