Home
Press Release
CSR: PNB Housing Finance launches Mobile Medical Units with Wockhardt Foundation in Delhi,...
CSR: PNB Housing Finance launches Mobile Medical Units with Wockhardt Foundation in Delhi, Mumbai, Chennai, and Kolkata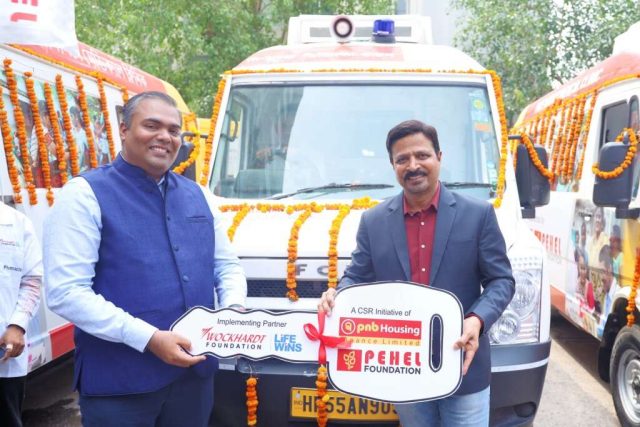 PNB Housing Finance, one of the leading housing finance companies in India, through its CSR arm Pehel Foundation, launched a new social wellbeing initiative 'Mobile Medical Units' implemented by the Wockhardt Foundation. The medical vans will provide free-of-cost primary healthcare services to construction labourers and their families at construction sites and urban slums in Delhi, Mumbai, Chennai, and Kolkata.
PNB Housing Finance and Pehel Foundation are dedicated to uplifting the society through several initiatives in healthcare, education, women empowerment and environment. The mobile medical units will cater to construction workers who form the backbone of the real estate ecosystem, yet face challenges in accessing essential medical facilities.
Commenting on the initiative, Mr. Girish Kousgi, MD & CEO, PNB Housing Finance said, "Provision of healthcare services to underserved communities is a major challenge in our country, primarily due to limited access and insufficient economic resources. We are delighted to join hands with Wockhardt Foundation to address this gap through our Mobile Medical Units, which will help construction workers and their families residing in underdeveloped localities, to avail primary healthcare services free of cost. As an organization that goes beyond the realm of financial inclusion, we believe that this project will foster healthy individuals who contribute to the progressive growth of the country."
Ajhay R Somvanshi, Chief Operating Officer, Wockhardt Foundation, said, "We are grateful to PNB Housing Finance for their support and collaboration on the new initiative to launch Mobile Medical Units. Through this partnership, we will be able to extend our reach to urban slums, ensuring that those in need have access to free primary healthcare at their doorsteps. We look forward to working together and making a positive difference in the lives of millions of people."
Each Mobile Medical Unit is fully equipped with necessary medical equipment and staffed with a dedicated team of registered doctor, trained pharmacist and licensed van driver to ensure top-notch healthcare to the beneficiaries. Patients with illnesses like common cold, skin infection, malaria, jaundice, hypertension, diabetes, and other communicable diseases will be treated on the van and provided with free medicines. Patients needing specialized treatment like, cataract, heart ailments, gynaecological issues, etc. will be provided with referrals to hospitals aiding them in advance detection and treatment. Additionally, they will also be sensitized and educated on the various important aspects of health, hygiene and sanitation.
Disclaimer: This media release is auto-generated. The CSR Journal is not responsible for the content.