World Health Day 2023: Top CSR Projects for Healthcare in India
The World Health Day is a global health awareness day celebrated every year on 7 April, under the sponsorship of the World Health Organization, as well as other related organizations.
The relevance of the day and the need for taking proactive measures to maintain health, improve healthcare systems and infrastructures has never been more evident than now when we are still battling the COVID-19 pandemic.
The World Health Organization has declared the theme of the World Health Day 2023 as: 'Health for all'. On 7 April 2023 ̶ World Health Day ̶ the World Health Organization will observe its 75th birthday.
On this World Health Day, let us look at the top CSR initiatives for healthcare in India.
ONGC's donation to PM Cares Fund for healthcare infrastructure
Oil and Natural Gas Corporation Limited (ONGC), India's Energy Maharatna contributed Rs 100 crores to the Prime Minister's Citizen Assistance and Relief in Emergency Situations Fund (PM CARES Fund) on 31 March 2023. This contribution will facilitate the government's ongoing efforts to strengthen the healthcare infrastructure, specifically with respect to fighting COVID-19 and H3N2 influenza virus.
Earlier, ONGC had contributed Rs 300 crore to the PM CARES Fund in April 2020 during the first wave of the COVID-19 pandemic and also contributed another Rs 70 crore to this fund in Financial Year (FY) 2021-22 for maintaining the medic equipment purchased by Oil Public Sector Enterprises (PSEs) during the two waves of the pandemic.
BPCL and Tata Memorial Centre to aid Cancer Treatment and Research in Punjab
Bharat Petroleum Corporation Limited (BPCL) recently announced that it has signed a Memorandum of Understanding (MoU) with Tata Memorial Centre to provide CSR aid to Homi Baba Cancer Hospital, Sangrur and Homi Baba Cancer Hospital & Research Centre, Mullanpur a unit of Tata Memorial Centre in Punjab.
In an effort towards improving health and community development, BPCL will be funding and investing INR 1,84,87,300/- towards the hospitals to procure hi-tech surgical equipment to enable advance cancer treatments which will be made readily available to the underprivileged population at low costs. This will enable cancer patients to avail high end reconstructive surgeries and improve their quality of life.
Greenply Industries Ltd's Mobile Medical Van in Nagaland
Greenply Industries Ltd, a leading manufacturer of plywood is implementing an ongoing healthcare project through a Mobile Medical Van (MMV). The project is operational in Tizit and neighbouring villages of Mon district, Nagaland, where the company has a factory. The mobile van provides basic diagnostic, medicine, curative, referral and counselling services to the rural population. The initiative aims to improve the access to medical services in the remote areas and bring awareness among the community towards healthy and hygienic living.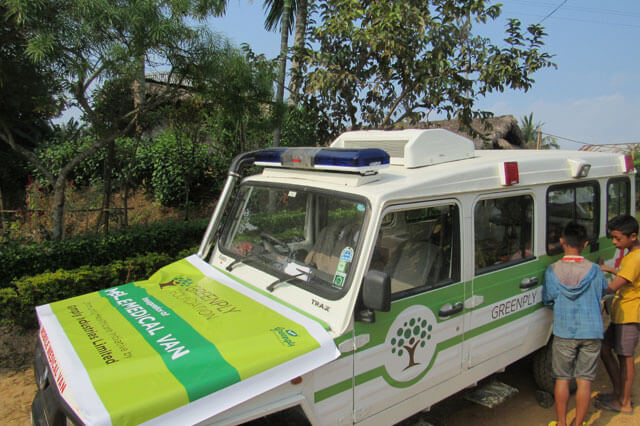 STL's digital healthcare program
STL, a leading optical and digital solutions company has implemented a Mobile Telehealth and social behaviour change program in more than 1200 villages across Aurangabad, Nandurbar, Gadchiroli and other districts in Maharashtra. STL runs its flagship glass, optical fibre and cable facilities in Aurangabad.
In the tribal areas of Nandurbar and Gadchiroli, there is a lack of healthcare awareness, and the medical facilities are far from their reach. Through a hybrid healthcare program, STL is trying to ensure that they get accessible healthcare services entirely free of cost. The program integrates a 24×7 teleconsultation, video consultation and diagnosis along with physical onsite check-ups, on-call doctors, social behaviour change and awareness efforts and regular specialist health camps for primary ailments. It also maintains digital health records of all the patients so that health-related information is available instantly. STL has also tied up with nearby hospitals where patients can avail of advanced treatments.
SBI Foundation and NSDL's Clinics-on-wheels
SBI Foundation and National Securities Depository Limited (NSDL) are coming together to tackle the high incidence of non-communicable, air-borne, and vector-borne diseases in slum settlements in Mumbai's Govandi, Sion and Kurla areas by providing free doorstep healthcare through Mobile Medical Units, under the SBIF Sanjeevani programme. The program will be implemented by Doctors For You, a non-profit organisation working on access to quality healthcare in India.
One of SBI Foundation's legacy projects, SBIF Sanjeevani has deployed 24 Mobile Medical Units (MMUs) or 'clinic-on-wheels' so far across 18 states and 2 union territories. With funding support given by NSDL, and the addition of 3 new MMUs to the fleet, SBIF Sanjeevani will be introduced in 3 wards in Mumbai, and scaled up further to Uttar Pradesh's Hardoi district in partnership with Gramin Vikas Trust, and Assam's Baksa district in partnership with Assam Centre for Rural Development.
Besides screening and treatment, daily camps will be held by the MMU on subjects like maternal and child health and WASH (Water, Sanitation & Hygiene) practices. OPD services will be available 22 days a month, they announced. The project would engage stakeholders from the public healthcare system like Health and Development officers of the BMC, ICDS, Block Development Program, CHCs and PHCs, as well as Anganwadis, ASHA workers, ANMs etc.

Kotak & Indian Dental Association Conduct Oral Cancer Screening at Navi Mumbai
Kotak Mahindra Bank in association with the Indian Dental Association (IDA) organised an oral cancer screening health camp at Agricultural Produce Market Committee (APMC) in Vashi – one of the biggest markets in Navi Mumbai, Maharashtra. The five-day free camp, which was held from 27th February to 3rd March 2023, screened shop owners, transporters, daily wagers, raising awareness on oral health and, early detection and prevention of oral cancer.
Identifying local stakeholders as a highly vulnerable group due to the consumption of various forms of tobacco, the initiative focused on APMC which hosts and sees a steady traffic of local workers throughout the day. A team of dental professionals from IDA conducted thorough examinations to detect any signs of oral cancer and also provided advice on oral health.
Smile Train announces supporting 700,000 free cleft surgeries in India
Smile Train, the world's largest cleft-focused NGO, recently announced a major milestone – supporting 700,000 life-changing, free cleft surgeries in India through their network of 150+ partner hospitals across the country. The announcement was made by Susannah Schaefer, Smile Train's President and Chief Executive Officer.
Smile Train also enables a growing number of essential, non-surgical cleft treatments at their partner hospitals, including nutrition and feeding support, orthodontic services, speech therapy, and psychosocial counseling – all to ensure the long-term, successful rehabilitation of every patient according to their unique needs.
New Holland Agriculture launches mobile medical dispensary in Pune
New Holland Agriculture, a brand of CNH Industrial, has launched a mobile medical dispensary (MMD) in Pune and surrounding villages as a part of a corporate social responsibility (CSR) initiative. The dispensary will provide basic healthcare services to people in need within a 35-40 kilometer radius of Pune. Through this initiative, the brand aims to provide benefits to over 15,000 individuals each year.
Operated by Medihelp Foundation, the MMD will offer point-of-care diagnostics, including blood glucose testing. Screening for hypertension and diabetes are also part of the offering. Follow-up checks will be given on a fortnightly basis. Additionally, the MMD will also provide medical care, with patient referrals as needed.
Staffed by a doctor and a paramedic, the MMD is expected to visit over 20 villages in the region, including Vashire, Tardewadi, Bharate Wadi, Kadlak Wadi, Ganesh Wadi, Deshmukh, Karvande Wadi, among others. The initiative is an extension of New Holland Agriculture's mobile ambulance project on wheels, which has been operational in 15 villages around Greater Noida since 2016.
Apollo Telehealth's 'Good Nidra' program
In March 2022, Apollo Telehealth launched the 'Good Nidra' program to help patients effectively manage obstructive sleep apnea. One year into the program, more than 10,000 patients accessed the sleep management program to improve their sleep quality and treat the condition, as per a recent announcement by Apollo group.
The Good Nidra sleep program offers doctors and obstructive sleep apnea (OSA) patients a brand-new alternative therapy that is simple, comfortable, efficient and easy to use. The program covers screening and diagnosis at home or in the hospital using cutting-edge technologically based instruments that are convenient and cost-effective. In order to improve treatment outcomes, CPAP devices are equipped with connected facilities for monitoring treatments remotely. In addition, a back-end support team including sleep technicians, sleep coaches and counsellors is also there to instruct and direct patients at every stage of the treatment program.
APL Apollo Foundation's Mega Eye Camp with Sightsavers India
APL Apollo Foundation, the Corporate Social Responsibility (CSR) arm of APL Apollo Group, organised Jeevan Jyoti 1.0 Mega Eye Care Camp with Sightsavers India on 17th March 2023 at the Health and Wellness Center Kesda, Vikaskhand Simga, Zila Baloda Bazar – Bhatapara in Chhattisgarh.
Eye Health is global health and development issue across various nations, as it is associated with quality of life and survival expectancy among the middle-aged and elderly population. Today, 2.2 billion people or 1/3rd population globally is affected with vision impairment and blindness.
Eye Health also makes an essential contribution to the 2030 Agenda for United Nation's Sustainable Development Goals (SDG), and APL Apollo Foundation, in collaboration with Sightsavers India, is honoured to play its part in achieving the SDG target of ensuring healthy lives and promoting well-being for all.
EyeQ Hospital's World Glaucoma Week Walk 2023
Eye-Q, a leading hospital eye care chain hosted a Glaucoma walk to raise awareness about Glaucoma during National Awareness Week 2023. As part of World Glaucoma Week, which runs from March 12th to March 18th, 2023, a walk was held on March 12th at Gurugram. Organisers and participants from GOS, HOS, IMA & Nursing home and diagnostic centre assocation joined hands to run for the cause 'Gurugram Glaucoma Walk'.
A 3-kilometer walk was completed by approximately 100+ Gurugram residents and eyecare professionals. The run for a cause began on the sector 4 community road and passed through sector 4 chowk before culminating at the starting point. Organisers of the event maintained that Glaucoma damages the optic nerve, which transmits visual information to the brain. They said that early signs can't be identified until the patient's vision begins to deteriorate. Hence, regular check-ups and treatment available at affordable cost at eyecare hospitals where people can get it corrected can solve the issue.

Godrej Memorial Hospital and IIT Bombay Startup launch Genome Sequencing Test
Godrej Memorial Hospital, a multi-specialty healthcare centre and a beneficiary of the Pirojsha Godrej Foundation, has introduced India's first comprehensive  genome testing that identifies an individual's predisposition to over 150 conditions and genetic traits. The hospital has partnered with HaystackAnalytics, a HealthTech company based out of IIT Bombay, to launch the Health Genometer Smart Plan, a consumer-centric wellness solution developed on a fully automated AI-based bio-informatics platform. The preventive healthcare solution will provide a 360-degree view of individuals' high-risk medical conditions by analyzing present and future health risks through pathological and genomic tests.
'The Health Genometer Smart Plan is the first-of-its-kind preventive healthcare genome test that helps analyse the whole exome, encompassing over 7000 genes, to understand the underlying disease predispositions. The test goes beyond screening health risks to covering 48 diagnostic medical conditions such as cancer, diabetes, as well as other cardiovascular diseases which are actionable and identifies sensitivities and traits to enable holistic recommendations. It also provides over 50 diet and physical health-related characteristics,' they announced.
MANSI initiative by Tata Steel Limited
Lack of easy access to institutional care and low level of awareness about proper care for mothers and babies lead to high mortality among and infants in remote rural areas. With an aim to address the same, Tata Steel Limited launched its initiative 'MANSI' (Maternal & Newborn Survival Initiative) which reduces mortality among neonates and infants by enhancing the capacity of Government health volunteers (ASHAs/Sahiyas) in the Home Based Newborn Care (HBNC) system.
Tata Steel, the National Health Mission (NHM), American India Foundation (AIF) and the Society for Education Action and Research in Community Health (SEARCH) – the pioneer of HBNC in India – have collaborated for the implementation of this project in public-private partnership. The project is being implemented in 12 blocks across Jharkhand and Odisha.  The project has been successful in reducing the Neonatal Mortality Rate and Infant Mortality Rate by 61 per cent and 63 per cent since the inception of the project.
Healthcare Initiatives by Hindustan Petroleum Corporation Limited
Project Dil Without Bill: Project Dil without Bill is aimed at supporting heart surgeries, free of cost, for people with heart ailments from low-income group, particularly children. Under the project, the organisation organised health camps to raise awareness and identify patients with heart ailments. This project has given life and hopes to thousands of families over the years. Through this project, 600 successful heart surgeries were carried out in Financial Year 2019-20, bringing smiles to families of beneficiaries.
Project Dhanwantri: Project Dhanwantari is focused on providing basic healthcare facilities and services in remote rural areas and urban communities through 25 Mobile Medical Vans. The Mobile Medical Van facility reached the doorsteps of people in remote rural and urban locations. The majority of beneficiaries were women, children and the elderly whose general health is neglected due to poverty and lack of resources and awareness.
Project Suraksha: Project Suraksha is focused on the prevention of HIV/AIDS among truckers and surrounding communities by educating them about safe-sexual behaviour practices and providing diagnosis and treatment of STIs through seven 'Khushi' clinics on highways.
Project ROSHNI by Roche Diagnostics India Private Limited
Project ROSHNI was initiated in January 2015 by Roche Diagnostics India. The project provides healthcare and nutrition to severely anaemic women in the tribal villages of Palghar, the average haemoglobin levels of whom were less than 8 gms/dL. Under the project, the organisation organised regular health camps, medication, puppet shows and cooking competitions to improve the health of the women.
The project turned out to be a success as it saw the haemoglobin levels of women rise by 2 gm/dL in five months. Additionally, in order to help them stay independent, the company helped in the formation of over 43 self-help groups of 15 women each and provided them with vocational training in tailoring and beautician programmes. It also empowered them by helping them acquire Aadhar cards, PAN cards, bank accounts and financial literacy. It provided drumstick saplings and kitchen garden training to 500 tribal women, established rainwater harvesting in 100 village homes and installed borewells. The project touched the lives of over 3,000 tribals.
HPE's Initiative to Promote IoT based Healthcare in India
Hewlett Packard Enterprise (HPE) has signed a Memorandum of Understanding (MoU) with Information Technology Development Agency (ITDA) – a society registered by the Government of Uttarakhand, to set up an Internet of Things (IoT) Center of Excellence (CoE) in Dehradun. The CoE is designed to provide a platform to train underprivileged students with technical backgrounds to develop computer applications in the field of healthcare to improve access of healthcare programs to the people.
The fully-equipped CoE will be a green facility. HPE will provide the standard medical, IT and networking equipment, access to Electronic Medical Record (EMR) 2.0, and data hosting. Additionally, HPE will provide students the training on HPE hardware, operating systems, EMR and medical equipment. The IoT CoE will be run and managed by ITDA.
National Cancer Institute by ONGC
At Nagpur, ONGC has supported for setting up of National Cancer Institute, a 455 bedded quaternary care oncology centre. The institute will provide a world-class oncology treatment facility at affordable rates to the general public of Central India. The state of the art radio diagnostic equipment and construction of the first floor and ground floor of the institute has been funded by ONGC.
The centre provides comprehensive cancer treatment, patient care and research through sustainable charity. In addition to providing general cancer care, the institute also creates speciality groups of highly skilled professionals who are masters in the treatment of a select group of cancers. The institute also plans to start University recognized training courses for nurses, paramedical staff and medical fraternity including super speciality training in Oncology and PhD programs.