Emphasising on the importance of reaching out to others in need of help, Mahatma Gandhi had once rightly stated, "The best way to find yourself is to lose yourself in the service of others." Such socially oriented volunteering not only benefits underprivileged communities but also rejuvenates volunteers.
An increasing number of corporates, nowadays, are taking up employee volunteering initiatives in an earnest attempt to keep staff engaged and aligned with the objectives of the company, while benefiting the community at large.
It must be pointed out that CSR (Corporate Social Responsibility) as mandated by the government does not take into account the number of man-hours spent by employees for volunteering related activities. Inspite of this, the increasing trend of corporate employees engaged in volunteering related activities needs to be appreciated and further encouraged.
Employee volunteering programs do not strictly fall into the CSR category but remains closely connected due to its socially driven end-result. As part of a broader CSR concept, it is widely linked to multiple value driven benefits – both for employees and the organisation.  In fact, such employee volunteering activities can be especially beneficial to younger employees or millennials. Younger employees, who have recently come out of college are increasingly looking to work in purpose driven organisations. These employee volunteering activities can assist them to embrace a more social aspect of living. Further, a study conducted by the Boston College Center for Corporate Citizenship revealed that nearly 90% of the companies that measure the connection between volunteer participation and employee engagement found a positive correlation between participation and engagement scores.
Corporate volunteerism's potential to increase employee morale and retention thereby improving company metrics across the board remains unquestionable. This clearly demonstrates why volunteering programs are essential and needs to run simultaneously with successful CSR programs. In addition, philanthropic activity such as volunteering often results in an outlook transformation which identifies with more ethical behavior.
Such type of volunteering activities connect companies more closely to the people and communities wherein they operate, thereby strengthening brand recall in a positive manner. It ensures stronger bonding with the company and its products thereby enhancing its profitability over the long term.
A successful employee volunteering program also puts companies in a niche league which helps to differentiate itself from others. The Tata Group's 'Tata Engage' program allows all of its employees across companies to come together and volunteer. Through iCare, Schindler's structured volunteering programme aims to provide volunteering opportunities to employees who are keen to engage in skill-based, short term and longer-term volunteering projects. In an endeavour to spur employees towards taking up volunteering activities, some others such as NetApp provide five days of leave per annum specifically for such initiatives.
In keeping with changing times, employee volunteer activities are consistently evolving. Today, many corporates encourage employees to use their special skills such as language, cooking, teaching or even singing to train the underprivileged sections of society. In addition, some employees may like to channelise their passion such as driving, stitching or reading towards skilling others. We also find an increasing trend of employees taking sabbatical to specifically engage in volunteering activities which as close to their hearts. The heartening aspect is that many corporates allow and few others encourage employees to undertake sabbatical for pursuing volunteering activities.
With corporates spearheading such employee volunteering initiatives, it could lead to a professional approach and better outcome being achieved. The employee volunteering initiatives can also be structured in a manner to focus on issues that need immediate attention.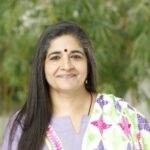 Dr. Vikas Goswami heads the Sustainability function at Godrej Industries Limited and Associated companies. 
In her current role, Vikas drives the Group's 'Good & Green' vision of creating a more employable workforce, building a Greener India and innovating for good and green products. Her focus is on creating programmes and initiatives to improve the health and well-being of rural- and urban-based citizens through waste recycling, smart agriculture, energy conservation, nutritional security and animal husbandry.
Views of the author are personal and do not necessarily represent the website's views.
Thank you for reading the story until the very end. We appreciate the time you have given us. In addition, your thoughts and inputs will genuinely make a difference to us. Please do drop in a line and help us do better.

Regards,
The CSR Journal Team