CSR: AkzoNobel India's Surprise New Year's Gift for Kids at a Govt School
Children going to government Senior Secondary School at Nathupur, Gurugram, had a New Year surprise when they returned. AkzoNobel India, the global paints and coatings company and maker of Dulux, repainted the school walls as part of the company's global "Let's Colour" CSR programme.
AkzoNobel India provided paints from its Dulux range for repainting in consultation from AkzoNobel colour experts to help to bring about a conducive environment for better development of the students and brighten up the local living space. In addition, professional painters from AkzoNobel Paint Academy as well as AkzoNobel staff came together as volunteers to repaint the school.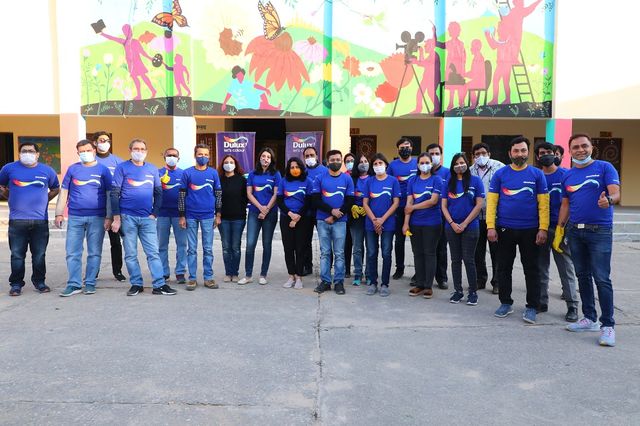 The building colours were selected as per the government guidelines. The vivid colours used on pillars give a cheerful look to the school. A mural inspired by the original creation of "Dave Loewenstein" on the showcase wall depicts the correlation and interdependency between the environment inhabiting flora, fauna and humans. Maintaining a harmonious balance is essential to ensure that the animal kingdom as well as the green cover flourishes, and our future generation is not deprived of this beautiful world.
Rajiv Rajgopal, Managing Director, AkzoNobel India, stated: "We pride ourselves on our knowledge of colour and design. Therefore, we know how colour creates the right environment in schools to bring out the best in students and teachers. We believe in the transforming power of colour and hope that the students of this senior secondary school will be inspired to keep striving for brilliance in their learning journey."
The school building was built almost 40 years ago and the last time it was painted was more than a decade ago. 1200 children predominantly from economically weaker section of the society are enrolled in classes 6 – 12. Rajiv Rajgopal added: "We were hoping the students will be surprised and delighted with the vibrant and aesthetically appealing paint work once the school reopens."
The Let's Colour CSR programme uses the power of paint to improve people's lives. Nearly, 2300 projects have been completed globally involving more than 12,000 volunteers and 1.3 million litres of paint, touching the lives of more than 81 million in 46 countries.
Disclaimer: This media release is auto-generated. The CSR Journal is not responsible for the content