Home
Press Release
CSR: Non-profit and BEST join hands to launch campaign on Prevention of...
CSR: Non-profit and BEST join hands to launch campaign on Prevention of Child Sexual Abuse on the eve of Child Safety Week 2023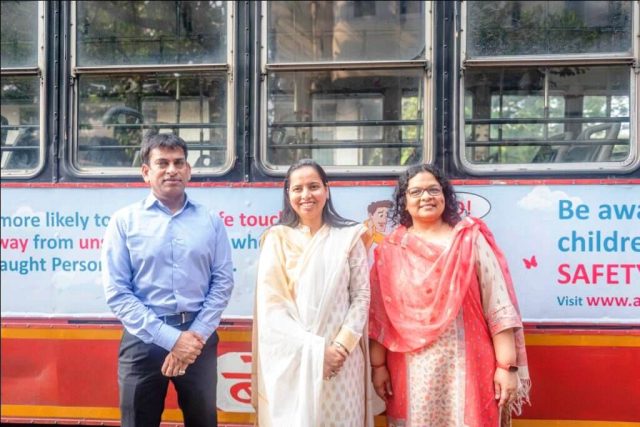 Mumbai, India: Child Safety Week, observed from 14 November to 20 November 2023, Arpan and Brihanmumbai Electricity Supply and Transport (BEST) have collaborated to increase awareness about Child Sexual Abuse on public transports and foster safer environments for children during their daily commutes.
Child Sexual Abuse remains a pressing concern that demands the highest attention. In line with the data from the National Crime Records Bureau (NCRB) in 2021 170 CSA cases are recorded daily, with 7 cases reported per hour. Arpan and BEST unite to address the escalating incidents of Child Sexual Abuse and enhance the safety of Mumbai's public transport systems for children.
So, as part of the collaborative effort, Arpan has placed informative posters on safe and unsafe touches in the BEST buses which will be instrumental in spreading awareness and education regarding prevention from CSA.
'In our shared commitment to protect children from sexual abuse, Arpan and BEST have come together, driven by a common goal. We believe that every child deserves to be safe and commute safely as well. With this partnership, we strive to create a city where children's safety is paramount and adults are empowered to prevent CSA. By raising awareness and fostering a protective environment, we endeavour to empower adults to be vigilant and protective and play their role in safeguarding children and teaching them skills to identify and refuse unsafe touches and seek help, says Pooja Taparia, Founder and CEO of Arpan.
Furthermore, in a proactive step towards creating a safer environment, Arpan will conduct training sessions for the BEST staff. These training programmes will focus on increasing awareness about Child Sexual Abuse and equipping the staff with the knowledge and skills needed to handle cases of CSA sensitively effectively.
To reach the masses, Arpan has also placed informative posters at BEST depots and inside BEST buses reinforcing the importance of safeguarding children during their commutes. It will highlight how adults can create a safer environment for children and teach them skills to identify unsafe behaviours, refuse them and seek help. It is crucial to nurture a collective sense of responsibility for the well-being and safety of our children.
Vijay Singhal, General Manager, B.E.S.&T, says, 'Our partnership with Arpan is not just a collaboration; it's a promise to the people of Mumbai. We understand the trust our passengers place in us every day, and we take that responsibility seriously. We are fully committed to making every journey on BEST buses a safe and secure experience for all, particularly for our youngest riders. Together with Arpan, we will continue to work tirelessly to raise awareness, educate our staff, and contribute to the welfare of our city's children'.
Applauding this initiative, Ku. Aditi Varda Sunil Tatkare, Women and Child Development Minister, Government of Maharashtra, says, 'I applaud the joint efforts of Arpan and BEST in addressing the critical issue of child sexual abuse on Mumbai's public transport. The safety and security of our children are of utmost importance, and this collaboration underscores the significance of a united front against this problem. By spreading awareness, providing training, empowering adults and taking proactive measures, we are taking a significant step towards making Mumbai's public transport a safer and more protective space for our young citizens. This initiative is a testament to our collective commitment to securing a safe future of our children'.
Child safety on public transport is a matter of great concern, and through this collaboration, Arpan and BEST aim to make Mumbai a model city, where every child can travel safely.
Disclaimer: This media release is auto-generated. The CSR Journal is not responsible for the content.