Home
Press Release
CSR: Government schools in Gurugram and Faridabad renovated under CSR initiative
CSR: Government schools in Gurugram and Faridabad renovated under CSR initiative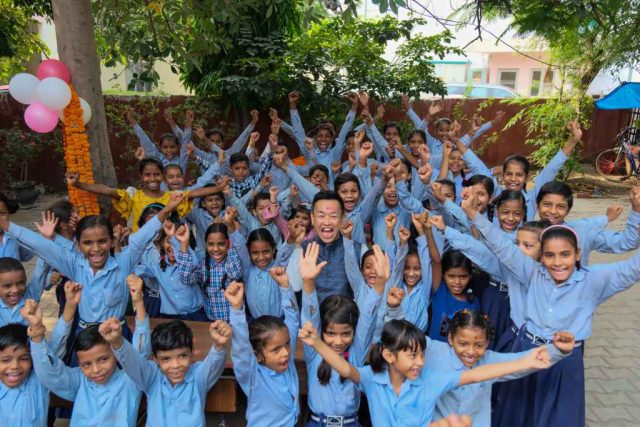 New Delhi, India: With immense pride, FUJIFILM India, a trailblazer in the field of diagnostics and imaging innovations, is announcing the successful completion of its latest CSR (Corporate Social Responsibility) initiative aimed at transforming educational infrastructure in India. Under this noble endeavor, FUJIFILM India has completed the renovation of two schools. To accomplish it, FUJIFILM India refurbished and remodeled the Government Primary School located in the heart of Sushant Lok, Gurugram, Haryana into the FUJIFILM India Model School, making it a modern and inspiring space where students can thrive. Not only this, but FUJIFILM India has also fully revamped the Government Middle School of the village Jajru in Faridabad, Haryana and reimagined it as the FUJIFILM India Model Village by providing students with access to enhanced educational resources.
The objective was to enhance the capacity and amenities of primary schools in Sushant Lok A-1, Gurugram, and Government Middle School in Jajru, Faridabad which involved infrastructure development, addressing cleanliness, hygiene, beautifying the schools with swings and wall art, ensuring safe drinking water, and creating and maintaining play areas for recreational activities within the schools. Besides this, FUJIFILM India is actively engaged in organizing Prevention of Sexual Harassment training programs for children in these schools through 'Aao Baat Karein' Awareness Workshops. The workshops address myths and misconceptions, and provide the right information on sexual abuse, building gender sensitivity, addressing sexual health, menstruation, reproductive organs, hygiene, and early adolescent issues. The goal is to empower children to raise their voices, fight against sexual abuse, and protect themselves.
In addition to this, FUJIFILM India will also be organizing healthcare camps at Jajru, which will not only benefit the students but also the people living in Jajru village. FUJIFILM India will hold six health screening & awareness camps in the village for around 2400 people residing in it. These camps will include multiple health camps such as Swasthya Mela, Mahila Swasthya Shivir, Bal Swasthaya Mela, Dant Suraksha Shivir, Naitra Jaanch Shivir and Mahavari Swachta Abhiyaan Shivir. From providing general healthcare to women-focused healthcare services, oral care to eye care, FUJIFILM India is ensuring the holistic well-being of the villagers.
Speaking about the visionary measures taken by the company, Mr Koji Wada, Managing Director, FUJIFILM India, said, "It is a true honour for me to witness the transformation of these schools and the positive impact they will have on the lives of students in receiving an education there. This CSR activity has been very close to me as I always believed that education is the cornerstone of progress and by investing in the future of young minds, we are sowing the seeds of a prosperous society. And, through the renovation of these schools, we are aiding a solid foundation for education to flourish. By investing in infrastructure and resources, we are empowering the young minds of today to become the leaders and innovators of tomorrow. Along with the infrastructural development, we are also organizing POSH Sessions for the kids in these schools to make them aware of the modern-day challenges which will empower and equip them to fight adversities and issues related to Child Sexual Abuse. Being a forerunner healthcare technology company, we are also organizing healthcare camps at Jajru Village in Faridabad. We are certainly very proud to be at the forefront of this metamorphic journey. FUJIFILM India will always remain steadfast in its dedication to making a meaningful difference in the lives of the communities around."
Mr. Abhi Shekhar Singh, Vertical Head, Corporate Communications and CSR said, "The Sustainable Value Plan 2023 is at the core of our Planning whenever we strategize to do a CSR Activity. These activities were based on deep research so that we reach the regions which need maximum attention. By spending most of our budgets on Infrastructure development of both the schools, we are sure that this will have a long-term impact in bringing children back to schools by making the infrastructure hygienic and attractive."
FUJIFILM India's commitment to corporate social responsibility shines through the transformative renovations of these schools, complemented by enlightening Child Sexual Abuse sessions and empowering Health Camps. These impactful signify FUJIFILM India's enduring dedication to corporate social responsibility and its vision to contribute meaningfully to the communities it serves. By investing in education, FUJIFILM India aims to empower students and pave the way for a prosperous tomorrow.
Disclaimer: This media release is auto-generated. The CSR Journal is not responsible for the content.