Home
Press Release
CSR: The Mercedes-Benz Fellowship kickstarts environmental action, equipping its first 100 young...
CSR: The Mercedes-Benz Fellowship kickstarts environmental action, equipping its first 100 young innovators to bring their planet-positive ideas to life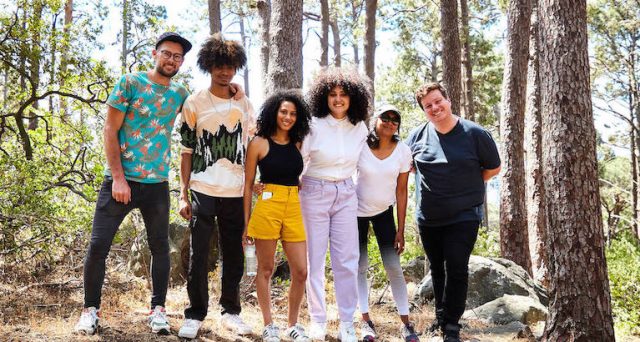 This July marks the start of beVisioneers, a one-of-a kind fellowship for environmental action. Chosen from more than 1000 registrants, the first 100 young innovators are now embarking on a 12-month learning journey with a focus on bringing their planet-positive ideas to life.
Muskan, a 19 year old from Dehli, wants to counter two problems — food waste and plastic pollution — with a twin solution: biodegradable film made from banana biomass waste. Muskan is already working on a B2B business model; now she hopes to collaborate with other innovators and entrepreneurs on developing her ideas further. "There's a gap between my theoretical knowledge and practical application, and being part of this Fellowship would provide me with a fantastic opportunity to bridge that gap."
Muskan is one of the 100 fellows selected for the inaugural cohort of beVisioneers: The Mercedes-Benz Fellowship. Designed and implemented by education pioneers The DO School Fellowships, the program provides young innovators from around the world with the training, mentoring, expert support and resources to bring their planet-positive ideas to life. With a plan to support 1000 fellows per year from all world regions by 2025, beVisioneers will create meaningful, measurable impact in local communities across the globe.
Besides their age group, 16 to 28, what all fellows share is a strong personal vision, clear motivation and a viable project to benefit the planet and its people. For 22-year-old Akhilesh it's an International Alliance for Climate Refugees. For 17-year-old Risav Ganguly of Jamshedpur, India, it's converting the biochemical energy of waste water into electricity. Other projects involve micro wind turbines, drain systems for flood mitigation, sustainable building materials from upcycled sawdust, and affordable compost to combat food insecurity.
We are thrilled with the project ideas and leadership potential of our first 102 fellows," says Mariah Levin, Executive Director of beVisioneers. "Young people want to actively mitigate the consequences of climate change." Katherin Kirschenmann, Founder and Managing Director of The DO School Fellowships, adds, "So many have invaluable contributions to make but have not found a path to advance from idea to action. beVisioneers is here to change that. Through innovative approaches to knowledge, network, and venture building, our program supports fellows to transform ideas into tangible solutions."
beVisioneers selects its fellows irrespective of background and with a strong focus on financial inclusion.
Funded by donations from Mercedes-Benz, the program—which includes weekly online lessons, one-to-one. mentoring, and guidance from world-class experts—is free to all fellows. In addition, beVisioneers offers financial stipends for those in need and merit-based access to project funding. After completing the 12-month program and launching their projects, fellows continue to receive training and support to scale their projects and become ambassadors for environmental change in their respective regions.
Chosen from the more than 1000 young people who registered to apply, this year's cohort of 100 fellows comes approximately one-third from South Africa, one-third from India and one-third from Germany, Hungary, Poland, Denmark, Sweden, Spain and the UK.
While fellows have already begun to meet online, beVisioneers truly kicks off in July, when they meet in[1]person for the first time at one of three regional summits—in Johannesburg, South Africa; Pune, India; or Stuttgart, Germany. beVisioneers provides transport, food and lodging for all attendees to the three-day summits, which will feature guest experts and speakers on topics ranging from personal leadership to sustainability and environmental action to community building and networking.
Disclaimer: This media release is auto-generated. The CSR Journal is not responsible for the content.