Beauty Industry Has Moved Ahead From Playing With Women's Insecurities To Empowering Them
Since ages, women were made to believe that beauty is something that deals with one's outward appearance. Women, through various marketing campaigns by beauty brands, were forced to accept the fairer, the better ideology. However, as time changed, the beauty industry has moved from the skewed definition to a more holistic definition of beauty.
It won't be wrong to comment that the beauty industry plays an essential role in how women out in society perceive the term 'beautiful'. The industry which earlier played its cards by making women feel insecure about their skin tone and skin colour is now drastically shifting towards summarizing beauty as an amalgamation of looking and feeling beautiful.
Many famous brands have shifted their focus from "white is beautiful" to "everyone is beautiful". The current marketing campaigns by most of the brands promote the fact that beauty is all about feeling comfortable in one's skin and hair. The outlook has now shifted from promoting fear and insecurities among the buyers to sell their products to make them believe that beauty is beyond physical appearance.
The new concept of beauty not only talks about looking beautiful but also about acting beautifully. It is more about being kind towards society and nature.
How is beauty all about empowerment and confidence?
All women are born beautiful, and the outward appearance of any lady is nothing but a way of expressing herself. It is this belief that the beauty industry has understood and has started garnering to sell their products. If you ask a group of women why they wear make-up, many of them will answer that it helps them feel much more confident and empowered. And this is what beauty is all about. Something that adds to one's confidence and lets them express themselves freely.
Furthermore, the more confident you are, the more empowered you feel when it comes to taking those life-changing decisions. A woman who feels beautiful inside out feels confident and empowered enough to making anything possible. Being confident gives the courage to stand for what is right, to take calculated risks, and to live the way one wants. This is what beauty holistically means.
Thus, beauty brands that earlier promoted a particular skin colour have shifted towards making women feel more confident and empowered not only through their ad campaigns but also their product offerings and business models.
How is Social selling changing the lives of many women?
There is no second thought to the fact that women are the primary buyer of beauty products. When it comes to purchasing power, it is women who drive a majority of consumer spending. Many beauty brands have realized not only the importance of catering to the needs of women but also of empowering them in various ways.
Social Selling brands have enabled people from all over the world to celebrate their personal beauty and fulfil their dreams. They have been empowering women to establish and change their lives by promoting, sharing & selling high – quality products which are inspired by nature & powered by science.
Furthermore, many have transformed their lives with this unique business opportunity. The opportunity to earn money, build one's own business, travel around the world, meeting new people & being a part of the fun, friendly global community.
With such a unique business model, such social selling brands are leaving no stone unturned in empowering women and making sure that they look and feel beautiful while being inspired to act beautifully as well!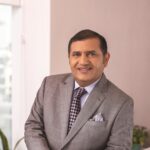 Marketing veteran Naveen Anand is the Senior Director, Marketing, Oriflame South Asia, the leading Swedish beauty company with a wide portfolio of nature-inspired, innovative beauty, and skincare and wellness products. Bringing with him a treasure trove of valuable insights and experiences to Oriflame, Naveen spearheads marketing operations and strategy in India, Sri Lanka and Pakistan.  He is responsible for accelerating growth and enhancing brand equity for the cosmetic brand's business.
To read more articles from the author, click here.
Views of the author are personal and do not necessarily represent the website's views.
Thank you for reading. Please drop a line and help us do better.
Regards,
The CSR Journal Team