The plight of million orphans of India is a matter of serious concern and calls for concerted action in right earnest. The numerous orphans constitute a stark reality of our country.
Who is an orphan? The orphan child sans parent or parents or any close kin to call its own is as significant a person in the society as is any other child. All children in an orphanage are huddled to sleep on the floor side by side due to the paucity of space. It is an open secret that these infants are not cuddled or fondled. The boy or girl lacks confidence as an adult. These children have aspirations and they ought to be nurtured. Are not these toddlers the responsibility of the society as its members?
They are a source of abundant human capital for the nation. Therefore the State has to ensure that they are moulded to right thinking, courageous, tenacious and responsible individuals.
India has a cornucopia of human resources in the form of orphans. According to statistical reports, the foundlings constitute a whopping 4% of the country's population of twenty million children 0.3 % of these are children whose parents are dead while the rest are children who are destitute, abandoned by their parents or entrusted to the Institutions for care, good health and education by marginalised families. Some of the destitute children have fled their homes due to parental/step parental tyranny.
There are orphanages run by the State, Christian missionaries, Madrassas, Temples, Parsis and numerous organisations –NGO(s).There are many orphanages not registered under the Juvenile Justice Act, even though mandatory.
There are many orphanages which are exemplary in their care of these children. However, there are frequent newspaper reports and media reports on the web alongside television serials of the appalling conditions in many of the illegal orphanages.
A.) In some of the unlicensed orphanages, the children are continuously sexually harassed.
B.) Many orphans are in the clutches of local goons who deprive them of limbs and eyesight and force them to steal, beg, carry drugs and deliver the petty cash to the thugs;
C.) Young girls are sold to dons by some of the unauthorised orphanages on a periodic basis as a part of immoral trafficking, both within the country and outside.
The outcome is disorientation of these parentless children. This is evidenced by children attempting to flee from orphanages. The purpose of these orphanages is shelter, nutrition, health care, vocational guidance and education. There is an eternal negation of the aforementioned purpose. This situation stares at one in the face and is unfortunate. Further, the orphans are totally malnourished and look half their age.
There are many orphanages not registered under the Juvenile Justice Act, 2000, though mandatory.
It is here that the Corporate Social Responsibility should undoubtedly step in and play a stupendous role in transforming the lives of the destitute children. The Corporate Sector will be able to bring sunshine and hope to these million foundlings.
The numerous business houses, both government and private are implored upon to bring the institutionalised care of the orphans within the ambit of Corporate Social Responsibility, in right earnest in accordance with Companies Act, 2013, Sch.VII.S.135, subsection.iii, read with the Companies (CSR Policy Rules) 2014.
The answer to the solution of neglected orphans is CSR only. India can rise to new heights with sustained human resources underlined with fervour and lustre. These children may be encouraged to take up vocational courses, conventional Degree courses, skills as emphasised by the P.M., teaching, catering, fashion designing, tailoring, horticulture and research in fields of arts, science and commerce, engineering, armed forces, medicine, sports and or various academic courses. Further, better medical care will be ensured when orphanages are managed by Companies.
At the moment companies involved are Satyam Computers, which built orphanages in Karnataka. Aditya Birla is managing an orphanage in Chembur, Mumbai. Hindustan Unilever is associated with an orphanage run by the Missionaries of Charity in Mumbai. Tatas'Thelma in Worli, Mumbai is another brilliant example. These companies among a few others constitute an inspirational story of CSR for orphanages.
It is a fervent appeal to the Corporate Sector of India CSR for this objective. Let our country leap to new heights of self-sufficiency with bounteous positive human capital. CSR offers a ray of hope for millions of orphans in India.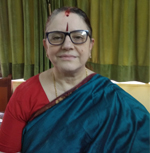 The author Jaya Chandrashekhar was an Income-tax Officer and recently quit after decades of service. She also compered for the Yuva Vani English, AIR for a short while. Jaya has a keen interest in socio-economic issues and contributes to the GOI Portal, Indian Express amongst several others. In her spare time, she enjoys yoga and cooking.
Views of the author are personal and do not necessarily represent the website's views.
Thank you for reading the story until the very end. We appreciate the time you have given us. In addition, your thoughts and inputs will genuinely make a difference to us. Please do drop in a line and help us do better.

Regards,
The CSR Journal Team