Pad Squad – a citizen-led movement for menstrual hygiene
While Bollywood grapples with issues such as drugs and nepotism, there is a certain sect of people from the industry who have decided to do something for society. Amidst a long standing debate of providing women their basic necessity at an affordable cost, a few people from the film industry and corporate sector got together to look after the basic needs of women. Pad Squad is a pan India people's movement that enables an individual to take citizen social responsibility (CSR) to get and distribute menstrual hygiene solutions to economically disadvantaged women within their town or city.
Pad Squad is committed to preserving the dignity and health of menstruating women and girls. Founded in June 2020 during the pandemic by a group of like-minded individuals, the idea was born when Taranjit Kaur, Chhitra Subramaniam, Mayuri Joshi Dhavale, Gillian Pinto, Niiya Niiya, Monica Raheja, Surya Balakrishnan, Devashish Makhija and Shillpi A Singh realised that women and their menstrual hygiene needs were totally ignored with rations taking priority for economically marginalised homes.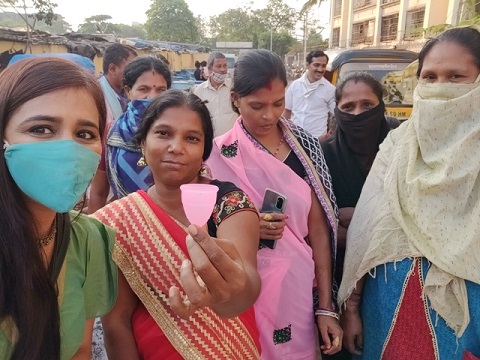 Say co-founders Taranjit Kaur and Chhitra Subramaniam, "It was a few weeks after the lockdown that people had started losing their livelihood that we realised the need for sanitary napkins. As women did not have the money to buy food, how would they buy sanitary pads? We realised the need for menstrual health and hygiene of women. So we simply put up a social media post requesting people to send us sanitary pads and within three days our house was full of sanitary pads.So primarily there is a lot of simplicity in the model we followed. It just called for action, to order pads online and send them to us. We started going to bastis and settlements near our houses and distributing pads there. The thought process was simple: women bleed every month , so a sanitary pad is the basic necessity of a woman and must be fulfilled. Nine of us joined hands and built this together. Today we are in 25 cities with 60 PadSquadders working each day to provide this basic necessity to women and make them feel loved."
Growth of Pad Squad
Women and men from over 25 cities have joined and providing sanitary Pads to approx. 30-plus communities. Pad Squad is now working across Mumbai, Pune, Ranchi, Kolkata, Bangalore, Delhi, Ghaziabad, Kalimpong, Lucknow, Amritsar, Chandigarh, Chennai, Guwahati, Bhopal, Jaipur, Jabalpur, Indore. They have also supported women with sanitary requirements during the floods in Assam & Bengal.
Current status
Today Padsquad is working towards saving the environment and providing biodegradable pads. Reusable pads that are sourced through NGO's and are also helping women with a SOS medical helpline through their partnership with "Saheli". Presently, they are moving toward giving sustainable solutions to women across India, like menstrual cups, that last a woman for 5-10 years and saves the environment from menstrual waste.
Future plans
Until now the citizen initiative has been supported by the community known to the Padsquadders and through appeals on social media. With the need growing, it is now time to call for community involvement & action.
Say Kaur and Subramaniam, "We believe that the woman of the home must be kept strong and healthy , because when the woman is strong, the family stays strong and when the family is strong, communities and nations stay strong. We are also working on developing a model of sustainability, for long term solutions to the women. A reusable pad or a menstrual cup can be used by a woman for a couple of years. We would be going to the interiors and distributing these to the tribal areas."
Disclaimer: This media release is auto-generated. The CSR Journal is not responsible for the content