Atmanirbhar Bharat: Mainstreaming the Discourse on Water Security and Livelihood
Water security is the adaptive capacity to safeguard the sustainable availability of, access to, and safe use of water for health, livelihoods, ecosystems, and productive economies. In light of the prevailing COVID-19 pandemic, the importance of water for overall human development is even more relevant.
Recognizing the need to build a timely discourse and action framework to effectively address the emerging challenges that are at the intersection of water, environment and community resilience, international non-profit organization, the Institute for Sustainable Communities (ISC) in collaboration with Tarun Bharat Sangh (TBS) has initiated a new dialogue series titled 'Water and Livelihood Security: The Foundation to Make India Atmanirbhar.'
The aim of the dialogue series is to bring together practitioners, representatives from government, civil society, academia and communities to discuss, ideate and share experiences on enhancing and improving water and livelihood security in India.
The first session was conducted in the presence of U. P. Singh (IAS), Secretary, Department of Water Resources, River Development and Ganga Rejuvenation (DoWRRDGR), and Department of Drinking Water and Sanitation (DDWS), Ministry of Jal Shakti, Government of India, who delivered the keynote address.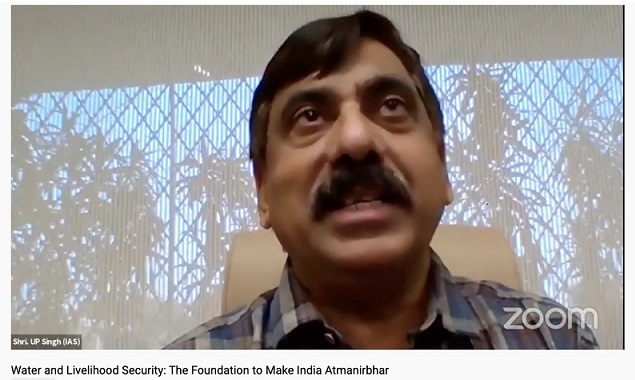 U. P. Singh (IAS), Secretary, DoWRRDGR and DDWS, Ministry of Jal Shakti, Government of India said:
"Discourses and collective deliberations are important. It helps eliminate the 'Us vs. Them' perspective and allows for the government, non-government organizations and various relevant stakeholders to discuss and come together to address water issues collaboratively. Rather than looking at water as a challenge, it is imperative to generate a discourse on how we can work harmoniously to make water intrinsic to the conversations on development."
The key note address was followed by a rousing thematic address by Magsaysay Awardee, Stockholm Water Prize Winner and the 'Waterman of India', Dr. Rajendra Singh. He spoke at length on the topic of 'Nature, The Pandemic and Security'.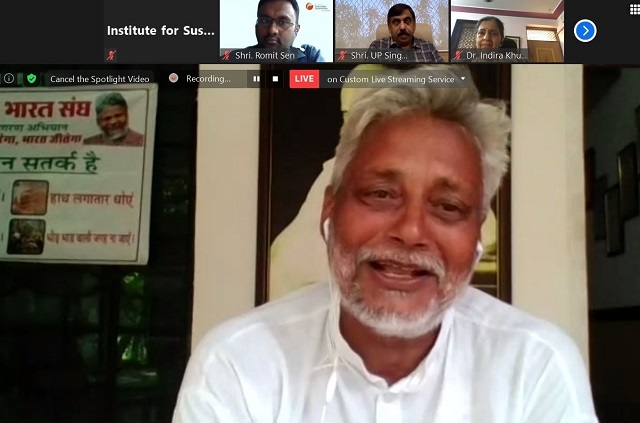 Jalpurush Dr. Rajendra Singh, Chairperson, Tarun Bharat Sangh said:
"Due to COVID-19, the people who were displaced and had left their villages to work in cities are returning – this is a revolution. But revolution by itself is not enough, it needs to be combined with action for change, to transform it into rejuvenation and eternal or sustainable development.
Atmanirbharta or self-sufficiency needs to begin from India's villages. Self-sufficiency in villages is possible through land, soil and forest conservation. The traditional wisdom of how this can be done still exists in India and is visible through various examples, wherein even rivers have been revived due to water conservation and agriculture possibilities increased."
This was followed by a panel discussion moderated by ISC's Associate Director, Water Programs, Romit Sen. The discussion featured an expert panel comprising of Dr. Indira Khurana, Vice Chairperson of Tarun Bharat Sangh, Subhash Tamboli, Executive Director at Action for Agricultural Renewal in Maharashtra (AFARM) and Vivek Adhia, Country Director – India, ISC.
Vivek P. Adhia, Country Director-India, Institute for Sustainable Communities (ISC) said:
"Access to clean and secure water has far-reaching influence on how quickly we can achieve the Sustainable Development Goals. Traditionally, water has been the fulcrum across a range of issues – hunger, health, livelihoods or economic growth. For India to truly become Atmanirbhar, we will need to address competing and complementary uses of water. Now is the time to unlock the true role of water, and actualising its positive impact towards addressing the most basic human needs, rather than being looked at as a commodity for fair consumption across sectors.
The session on water security and livelihood also hosted the launch of the e-book, Can migrants find livelihood security in their villages? co-authored by Dr. Rajendra Singh and Dr. Indira Khurana.
Disclaimer: This media release is auto-generated. The CSR Journal is not responsible for the content