How a circular economy mindset can help secure a water-positive future for India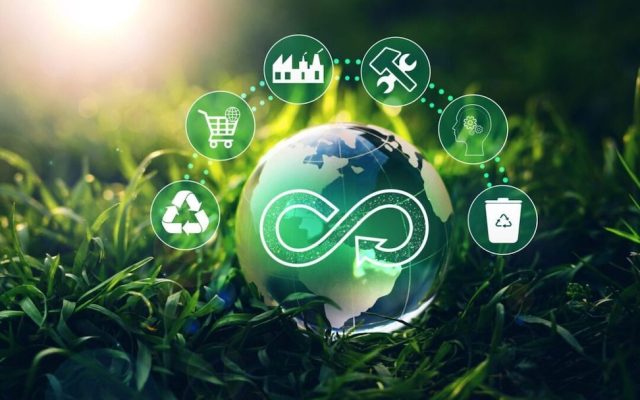 Water is one of our most precious and undervalued resources. We need it to maintain good health and a biodiverse environment, to grow food and across every industry. Access to clean water is at the forefront of building a more equitable society, which is why the UN included this in the Sustainable Development Goals.
However, recent events have challenged the perception that drought and flooding are rare. As the climate crisis intensifies, communities are increasingly facing challenges arising from too little and too much water. Effective management of water has never been so important.
Levels of water scarcity are soaring globally, however data suggests that India is one of the countries most at risk. India's relationship with water is complex and multifaceted due to the country's diverse geography, climate, population, agriculture-dependence and socio-economic factors. Water plays a critical role in all aspects of India's society, economy, and environment.
This recent report by BSI, Thirst for Change: Securing a Water-positive Future which includes an Indicator evaluating water scarcity in 40 locations, with the US, China and India receiving the highest possible rating. According to the report, India has the highest agricultural water usage, even ahead of China. Along with China, India faces the challenge of high utilization and low levels of renewable water per capita. Water resources are already under pressure and vulnerable to scarcity risks, and the high leakage level of 86 liters per person per day further compounds the challenge for India. Currently, India's personal water use is relatively low, but this could leave the country highly vulnerable if personal consumption increases from the current levels. The large cities of Chennai, Hyderabad, Kolkata, Delhi, Mumbai, and Bangalore are already known to face severe water stress.
A comprehensive approach involving policy reforms, community engagement, technological innovations, and responsible water management practices can help us address India's water challenges. For example, in 2019 Chennai reduced its consumption of fresh water by becoming the first India city to recycle its wastewater at scale to meet the non-drinking water needs of its industries. Its two Tertiary Treatment Reverse Osmosis (TTRO) plants helped to recycle about 20% of Chennai's sewage resulting in a more sustainable water source for the population.
Likewise, efforts to mitigate the impact of floods and droughts have been made through various hydrology projects that introduced systems and technology that gave reservoir managers an accurate picture of the water situation unfolding in their region in order to improve the overall management of water resources in the country.
There is a need for organizations and the government to set standards in water management that ensure efficient utilization of this important resource. For example, ISO 46001, the water efficiency management systems standard, enables organizations to assess and account for their water use, and to identify, plan and implement measures to achieve water savings through the systematic management of water. Furthermore, research identifies that using water wisely can bring important benefits, including enabling equitable global access, protecting precious habitats, and making us more resilient to climate change and drought.
Few things to consider are:
1. Recognize water wastage as a serious challenge – Acknowledge the issue and act, with utility companies leading the way to reduce network leakage
2. Ensure it is easy to choose water-saving products and make sustainable choices – for example, learning from countries including Australia and Singapore, which apply mandatory product water efficiency labelling systems, aligned with the relevant standard
3. Embrace innovation and make better use of data – smart meters have the potential to be a game changer when it comes to saving water
4. Encourage a water-saving culture – Prioritize protecting our planet through water management, whether that is at home or in the workplace, and across different sectors
5. Close the loop – Make water recycling and reuse the norm where possible, using techniques such as water recycling and water reuse in new buildings, or rainwater harvesting
6. Partner for impact – Collaborative effort across a wide range of players from government and regulators to the water industry and ultimately, all of us as water users can help us address the growing challenges around water availability.
Whilst water is abundant on Earth, the fact just 0.5% is considered accessible freshwater means that managing its use is critical. By 2050 more than 5 billion people are expected to be facing inadequate access to water at least one month per year means water security deserves as great a focus as the wider climate challenge. Indeed, given that water provision and how we use water contribute around 10% to global carbon emissions, we cannot tackle one without the other. It is simply not sustainable for demand for water to continue to rise without action to ensure we are managing it efficiently. But taking steps to secure a water positive future is about accelerating progress for people and planet.
Ultimately, all of us stand to benefit from turning ambition into action to secure our future water supply and accelerate progress to a sustainable world.
Views of the author are personal and do not necessarily represent the website's views.
Theuns is currently the Managing Director Assurance for BSI – Management Systems in India, Middle East, Turkey and Africa. He holds a B.Com. Degree from the University of Pretoria. Previously he held the position of Sales and Marketing Director for BSI- Management Systems in Europe, based in London. Prior to that he has held positions as the Managing Director of Amtri Veritas – UK and he was an Executive Director of Nosa International responsible for Auditing and Certification globally.