#DilliDhadakneDo campaign calls for improved cycling infra
Delhi's citizens including vendors, factory workers and daily labourers have joined forces to urge Delhi government to fast track moves to create safe cycling infrastructure and permanently install dedicated cycle lanes as traffic rebounds and people return to work post the lockdown.

Cycling is one of the most efficient

and environmentally-friendly ways to move large numbers of people while maintaining physical distancing in the post-COVID world.
A whopping 97% of respondents out of nearly 1400 people are willing to use cycles as a mode of daily transport, highlights a perception study conducted as part of #DilliDhadakneDo, a citizen-led initiative. The survey indicates that a lack of safe and convenient cycling infrastructure, absence of dedicated cycling lanes, poor air quality and unruly traffic are deterrents to more citizens taking up cycling in Delhi.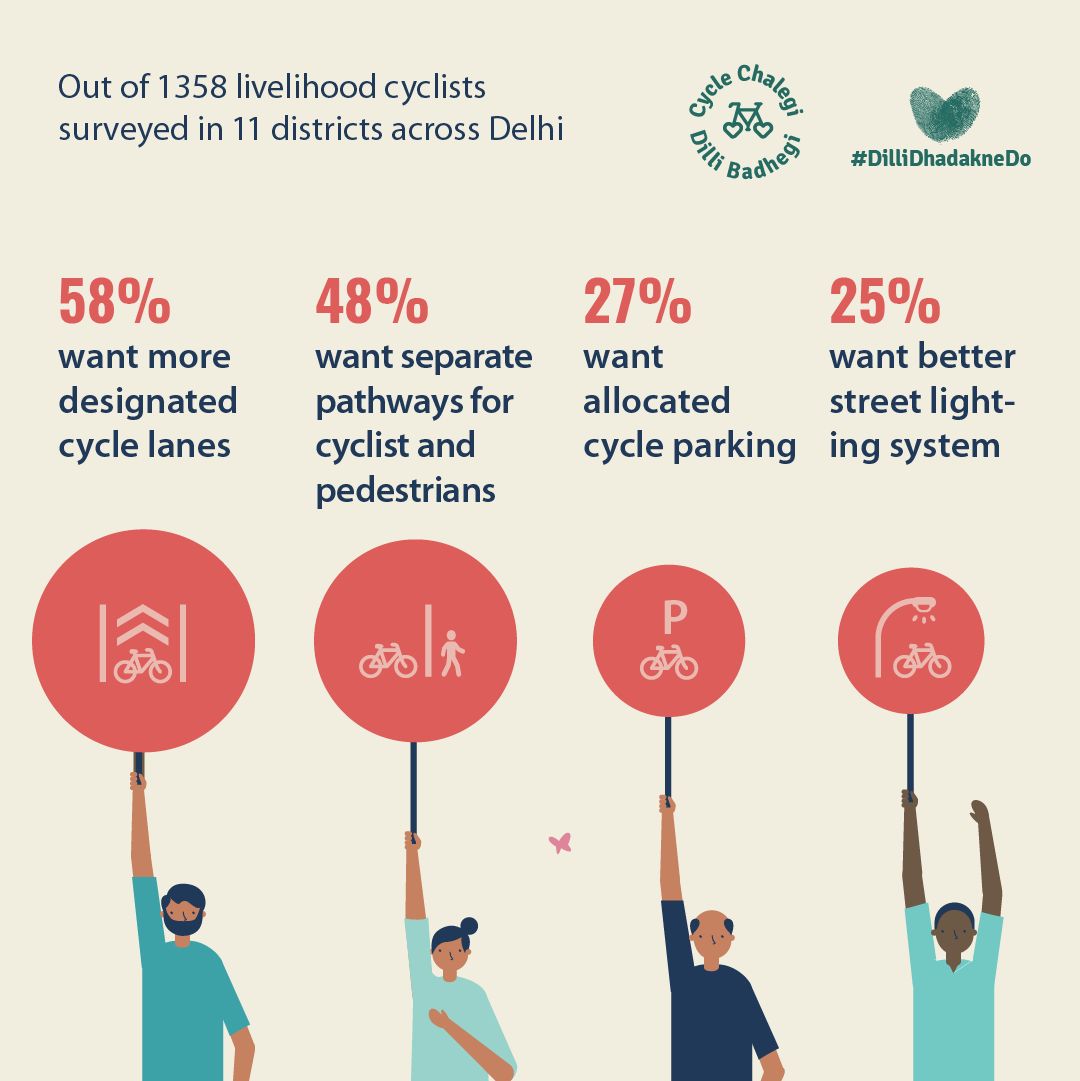 Believing that cycling will be the best option to travel while maintaining social distancing, Mudra, a domestic worker living in Badarpur and survey respondent said, "We have to step out daily to reach our workplace and cannot use buses as this pandemic calls for social distancing. Autos or rickshaws are far too costly for us to use on a daily basis. Since the cars, buses and cycles are in the same lane, I am risking my life daily while trying to earn bread for my family and also maintaining social distancing norms. Dedicated cycling lanes will make life easier for many men and women like me."
The #DilliDhadakneDo campaign is a collective effort of civil society organizations working on clean air solutions for Delhi including the need for better and sustainable public transport, in particular, cycling. Earlier this month, the initiative has started a movement to help make the capital a cycling-friendly city and

petitioned the Delhi Government

to bring about non-motorised transport policy in Delhi, giving priority to two aspects;
a) prioritise cycling lanes and
b) allow everyone access to cycling as a COVID-proof mode of transport.
The plea aims to urge the Delhi government to enact a 'Non-motorised Vehicle Act' and include laws that safeguard the interests of pedestrians and cyclists by:
– Creating temporary cycling lanes across the entire road network of Delhi
– Upgrading existing cycling lanes to create a safer and more connected network for cyclists
– Ensuring a 5 km safety radius with bicycle lanes across all Delhi schools to protect children
– Mandating markets and associations to have a dedicated free cycle parking infrastructure
– Ensuring government offices have dedicated cycle parking infrastructure
Emphasizing on the scary reality of Delhi's mobility, Vimlendu Jha, Executive Director, Swechha and leading Indian environmentalist said, "About 91% of Delhi livelihood cyclists use cycles every day to commute, but are our roads designed for safe walking and cycling? Clearly the answer is no. For almost 11 lakh cyclists in Delhi, there is just 100km of cyclist tracks. Over and above that Delhi has been dealing with the air pollution crisis for years now. Delhi's air pollution problem can't be solved by traditional means — bicycle infrastructure, last-mile connectivity is a must. Therefore, there is a dire need to strengthen policies to protect pedestrians and their right to walk and cycle in Delhi."
Recent estimates show that there are nearly 1.1 million regular bicycle users in Delhi. This figure is from before the COVID-19 pandemic and trends indicate that the numbers will only grow. An initial study by alumni of IIT- Delhi and IIT-Roorkee shows that the number of cyclists in Delhi has grown from 4% to 12%.
Reiterating the fact that 'streets belong to all', Sarika Panda Bhatt, co-founder of Raahgiri Day said, "Delhi has yet to wake up the mobility crisis and the city needs the implementation of pedestrian and cycling plans. I feel that it is our responsibility to stand up for a cause that demands robust laws to protect walkers and cyclists in Delhi. I myself don't use a car and move around the city on my cycle in the absence of adequate public transport. I really hope that soon we will have a legitimate and well-designed space that is walkable and cyclable in and around Delhi."
The #DilliDhadakneDo campaign released the survey findings at a virtual town hall with representatives from the Delhi Government, civil society and citizens groups. Urging the Government to take immediate action, the campaign advocated for non-motorised transport (NMT) as a solution to strengthen public transport and tackle Delhi's air pollution crisis.
Disclaimer: This media release is auto-generated. The CSR Journal is not responsible for the content