CSR: Organ donation awareness campaign at Inorbit Mall Vashi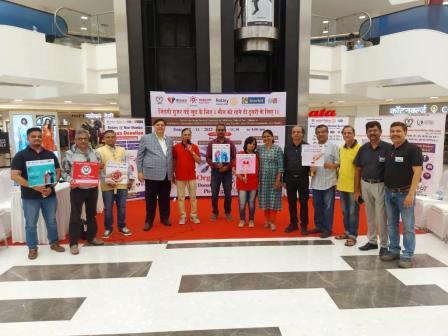 Mumbai, India: 27th November being World Organ Donation Day an event of Organ Donation awareness campaign was organised at Inorbit Mall Vashi by Rotary District 3142 and various clubs of Rotary clubs of Navi Mumbai, Rotary Club Navi Mumbai Sunrise, Rotary Club of Millanium city, RC Navi Mumbai Industrial Area, RC Palm Beach, RC Central, RC Samaritans, RC link Town Arioli.
This programme was conducted by Bhal Shekhar Chilana President of The Cause Travellers Social Welfare organisation who is dedicatedly working for the cause of Organ Donation across India.
We are thankful to the Management of Inorbit Mall especially Ravi Sibal, Shivansh Kottary and Rasika Kale for making the program successful and providing us with the platform free of cost.
Disclaimer: This media release is auto-generated. The CSR Journal is not responsible for the content.