Home
Press Release
CSR: HelpAge India's new mobile healthcare programme in Kochi supported by Fertilisers...
CSR: HelpAge India's new mobile healthcare programme in Kochi supported by Fertilisers and Chemicals Travancore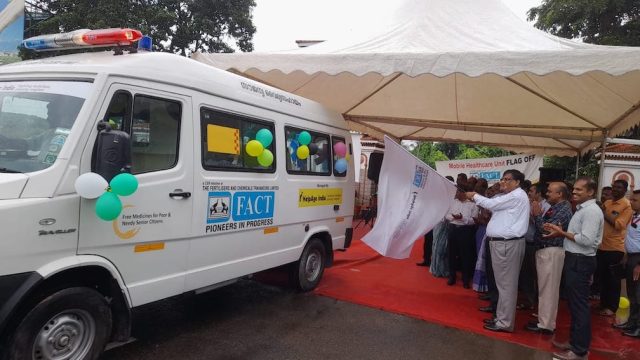 New Delhi, India: HelpAge India, a non-governmental organisation addressing the needs of vulnerable elders, has launched a Mobile Healthcare Unit (MHU) in Kerala's Ernakulam district, with financial support from Fertilisers and Chemicals Travancore Limited (FACT), a PSU under the Department of Fertilisers, Union Ministry of Chemicals & Fertilisers.
"The newly launched MHU in Ernakulam district, will cater to Eloor Municipality and four gram panchayats, namely, Kadamakudy, Varapuzha, Alangad, and Cheranallore. The MHU will extend medical support to approximately 20,000 elders every year, mostly village elders and disadvantaged members in Eloor municipality. We are thankful to Fertilisers and Chemicals Travancore Limited for extending financial support for this noble cause," said Rohit Prasad, CEO, HelpAge India.
"The need for MHU was felt in this region because, at times, the primary healthcare centres are situated far away from villages. The MHU van, equipped with nurses, medical staff, and doctors, will bridge this gap by providing critical doorstep healthcare support to vulnerable elders. We value the partnership with FACT on this important community and public health initiative under CSR," he further said.
Mr.Kishor Rungta, Chairman and Managing Director (CMD) of Kochi-based-FACT Ltd., in the presence of Mr. Rohit Prasad, launched the Health Care services and flagged off the MHU from the container gate of FACT Ltd here.
"We are proud to lend our support to HelpAge India's healthcare programme for disadvantaged elderly through a Mobile Healthcare Unit for elderly and their community in Ernakulam. FACT Ltd. has a 80-year-old legacy of public service and we are glad that through this association we will help senior citizens in remote areas gain access to primary healthcare and meet their health needs," said Mr. Kishor Rungta.
HelpAge runs Asia's largest mobile healthcare programme. With this addition, the total strength of HelpAge India's MHU network throughout the country is now 162. Every year, the MHUs provide medical relief and treatment to more than 4 lakh disadvantaged elders and their communities.
HelpAge's MHU programme has been operating and expanding since 1982. Their frontline workers worked hard throughout the pandemic, through the multiple lockdowns, during which access to medical shops became difficult for elders, most of whom were suffering from chronic conditions such as diabetes, hypertension, arthritis, and high blood pressure.
HelpAge India's mobile healthcare programme saves poor elders from long queues at hospitals, along with transportation and medicine costs. With the support of partners like FACT, it provides free medication on a weekly basis. Beneficiaries are provided health cards, and records of their treatment are maintained.
HelpAge, through these MHUs, provides not just free treatment and medicine but also basic diagnostics, home visits by doctors (in the case of bedridden patients), and counselling for patients, the elderly, family members, and caretakers.
Disclaimer: This media release is auto-generated. The CSR Journal is not responsible for the content.