Home
Press Release
CSR: BYJU'S Education For All initiative and Masoom Foundation, helps improve quality...
CSR: BYJU'S Education For All initiative and Masoom Foundation, helps improve quality of education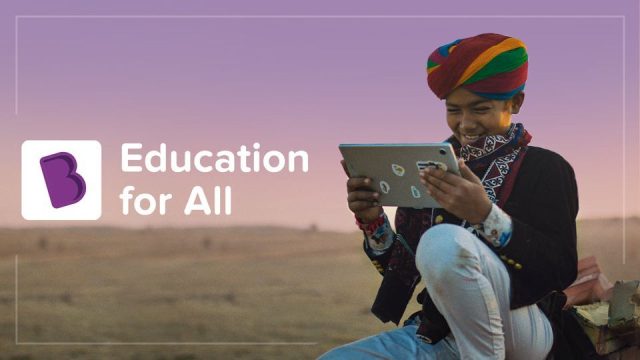 When exposed to tech-enabled new learning tools, students develop effective learning skills that help them perform better academically. One such story is of Reshma, a 17-year old from a Hindi medium school in Ghatkopar, Maharashtra. While an academically brilliant student, it was getting difficult for Reshma to memorise lessons at school with the traditional chalk and board method. Hailing from a lower middle class family of  five, it was difficult for her father, a mechanic, to provide Reshma with alternate learning solutions. It was then, she came across NGO Masoom Foundation that introduced her to BYJU'S Education For All. Reshma is now able to learn through videos and interesting formats from the BYJU'S app, free of cost.
Dwelling in a small locality in Mumbai, Reshma is in her 11th class and is pursuing Commerce from a night school in Ghatkopar. Having excelled exceptionally in her 10th boards, Reshma dreams of becoming independent when she grows up to ensure a better life for her parents. With BYJU'S learning app, she is not only able to memorise difficult concepts, she is also able to perform better in her exams. Once scared of difficult math equations, she is now able to solve them easily with the help of BYJU'S high-quality, personalised videos.
A young, promising Reshma says, "I do not feel scared of Math or Science anymore. With the help of BYJU'S learning app, I can now learn and memorise difficult concepts better. I am extremely grateful to BYJU'S Education For All for having helped me continue my learning journey without any hurdles. Two things that have really helped me in studying regularly from the app are the helpful teachers at BYJU'S and the fun quizzes and tests on the app. I truly wish to crack my 12th boards with good numbers and fulfill my dream of providing a better life to my family."
Launched in 2020, BYJU'S flagship social impact initiative 'Education for All' aims at bringing about a positive systemic change to the education ecosystem. With a mission to empower 10 million underprivileged children by 2025, the initiative has already impacted 5.5 million children in the remotest corners of the country through 175+ NGOs across 400 districts. Reinforcing its dedication to providing girls with an equal opportunity to learn, nearly 50% of the beneficiaries of BYJU'S Education for All programs are girls.
Disclaimer: This media release is auto-generated. The CSR Journal is not responsible for the content.