Home
Press Release
CSR: OPPO India teams up with Atal Innovation Mission to set up...
CSR: OPPO India teams up with Atal Innovation Mission to set up the first PPP-model Atal Tinkering Lab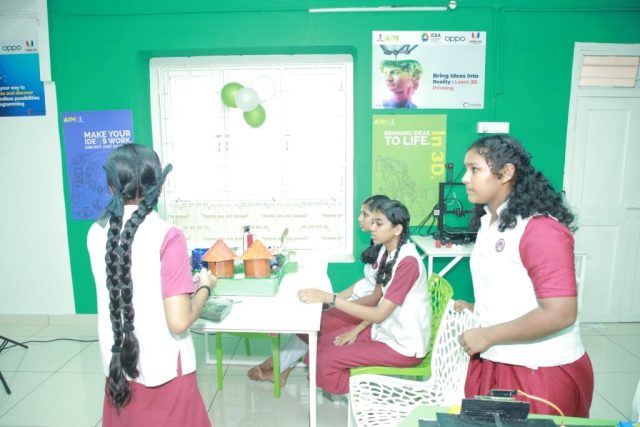 New Delhi, India: OPPO India announces the establishment of an Atal Tinkering Lab (ATL) in Kerala in collaboration with NITI Aayog's Atal Innovation Mission (AIM) as Knowledge Partners. This programme motivates students to explore, experiment, and undertake projects involving DIY kits in robotics, electronics, and rapid prototyping.
The lab at St Paul's CEHSS in Kuriachira, Thrissur, was inaugurated on 10th July 2023 by Shri Rajeev Chandrashekar, the Minister of State for Skill Development and Entrepreneurship and Electronics and Information Technology. The primary objective of this initiative is to create an empowered future-readyworkforce and nurture entrepreneurship and technological skills among the youth. Till 2022, 10,000 ATLs were established across 35 States and UTs in India via government grants. This collaboration marks the establishment of the first-ever Atal Tinkering Lab, based on the PPP (Public-Private Partnership) model.
Dr. Chintan Vaishnav, MD, Atal Innovation Mission, said, "On behalf of the Atal Innovation Mission team, I welcome OPPO to the ATL Community. The establishment of the first PPP Atal Tinkering Lab in collaboration with OPPO India is a significant milestone in India's School Innovation journey.Through this new modality of partner-established ATLs, we hope to democratise tinkering and make it available to many more students across the country. I invite more partners to this new and exciting initiative to establish many more ATLs in India, thus empowering more young innovators."
The ATL has been setup to empower school children in classes 6th to 12th to develop innovative solutions. The students can harness cutting-edge technology tools such as 3D printing, the Internet of Things (IoT), robotics, miniaturised electronics, space technology, drone technology, and technology-inspired textiles.
Mr. Vivek Vasishtha, Vice-President, Public Affairs, OPPO India, said, "OPPO India is committed to social upliftment by investing in youth and providing holistic learning opportunities. We are delighted to inaugurate our first-ever Atal Tinkering Lab to offer a modern learning ecosystem to nurture future innovators and entrepreneurs. This collaboration is part of our endeavour to promote 'out of the box' thinking and teach community-oriented problem-solving capabilities to young students. We are proud to be able to contribute to the Government of India's mission of empowering the citizens of tomorrow with future-ready skills."
This collaboration between the AIM and OPPO—withLearning Links Foundation as the implementation partner—adaptsthe 'Hub n Spoke' strategy to create an innovative learning environment through practical experiences and regular training sessions. The ATL in the nodal school will act as a 'Hub' for the students from neighbouring government schools to come and conduct experiments in the lab. This approach will also extend its assistance to three community schools.
"We take immense pride in collaborating with OPPO India and Niti Aayog to establish the Atal Tinkering Labs. We will work together to nurture a generation of individuals who will contribute to the development and advancement of our society," said Dr Anjlee Prakash, Chairperson, Learning Links Foundation.
Through the ATL, children with exceptional potential will be identified and nurtured through the Student Innovator Programme and the ATL Marathon to provide them with mentorship opportunities from eminent entrepreneurs and prepare them to compete in national/regional contests, fostering lifelong learning.
OPPO India has taken proactive steps to offer advanced educational opportunities to children and motivate them to build a better future through various initiatives. These initiatives encompass setting up a computer lab at the Roundtable School in Varanasi and collaborating with MENSA to equip underprivileged children with digital literacy tools. Most recently, OPPO India has partnered with CSC Academy to train 10,000 women in semi-urban and rural areas as Cyber Security Ambassadors.
Atal Innovation Mission (AIM), NITI Aayog, is the Government of India's flagship initiative to promote a culture of innovation and entrepreneurship in the country. AIM has launched the Atal Tinkering Lab (ATL) program. ATL is a state-of-the-art space established in a school that aims to foster curiosity and innovation in young minds. To date, AIM has selected 10,000 schools in 700+ districts of the country to establish ATLs.
Disclaimer: This media release is auto-generated. The CSR Journal is not responsible for the content.