Artificial Intelligence will Enable Higher Employment in Future
The world is in the wake of experiencing the biggest Man-Machine alliance since the invention of Artificial Intelligence (AI). According to 'The Future of Jobs 2018' report from the World Economic Forum (WEF), machines and algorithms in the workplace will likely

create 133 million new roles and jobs

by 2022 with smart workforce adaptation.
Automation in coming years will focus on more creative ways of a higher order of work that has been performed in a traditional manner for years. As the world saw restricted human interaction due to COVID-19, technology and digitisation saw rapid acceleration in automation to create more workable environments.
Positive impact of Artificial Intelligence on economy
Research by McKinsey Global Institute

approximates that AI may deliver an additional economic output of around $13 trillion by 2030, increasing global GDP by about 1.2 % annually. This growth will be driven, firstly through strong labour productivity due to innovative technologies allowing more efficient workforce-related time management. Secondly, with intelligent automation; AI will virtualise the workforce making them more capable of problem-solving. And thirdly, through the diffusion of AI innovation, novel revenue streams will be generated.
A few ways AI is already positively impacting the economy is through fraud detection, virtual assistants, writing bots and chatbots, face recognition, identifying at-risk segments. Today there are automated assistants like SIRI and Alexa for smartphones that perform a variety of errands for users, Tesla Cars that are connected on a shared cloud to provide information across the entire taskforce.
AI will enable workforce and employment
Development in AI advances Internet of Things (IoT) through which trend prediction and trend mapping can be done in milliseconds, making industries far more efficient and sustainable in the future. The workforce will be able to solve complex patterns, problems with ease, accurately detect risks and improve the overall employee-customer experience.
For instance, Telerobotics can operate machines remotely, and with the advancement of universal remote working, along with holographic transportations that can emulate physical interactions onto holographic images, AI can change employment fields forever. Interactions will become easier and faster.
AI will drive demand for new jobs
Chatbots – the recently emerged communications conduits for brands and consumers – have increased the demand for human trainers. While understanding language is one goal for perfecting chatbots, injecting emotional intelligence into automated communication tool is another. This is the reason why companies are hiring content moderators in big numbers.
In addition to trainers, AI will also increase the demand for explainers who will bridge the gap between the new systems and their human managers. Business leaders, for instance, will need expert assistance while basing decisions on algorithms. Also, these explainers will run the required operations when the machines make mistakes and take steps to avoid similar mistakes in the future.
Another major transformation that can be expected in the future of employability is Robotic Process Automation (RPA); a technology that allows individuals to configure an automated software system, and use it to integrate the actions of a human business processor into digital systems. It will help in monitoring workflow, making informed decisions for maximum efficiency.
This tool can identify any problem faced by the company/ individual with a user interface and immediately provide an effective solution based on a vast variety of repetitive tasks previously interpreted. It is said that an "RPA software robot never sleeps and makes zero mistakes." AI tools can maximize human input in an industry by complimenting the human work.
Towards a more secure and protected future
In the foreseeable future, industries must prepare their workforce in a way that humans can adapt to changes in technology, predominantly for those jobs that will be fully automated. Businesses must believe that AI can be used as an instrument to supplement and improve, not replace work. If specific jobs are completely displaced by AI in future, it will provide industry experts to engage further in solving intricate subjects that require creative thinking of humans.
The proliferation of Artificial Intelligence in

Machine Learning

and business processes will make distinctively segregated markets collide, resulting in quantifiable benefits for industries and creating a more secured and protected future. The understandings gathered from multiple uses of AI will enable businesses to rethink knowledge in ways that have been unattainable so far.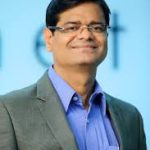 The author Alok Bansal is the Managing Director and Country Head, India at Visionet, where he manages strategy, global operations and leads the growth of technology BPM verticals. He made his early fortune as a high-performance management leader in several global companies and has played an influential role in leading large-scale technology organizations like Altisource and XL Dynamics. He is a successful alumnus of the prestigious Indian Institute of Technology. He earned his B.Tech from IIT, Mumbai.
Views of the author are personal and do not necessarily represent the website's views.