Sustainability is a business issue. With consumption growing rapidly due to growing population and rising income, there is unprecedented strain on natural resources. In response, many companies have set environmental performance targets. A lot of action has been taken over the last decade by corporates and it is no longer difficult to get case studies of environmental action. But how do we know that the actions already taken and those that have been planned will make a meaningful contribution towards achieving the goals agreed upon in Paris?
The only yardstick that answers this question satisfactorily is the Science Based Target Initiative. Taking on emission and carbon footprint reduction targets as per the SBT framework gives a sense that the organisation is on an ambitious and meaningful path to combat climate change. Targets adopted by companies to reduce greenhouse gas (GHG) emissions are considered "science-based" if they are in line with the level of decarbonisation required to keep global temperature increase below 2 degrees Celsius compared to pre- industrial temperatures.
A group of four international NGOs, World Wildlife Fund (WWF), World Resources Institute (WRI), Carbon Disclosure Project (CDP) and the UN Global Compact (UNGC) have collaborated to enable corporations adopt and achieve Science Based Targets. Corporations must express intent by signing a form, work with the group of NGOs to set targets and then go about achieving them by 2030. The target setting process is completed within 2 years' time.
Key actions that a corporate has to take, to achieve SBTs includes enhancing energy productivity, adopting renewable energy and adopting electrical mobility. The Climate Group has conceived three programs, EP100, RE100 and EV100 respectively, where corporations can express intent to double energy productivity, adopt 100% renewable energy and enable electric mobility at scale. Investments in each of these areas can be funded through a carbon price on the business as also through green funding instruments such as Green Bonds.
Each of these commitments (SBT, EP100, RE100, EV100, Carbon Pricing) leads to lower emissions, cleaner air and lower costs, thus providing positive impact on the people, planet and profit dimensions of the business. Achieving these commitments is not easy. The journey triggers innovation, entirely new industries, revamping of processes, higher employee engagement and greater credibility amongst investors and thus provides a clear business case for environmental action. While the impact of action in these areas cuts across multiple SDGs, SDG 3 (Good health and well-being), SDG 7 (Affordable and clean energy) and SDG 13 (Climate Action) are the primary beneficiaries.
It is quite clear that SBTs, EP100, RE100, EV100 and Carbon Pricing are not separate areas for action but are intertwined to enable the reduction of emissions. The ask identified by UNEP's Emissions Gap Report 2016 to limit the average rise of temperature compared to pre-industrial times to less than 2 degrees centigrade i.e. the emission gap is 12 – 14 Gigatons for 2030. It is believed that the key initiatives mentioned above, when implemented together, will help corporations contribute significantly to UNEP's ask. Emissions gap is the difference between the emissions levels in 2020 necessary to meet climate targets, and the levels expected that year if countries fulfil their promises to cut greenhouse gases.
Around 340 companies had expressed the intention to achieve Science Based Targets by 2017. Anand Mahindra issued a challenge at Davos 2018 exhorting corporations to come forward and adopt SBTs in large numbers and reach 500 commitments by the Global Climate Action Summit in September 2018. In a short span of two months another 27 companies have signed up and there is optimism that the goal of 500 sign-ups will be achieved.
Although the search for a sustainable path is still very much work in progress, sustainability is here to stay. For some companies, sustainability represents an opportunity to organise diverse efforts under one umbrella and enhance action and reputation. For other companies, sustainability means answering hard questions about their business practices that could have a serious impact on their operations. Either way, there is a bias towards greater action. The time to act has never been as good as it is today!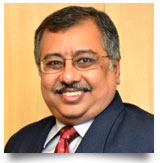 Anirban Ghosh is the Chief Sustainability Officer at the Mahindra Group. He has been working with Group in Sales, Marketing, and Strategy since 1999 and has been recognised as a distinguished CSO in his current role. A gold medal-winning engineer from Jadavpur University, Calcutta, Ghosh has pursued doctoral studies in Marketing Management at IIM Ahmedabad. He enjoys music, reading, traveling, driving, cricket and tennis. He is an active public speaker and has represented the nation at the Festival of India across multiple nations.
Views of the author are personal and do not necessarily represent the website's views.
Thank you for reading the story until the very end. We appreciate the time you have given us. In addition, your thoughts and inputs will genuinely make a difference to us. Please do drop in a line and help us do better.

Regards,
The CSR Journal Team